How A Scientist And An Environmentalist Solved A Smelly Smog Mystery In Texas
An enormous pollution plume that spun around central Texas last year appears to have been triggered by a single oil and gas collection facility. The plume is just one example of how the fracking boom is changing the environment in the Lone Star State.
The air hangs heavy and low in Texas in the winter, and that meteorological quirk means pollution from the state's thousands of fracking facilities lingers and drifts all season long.
But last year, a 50-mile plume of smog, sour air pungent with the smell of oil and gas, swept across homes south of San Antonio. The source of the plume was a mystery to scientists.
"There's plenty of plumes, but this was two to three times larger than any others," Gunnar Schade, an atmospheric scientist at Texas A&M University, told BuzzFeed News. "Where did it come from?"
Schade suspected it had something to do with the 17,000 gas wells dotting the Eagle Ford Shale that stretches south of San Antonio. The 400-mile-long belt of of crackly rock filled with natural gas and other hydrocarbons is one of the world's most heavily drilled geologic formations. Natural gas wells there widely burn, or "flare," excess gasses, creating a nighttime medley of smoke-wreathed lights across the state that are visible from space.
That means that, on many days, the air in rural Texas is as dirty as the most polluted part of Houston. And similar air pollution seen in Colorado, Utah, and Pennsylvania threatens to violate tighter smog limits announced on Thursday by the Environmental Protection Agency, an unexpected and unwelcome surprise to fracking regions and cities such as San Antonio.
These higher smog levels are linked to asthma, nosebleeds, fatigue and other health impacts. By finding the source of last year's mysteriously large plume, Schade thought, he might be able to help people made sick by pollution.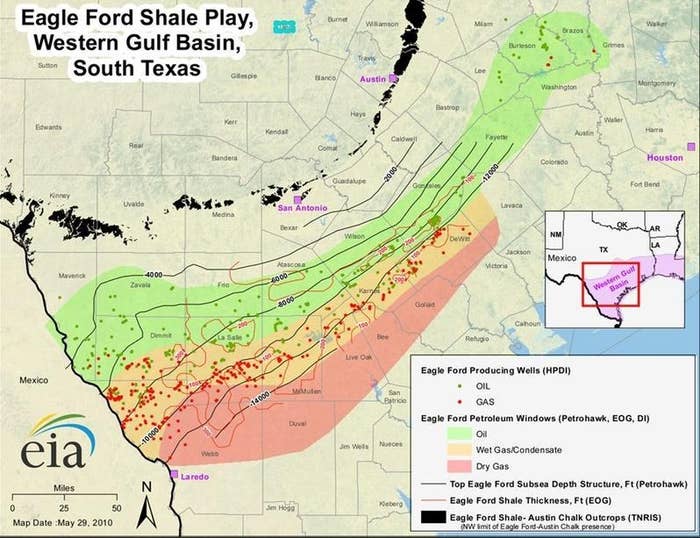 So he started searching records from the Texas Commission on Environmental Quality (TCEQ), and found a series of complaints tied to one particular facility from March of 2014.
He was glad to see them. "People don't like to complain in Texas," he said. "A lot of them have family in the industry."
The complaints sprang from the Sugarhorn Central Facility, owned by Marathon Oil of Houston. Sugarhorn, a collection center for natural gas and other fracking fluids, has been the center of investigations and complaints dating back to 2012.
But Schade didn't know who was complaining, or what, specifically, they were complaining about. So he started asking environmental activists in Texas.
"He asked me if I knew who had made the complaint, and asked if I could help track them down," Sharon Wilson, a pollution activist with the Earthworks' Oil and Gas Accountability Project in Texas, told BuzzFeed News. That was easy, she said, because she had made all of the complaints.
A high-tech activist, for years Wilson has used specialized infrared cameras to capture "fugitive emissions" — such as ethene, benzene, and formaldehyde — escaping from wells and pipes at night.
On March 6, 2014, after hearing complaints from nearby residents, Wilson arrived at the Sugarhorn facility and started filming. "There was just a fog-like appearance of smog that lasted for hours," she said.
The pollution seemed to rise from compressors and tanks at the site, rising only slightly before slamming into what seemed like a hard ceiling in the sky. The smog got even worse the next day.
Marathon Oil did not reply to a request for comment on the complaint from BuzzFeed News.
What Wilson was seeing that night was likely an effect of an "inversion" of cold winter air common to Texas, several atmospheric scientists told BuzzFeed News. At night, the air on the ground grows colder and thicker, hugging the terrain within a "boundary layer" distinct from a warmer layer of air just above. This makes the smog pool and hang low in the sky.
After seeing Wilson's videos, Schade began reconstructing wind patterns from the nights of the leaks. His analyses found a link between a smog leak from the Sugarhorn facility and an enormous pollution plume that spun counterclockwise across the state, observed by an air quality monitor 20 miles away in Floresville, Texas, for three days.
"It does not at all surprise me," that there are higher smog markers seen down of the Eagle Ford Shale, Chelsea Thompson, an atmospheric scientist at the National Oceanic and Atmospheric Administration's earth science lab in Boulder, Colorado, told BuzzFeed News. Her own research has found higher smog levels in Colorado downwind of oil and gas operations exceeding pollution levels in Denver.
Thompson was more cautious about the plume's origin however, noting uncertainty in the measurements made by ground data stations.
Another NOAA scientist, Joost de Gouw, added that the chemistry required to create smog from hydrocarbons is poorly understood. So he isn't entirely convinced that the Sugarhorn facility was the culprit in the March, 2014, pollution plume.
"There are thousands of sources in these oil and gas production areas, and connecting an episode with higher concentrations to a single source is difficult to prove definitively," he told BuzzFeed News by email.
Wilson's complaint to TCEQ did not lead to an official investigation, despite her infrared camera evidence.
She said she was told that because she was a local resident, the agency wasn't obliged to investigate. The agency confirmed this in an email to BuzzFeed News.
But odor complaints from residents did trigger investigations in April and June, according to TCEQ's Andrea Morrow, spurring TCEQ to visit the Sugarthorn facility. At that time, investigators reported no issues, and the agency contends that there is not enough evidence to show that the facility caused the pollution.
But Schade said that their lack of findings is no surprise, given that they missed the winter and nighttime conditions that lead to smog inversions.
The air monitors 20 miles away from the facility that he used to reconstruct the plume in 2014 did not report levels of pollution high enough to cross legal limits for pollution, Morrow said.
But if investigators had visited the source then, Schade countered, they might have found violations. TCEQ has cited Marathon more than 20 times in the last two years for pollution violations.
Last month, Wilson spoke as a witness at an EPA meeting in Dallas convened to hear public comments on new limits on the amount of natural gas, or methane, allowed to leak from wells and facilities. Along with leaks of smog-producing hydrocarbons, methane leaks from natural gas pipes and wells across North America appear at least 25% to 75% larger than official EPA estimates, according to a 2014 analysis in the journal Science.
"Industry keeps saying it costs too much to keep an eye on these emissions," Wilson said. "I told them at the meeting [that] they can borrow my camera any time they want."