Focus Shifts To Undercover Planned Parenthood Videos After Suspect's "Baby Parts" Claims
News reports are asking whether anti-abortion videos that claimed clinics sell baby "body parts" played a role in a Colorado shooting that left three dead at a Planned Parenthood clinic.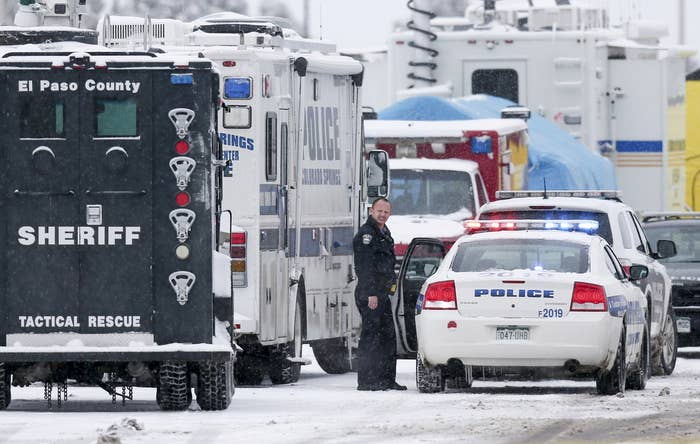 The legal system calls them "fetal remains," while medical researchers call them "fetal cells". But secretly-filmed anti-abortion activist videos this summer called them "baby body parts" as they decried the use of fetal tissues in biomedical research.
Now under arrest over Friday's shooting at a Planned Parenthood clinic in Colorado Springs that killed three people, Robert Lewis Dear Jr. reportedly also used the last term as he was taken into custody. According to NBC News and the Washington Post, Dear muttered the words "no more baby parts" to the police officers who arrested him in an effort to explain the attack.
Since June, the anti-abortion Center for Medical Progress (CMP) has released a series of edited videos claiming to document "Planned Parenthood's sale of baby body parts" in secretly-recorded conversations with clinic doctors over the last two years.
The videos — and the body parts sales claims — re-ignited abortion politics this Fall, leading to Congressional hearings, threats of a federal budget shutdown over federal payments to Planned Parenthood, and politicians repeating the "body parts" claims. Rep. Trent Franks of Arizona, a Republican, said that the videos show Planned Parenthood officials "haggling" over "baby body parts," and vividly described a fetal brain collection at one hearing.
The uproar has led to increased threats against clinics, Planned Parenthood has said, culminating in Friday's attack.
"We now know the man responsible for the tragic shooting at PP's health center in Colorado was motivated by opposition to safe and legal abortion," Planned Parenthood said on Twitter on Sunday.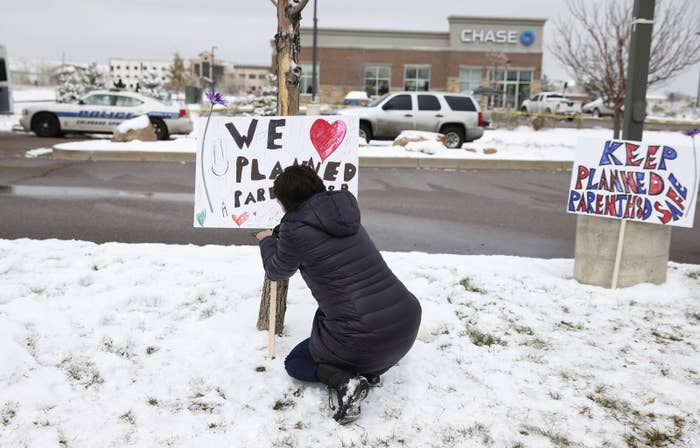 In a statement, the CMP condemned what it said was "the barbaric killing spree in Colorado Springs by a violent madman."
The clinic belongs to a Planned Parenthood affiliate, Planned Parenthood of the Rocky Mountains Inc., whose officials were among those secretly recorded by the group. The CMP pretended to be running a biomedical tissue culture firm called BioMax Procurement Service to fool doctors into describing procedures while surreptitiously recording them.

Peter Robbio, a spokesman for David Daleiden, the anti-abortion activist behind the videos, said that the CMP had no comment on Dear's reported "baby parts" claims beyond its original statement.
But in past interviews, Daleiden has told BuzzFeed News via email: "In general, I try to use the terms 'baby,' 'fetus,' 'baby parts,' 'fetal organs,' 'fetal parts,' 'fetal tissue,' etc, interchangeably," he said. "It's more important to make sure that functionally, the human remains we are talking about are described accurately in terms the public can understand: some scientists use only cells, but some use whole brains or hearts."
Fetal cells are used in about 50 federally funded studies and some private efforts. Most use cells of one tissue type — liver or eye cells, for example — to look for developmental or genetic miscues in congenital ailments.
Daleiden has also complained about efforts by one firm, Ganogen Inc., to grow fetal kidneys to adult size in rats for later transplant into patients dying of renal failure.
Fetal tissue donations are allowed under a 1993 federal law developed by a Reagan Administration-appointed bioethics panel, and clinics are allowed "reasonable" reimbursement of storage and transfer of the cells to biomedical firms.
"Although anti-abortion groups may condemn this type of violence when it happens, the way that they target and demonize providers contributes to a culture where some feel it is justifiable to murder doctors," said Vicki Saporta of the National Abortion Federation in a statement.