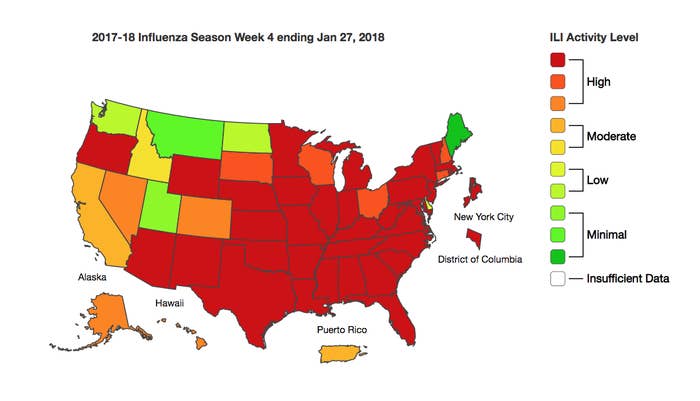 A dangerous flu season is continuing across the US, federal health officials reported on Friday, showing only the first signs of decline in western states but growing stronger on the East Coast.
As of Jan. 27, officials from the Centers for Disease Control and Prevention said, the current influenza outbreak has lead to the highest measured hospitalization rates for the virus, and has killed 53 children nationwide, 16 in the most recently reported week. The high hospitalizations are particularly affecting people over 65.
"This is a very difficult flu season," Acting CDC Director Anne Schuchat said on a briefing for reporters. "We are not out of the woods yet."
The current flu outbreak, now in about the 10th week of high activity, is a mixture of three strains of the flu bug: H3N2, H1N1, and influenza B. While lab tests nationwide are showing a decline in positive tests for H3N2 — the most active strain this season — they are also reporting increases in the influenza B infections.
The flu vaccine is not working well against the H3N2 strain due to a genetic mismatch between the vaccine version of the bug and its wild form. A Canadian estimate finds the efficacy of the vaccine this season may only be 17%, below even the estimate of 30% effectiveness for the US vaccine.
Nevertheless, Schuchat urged people to still get vaccinated, noting vaccinated people who get the flu typically have less severe symptoms. Only 20% of the children who have died in the current season were already vaccinated, she said.

She urged parents to remind children to wash their hands. Children with difficult or rapid breathing or a high fever should see a pediatrician. Particularly dangerous are cases in which recovery is halted by resumption of symptoms, Schuchat warned, perhaps a sign of a dangerous secondary pneumonia.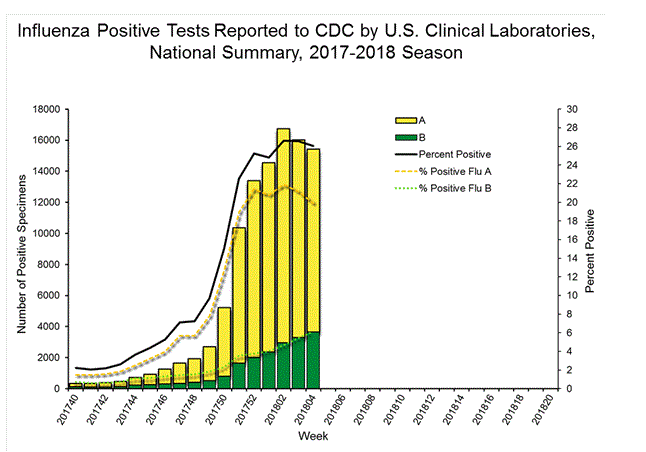 In the past, flu seasons have lasted up to 20 weeks, the CDC's Dan Jernigan noted at the briefing. "We may have many more to go," he said, although he noted a decline in flu reports in western states, hopefully the start of an end to the outbreak.
Schuchat took over as acting director of the CDC only this week, following the resignation of CDC director Brenda Fitzgerald over reports of investments in tobacco companies.
"Despite recent leadership changes, CDC remains committed to our 24/7 mission of protecting the health and safety of the American people," Schuchat said at the beginning of the briefing.