Congressional Hearings Begin On Planned Parenthood Videos
On Wednesday a Congressional hearing delved into the legalities of late-term abortions and secretly recorded videos of abortion clinic employees. Testimony came from two anti-abortion activists who said they had survived late-term abortion procedures.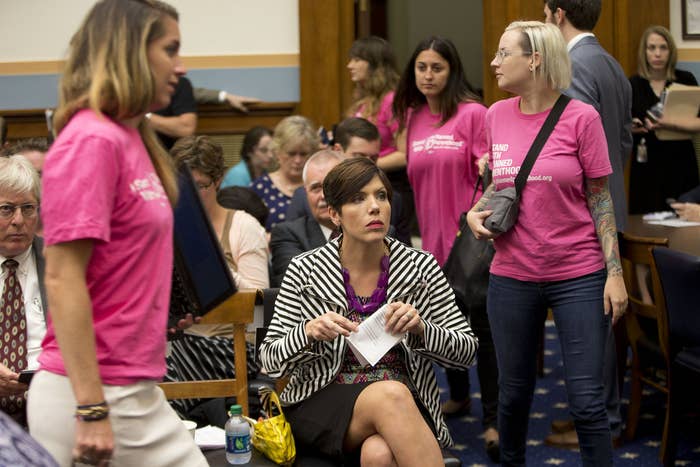 WASHINGTON D.C. — On Wednesday the House Judiciary Committee kicked off a series of hearings promised this fall to debate abortion politics, spurred by a series of secretly recorded videos of Planned Parenthood doctors and clinics.
Over the summer, the anti-abortion Center for Medical Progress in Irvine, California, claimed that Planned Parenthood and fetal tissue firms were illegally selling fetal organs for profit. These allegations were based on sections of the videos, largely conversations with Planned Parenthood doctors and fetal tissue firm officials recorded under false pretenses.
The 10 videos released so far drew a failed Senate vote to defund Planned Parenthood in August, and generated the threat of derailing efforts to pass a federal budget for 2016.
"The nation's attention has been drawn to a series of undercover videos," House Judiciary Committee chairman Rep. Bob Goodlatte of Virginia said to open the hearing. "There is no question the videos are deeply disturbing."
The hearing, entitled "Planned Parenthood Exposed: Examining the Horrific Abortion Practices at the Nation's Largest Abortion Provider," is the first of a series promised by four Congressional committees.
"Any discussion of abortion is inherently troubling," Goodlatte said. The videos, he added, forced a public discussion of the legal rules surrounding fetal tissue donations and allowable medical procedures.
"There is no credible evidence that Planned Parenthood broke the law," Rep. John Conyers of Michigan, the ranking Democrat on the committee, said in his opening remarks. He called the hearing one-sided and questioned the "deceptive" editing of the videos. "What is troubling about the videos is the manner in which they were produced."
Testimony at the hearing came from the National Right-To-Life general counsel James Bopp Jr., two anti-abortion activists who said they had survived late-term abortion procedures attempted by their mothers, and Yale Law School professor Priscilla Smith.
Testimony from Planned Parenthood has been requested by the House Energy and Commerce Committee, which is also investigating the videos. CMP's David Daleiden has said his group is cooperating with Congressional investigators.
Planned Parenthood receives about $452 million yearly in federal funding, largely for healthcare costs.
Federal funding of abortion is prohibited, and only about 3% of Planned Parenthood activities involve abortions. About 1.3 million abortions occur every year in the U.S. and Planned Parenthood clinics perform about a quarter of them.
Rep. Trent Franks of Arizona, a Republican, said that the videos show Planned Parenthood officials "haggling" over "baby body parts," and vividly decried the depiction of a fetal brain collection at a clinic. "The sands of time should cover the Capitol Dome before we give another dime to Planned Parenthood," Franks said.
Testimony and argument at the hearing largely divided — often in sharp tones —- on familiar cultural lines, with abortion opponents decrying the procedure as the murder of unborn children often in religious terms, and abortion rights supporters saying that the hearing and videos were political attacks on the Supreme Court's 1973 Roe v. Wade decision.
"I want abortion to be unthinkable in this country," said Gianna Jessen, one of the self-described "abortion survivors,"in response to a question over whether she supported a bill, passed in the House in May, that would bar abortions after 20 weeks of pregnancy. Goodlatte repeatedly called for passage of this "Pain Capable Unborn Child Protection" bill that would ban abortion after the 20th week of pregnancy.
The two legal experts, Bopp and Smith, duelled over a 1993 law allowing transfer of fetal remains from abortions to medical researchers, and for organ transplants.
At issue in the hearing was the law allowing "reasonable" reimbursement in these cases. Goodlatte called this a "loophole" that allowed Planned Parenthood to profit illegally from the sales of these tissues. Bopp said depictions of doctors discussing prices of specimens in the videos confirmed that more than reasonable costs are involved in these transfers.
No investigations of these sales have been announced in states where Planned Parenthood says its clinics participated in fetal tissue transfers. That includes California, where CMP activists recorded the videos pretending to be from a fake biomedical firm called BioMax Procurement Inc.
One of the central legal questions at the hearing revolved around the legality of changing surgical procedures to ease the collection of fetal tissues desirable for medical research, sparred over by the two legal witnesses, Bopp and Smith. The videos made it appear this was discussed during the conversations. Goodlatte called this as an "ethically dangerous" step.
Conyers and Smith both noted that federal rules prohibiting altering procedures covers only tissues collected for federally-funded transplant of fetal organs into patients, which isn't at issue in the videos. Planned Parenthood says its centers aren't involved in this kind of transplantation, which hasn't occurred since 2007. Bopp acknowledged this point in his remarks, but said the practice violates the healthcare organization's own standards.
Bopp maintained the videos show that late term abortions at some of the four clinics from the video violate a law prohibiting "partial birth" abortions. One video depicts clinic technicians discussing fetal remains with a heart they seem to say is still beating, he noted. Smith said that surgical collection of intact fetal remains depicted in the video didn't constitute a violation of the law, as the video's supporters maintained. Just saying, "intact," she said, "in ominous tones," doesn't mean any laws were violated.
The hearing is really about outlawing abortions in America, Smith said in her testimony. She noted that the videos follow repeated past hidden video anti-abortion activism over the last 15 years. All of those efforts had been "debunked," she said.
"This hearing was political theater at its very worst," Dawn Laguens, executive vice president for Planned Parenthood Federation of America, said in a statement. "It's clear this hearing was not about Planned Parenthood — it was a chance for anti-abortion extremists and members of Congress to promote their political agenda of banning abortion in this country."
UPDATE
This post has been updated with a statement from Planned Parenthood.