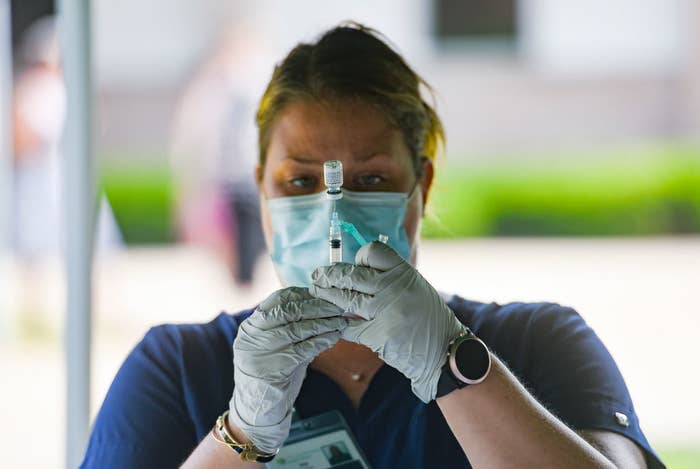 A fierce debate over whether to approve booster COVID-19 vaccine shots in the US culminated in a unanimous vote from the FDA's external panel of experts on Friday to recommend a third Pfizer dose for adults 65 and over, as well as people who face high risks because of their job or an underlying illness.

The committee first overwhelmingly voted to reject a request from Pfizer to approve boosters for all Americans age 16 and over. Outside experts argued that there was not sufficient safety data to endorse a third dose for younger age groups. In a follow-up vote, the group voted unanimously to recommend emergency authorization for a booster dose for older adults and high-risk groups, including healthcare workers.
The recommendation will be "fine-tuned" by a CDC committee next week, said panel acting chair Arnold Monto of the University of Michigan.
"I plan to go out and get my third vaccine this afternoon," said panelist Jay Portnoy of Children's Mercy Hospital in Kansas City. "I think it is great that this will be available. It will really help stem the pandemic."
In August, President Joe Biden and his advisers had called for providing booster shots to all adults eight months after their last vaccine shot, citing new data on waning immunity against COVID-19. But the move required approval by the FDA.

In the interim, many scientists — including top scientists at the FDA and the World Health Organization — argued that two doses were still highly protective against severe disease and boosters weren't needed for the general population. Extra doses, they argued, were better spent preventing deaths and stopping the development of potentially dangerous new variants worldwide. Two top vaccine scientists at the FDA have chosen to resign, reportedly over the Biden administration's boosters plan.
The choice on whether to officially authorize boosters now rests with acting FDA chief Janet Woodcock. She has already signed a White House statement supporting Biden's eight-month booster plan.
The FDA typically follows the recommendation of its vaccine advisory committee. But many have argued that the White House has been forging ahead with a broad booster plan without the health agency's approval. White House coronavirus czar Jeff Zients on Friday defended the White House's preparations to coordinate with state and local health officials ahead of the FDA's authorization, arguing that the Trump administration's slow vaccine rollout was driven by a failure to lay the groundwork for a vaccination campaign before the shots were authorized.
In the course of the daylong meeting ahead of the vote, the panel heard from Pfizer representatives asking for approval of the booster, and FDA experts critically examining the data submitted by the drug maker. Israeli Ministry of Health officials also presented data from their booster campaign, arguing the third shots prevented a surge that would have exceeded the nation's hospital capacity in August.
"I agree with the decision the FDA panel made. The evidence I saw presented did support the approval of a third dose for older Americans and others at substantial risk of severe disease," John Moore, a virologist at Weill Cornell Medical College in New York, told BuzzFeed News. "But for younger adults there simply wasn't enough data to justify a third dose, at least not yet."
About 20 nations now offer booster shots to some part of their population, typically older adults, medical personnel, or those with compromised immune systems, with around twice that number discussing the possibility. Israel offers boosters to everyone, as does Hungary, while Turkey, Chile, Uruguay, and Cambodia are offering voluntary boosters to those already vaccinated with a less effective Chinese vaccine. Russia is similarly offering boosters of its vaccines.

The United Kingdom decided to approve booster shots for people 50 and older, as well as vulnerable groups, such as people with cancer with compromised immune systems, earlier this week, following a recommendation from its external vaccine advisory group. That rollout began Thursday.

The main reason the FDA advisory committee opposed the initial vote over approving a third shot for everyone 16 and up was the lack of safety data for older teens. Panelists also raised questions about recent data from Israel suggesting a sharp waning of vaccine effectiveness eight months after a second shot.
Pfizer checked for side effects in only 306 people 18 or older who received a third dose of their vaccine and extrapolated those risks to 16- and 17-year-olds. That is the age range with the highest risk of extremely rare, short-term inflammation of heart muscles, called myocarditis, seen after shots. At the meeting, Pfizer's William Gruber said the company had restricted booster safety tests to those 18 and older because the FDA explicitly allowed them to extrapolate to teens from the data. He argued their reactions should be similar to adults.
But the panel overwhelmingly disagreed. "I have major concerns about the extrapolation of data from much older populations to 16- and 17-year-olds. We have no data on the safety in this population at all that have been presented so far. And that concerns me significantly," panelist Archana Chatterjee of Rosalind Franklin University in North Chicago said. "I'd like to see more data before I recommend it for a younger age group."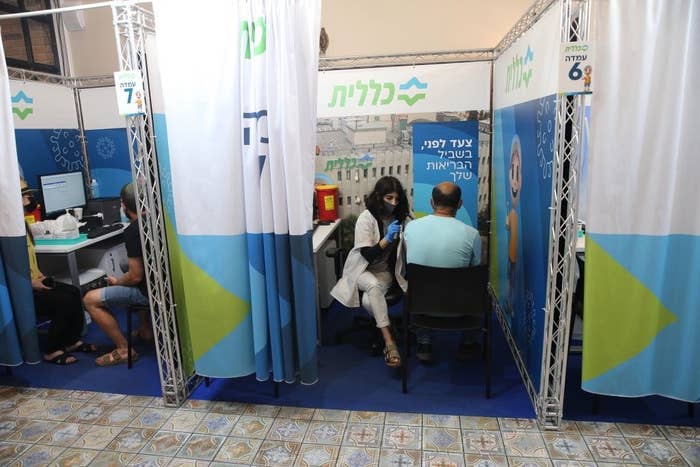 The daylong debate capped off weeks of fierce disagreement among scientists about whether boosters were needed in the general population.
On Monday, a group of 18 vaccine experts, including officials with the FDA and WHO, published a review in the medical journal the Lancet pushing back strongly against the idea of providing booster shots for the entire adult US population. The WHO has called for a moratorium on booster shots worldwide, arguing that the priority should be increasing vaccination rates across the developing world. "The virus is evolving and it is not in the best interest of leaders just to focus on narrow nationalistic goals," WHO Director-General Tedros Adhanom Ghebreyesus said in August.
FDA advisory committee panelists were urged not to consider questions of global vaccine equity in their vote, and instead to focus on the data around waning immunity, the benefits of a booster dose, and the possible safety issues.
Immunity is declining over time, according to studies evaluating the Pfizer vaccine's ability to prevent infections. Previous studies had struggled to disentangle the effect of waning immunity from the recent emergence of the more transmissible Delta coronavirus variant. But in a study funded by Pfizer, a team at the Southern California Kaiser Permanente Medical Group showed that the decrease in immunity is caused primarily by the vaccine becoming less effective over time, rather than the Delta variant.
For people who had received their second dose more than four months previously, the Kaiser Permanente team found the vaccine's effectiveness in preventing infection with the Delta variant was just 53% compared to 93% for those who got their second shot less than a month ago. For other variants, effectiveness fell from 97% to 67%. But the researchers found the vaccine remained more than 90% effective at protecting against hospitalization.
But FDA's Phil Krause, one of the FDA officials who announced he was resigning, reportedly over Biden's booster plan, raised questions about the Kaiser Permanente study at Friday's meeting. Krause questioned whether the sharp drop in effectiveness was an artifact of the statistical analysis used by the authors and not a real reflection of COVID-19 case numbers.
Although there's so far no clear evidence from the US that waning immunity is causing a problem with severe illness and hospitalization, Pfizer pointed to data from Israel showing that people age 60 and older who had their second dose in March 2021 were 1.7 times less likely to get severe COVID compared to those who received their second dose in January 2021. The trend was similar for younger age groups.
And in a paper published in the New England Journal of Medicine this week, the same team, led by Yair Goldberg of the Technion in Haifa, reported that the rate of severe illness was nearly 20 times less just 12 days after a booster injection.
Still, a briefing document for the meeting prepared by the FDA's own scientific experts argued against putting too much weight on observational studies from other countries. "US-based studies of post-authorization effectiveness of [the Pfizer vaccine] may most accurately represent vaccine effectiveness in the US population," it stated. And panelist Paul Offit of the Children's Hospital of Philadelphia expressed caution about the results from Israel, saying the finding of a sharp drop in protection against severe disease made little sense, since the immune cells that protect against hospitalization with COVID-19 typically last for years.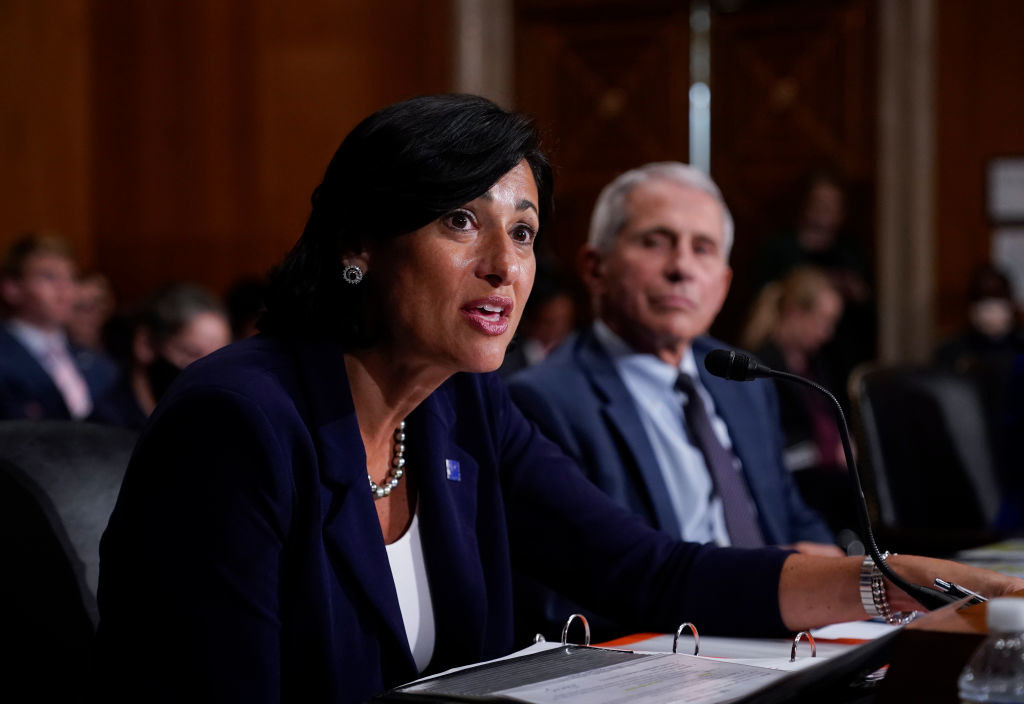 Today's vote seems unlikely to end the controversy over booster shots, with some experts disappointed that shots were not going to a broader segment of the population.
For Peter Hotez, a vaccine researcher at Baylor College of Medicine in Houston, the dangers of lingering health effects following a COVID infection justified rolling out boosters more widely. "For me, the risk of long COVID outweighs the risk of myocarditis," he said. "There's not enough data so it becomes a case of opinion."
University of Arizona immunologist Deepta Bhattacharya argued that the debate boiled down to wanting, versus needing, booster shots. "Boosting to reduce infections falls squarely in the camp of wanting, especially when so many other people in other countries need their first doses," Bhattacharya told BuzzFeed News on Thursday.
But boosters will help limit mild infections that might lead to new surges, especially with the winter cold and flu season approaching, said Emory University biostatistician Natalie Dean. "I'm glad the panel narrowed consideration to a more targeted population. There is a clearer risk benefit profile here," Dean said by email on Friday. "The recommendation to boost younger adults should not be rushed, with attention paid to safety given continued vaccine hesitancy."
And despite the narrow focus of the FDA advisory panel, Dean added that the global picture should not be ignored. "Getting the most vulnerable protected worldwide will have an enormous impact on reducing mortality," she said.