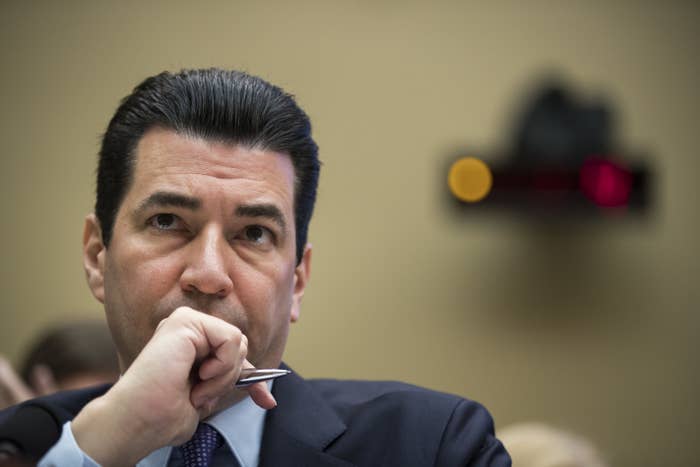 Food and Drug Administration Commissioner Scott Gottlieb resigned Tuesday, in a surprising departure from the Trump administration.
Gottlieb, 46, was sworn into leadership of the $5.1 billion agency in May 2017 and had generally been seen as a quiet and effective leader. He had previously served at FDA during the second Bush administration as a deputy commissioner, with a background as a physician and public health policy expert. News of his resignation was first reported by the Washington Post, with his departure timed for the next month.
In a letter to FDA staff, which the agency shared on Twitter, Gottlieb explained that he wanted to spend more time with his family. "There's perhaps nothing that could pull me away from this role other than the challenge of being apart from my family for these past two years and missing my wife and three young children," he wrote. He also thanked them for "their sacrifice over the past two years."
In his resignation letter, Gottlieb wrote: "I'm fortunate for the opportunity that the President of the United States afforded me to lead this outstanding team, at this time, in this period of wonderful scientific advances."
He then reflected on what he described as his agency's signature policies, from seeking to reduce morbidity associated with tobacco use to confronting e-cigarette use by teens, to fighting opioid addiction rates, to improving food safety and tracking foodborne illness outbreaks.

"We cracked down on bogus stem cell therapies, on sham homeopathy, on unsafe medical device products, on tobacco sales to minors, on unsafe dietary supplements, and on kratom," Gottlieb wrote.
He also noted that the FDA approved a "record number" of generic medicines, prescription drugs, and medical devices in 2017, and then again in 2018.
Skyrocketing prescription drug pricing became a national topic of scrutiny during Gottlieb's tenure.
Makers of prescription and generic drugs alike praised Gottlieb. "His efforts have made a meaningful impact for patients in need of innovative medicines," said PhRMA, the pharmaceutical industry's lobbying group, in a statement.
Said the Association for Accessible Medicines, which represents generic drug manufacturers: "Dr. Gottlieb used his bully pulpit to speak out early and forcefully about brand drug companies withholding samples needed by generic drug makers, about rebate traps and other anti-competitive abuses in the pharmaceutical supply chain which unfortunately widen the gap between patients and the affordable generic and biosimilar medicines they deserve."
Health and Human Services chief Alex Azar also praised Gottlieb's efforts to make experimental drugs available to ill patients and spur agency approval of more generic drugs. "The public health of our country is better off for the work Scott and the entire FDA team have done over the last two years," Azar said in a statement. "I will personally miss working with Scott."
Pharmaceutical industry attorney Chad Landmon of Axinn said, "Gottlieb was generally regarded as one of the superstars of the Trump administration," in a statement sent to BuzzFeed News. He said Gottlieb's push to approve generic drugs to lower drug prices was a "dramatic shift" in FDA's approach, which in the past has not focused on drug costs.
But Michael Carome of Public Citizen, a consumer watchdog group that has frequently criticized the FDA under Gottlieb's leadership, had this to say: "Good riddance."

"We opposed his nomination because of his deep ties to industry and his deregulatory stances that, in our view, undermine public health," Carome told BuzzFeed News. "We are not sorry to see him go now, and to hope he is not just replaced by someone else with such deep entanglements with industry."
Before becoming commissioner, Gottlieb worked in the venture capital industry looking at new health care firms. He served on the board of drug maker GlaxoSmithKline, and had received payments from medical firms for consulting and speeches.
On the food safety side, industry attorney Steve Armstrong of Georgetown University credited Gottlieb for keeping strengthened Obama administration guidelines on track during his tenure. "I found Commissioner Gottlieb to be extremely sensitive to the concerns about consumer safety and he certainly helped the agency keep its mission."
The FDA's Food Safety Modernization Act was signed into law in 2011 and the agency has created new regulations following its enactment ever since, said Armstrong. "Commissioner Gottlieb kept that process going forward and I think he deserves credit for that."
UPDATE
This post has been updated with comments from Steve Armstrong and Chad Landmon.