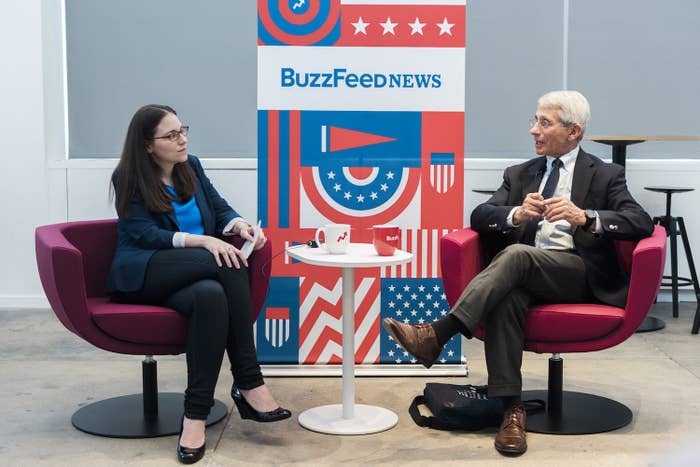 In 1984, as the AIDS epidemic erupted, Anthony Fauci took the helm of the federal research institute devoted to fighting infectious disease, the National Institute of Allergy and Infectious Diseases. At the time, Ronald Reagan wouldn't even say the word "AIDS" publicly.

"Behind the scenes there was pretty much the realization this was something we need to respond to," Fauci told BuzzFeed News science editor Virginia Hughes. "But publicly he was very disappointing." Reagan only spoke up about AIDS late in his second term under the prodding of movie star Elizabeth Taylor, Fauci added, "who essentially almost embarrassed him, really laid it on the line that he needed to talk about it."
Fauci, 75, has served under five presidents during his tenure, leading the U.S. government's response to every outbreak from AIDS to Ebola to Zika. His interview with BuzzFeed News on Monday comes as Americans await the start of a summer mosquito season that threatens to bring the tropical Zika virus linked to devastating birth defects to the U.S.
In terms of risk to Americans, he said, Zika is less threatening than a pandemic flu, and far scarier than Ebola. "If you look at Zika broadly, then it is very mild illness for most of us," he said. "For pregnant women it is a potential disaster."
The World Health Organization has predicted that more than 2,500 infants in Brazil will develop microcephaly, the severe shrunken brain birth defect, as a result of their mother's infection with Zika virus in the last year. The virus has spread to 35 countries and regions, and public health experts dread a repeat of this birth defect epidemic across South America and the Caribbean. Puerto Rico, for example, is already reporting hundreds of cases transmitted by mosquito bites, and is expected to see 700,000 people infected with Zika.
"How do you treat this in a country where 60% of the pregnancies are unintended, where women don't have access to contraception, where the Catholic Church doesn't want anything to do with terminating a pregnancy?" Fauci asked.
Ultimately, vaccination for Zika virus will become a standard part of childhood in South America and the Caribbean, Fauci said. But scientists have to create the vaccine first, with safety tests of an experimental inoculation set to start in September.
The advent of Zika reinforces the key difficulty of Fauci's job, he said: getting across the difference between the real but scant threat of a new disease — he called fears of Ebola spreading to America in 2015 "overblown" — against the risks, like car wrecks and hospital-borne infections, that we face everyday.
In last year's Ebola outbreak, when Fauci and National Institutes of Health personnel cared for two people sick with the disease at the Maryland NIH campus, he recalled, some parents were afraid of letting their kids play at a daycare center where a nurse's child played. During the AIDS crisis of the 1980s, he said, people asked him if their gay waiter would give them what was then called Gay-Related Immune Deficiency.
"The chances of that happening was infinitesimally small compared to you chance of walking outside the restaurant and being hit by a truck," Fauci said. "When a new risk occurs in life, it instinctively occupies more attention than the other risks we face."
What really keeps Fauci awake at night are fears of a highly infectious disease, like the flu, with a high mortality rate. The deadly Spanish Flu outbreak of 1918 that killed perhaps 50 million people had a mortality rate of less than 2%, Fauci noted. "An infectious disease that is 10% lethal would be a total global catastrophe."
Of the Presidents he has served, Fauci said George W. Bush was the most supportive of public health, calling for the five-year, $15 billion plan, the President's Emergency Plan for AIDS Relief (PEPFAR), in his 2003 State of the Union address. The development of drug combination therapy for HIV had turned what was once terrifying and deadly for Americans into a manageable disease by Bush's administration, while leaving millions of Africans at risk.
"He said to me that as a rich nation we have a moral obligation to do something," Fauci said. "For those of you who don't like George W. Bush, he really said that."
And Bush followed through, with PEPFAR continuing and likely saving the lives of 9 million people in Africa by now.
President Clinton, in contrast, disappointed Fauci by failing to support federal funding of needle exchanges after it was shown to "dramatically" reduce HIV infections among drug abusers, Fauci said. "He didn't do it. And to this day he says that he should have."
The current president, Obama, has been constrained by a Congress opposed to his ideas, Fauci said, alluding to an ongoing dispute over the administration's $1.9 billion request for funds to develop a Zika vaccine and support mosquito eradication. The request is stalled in Congress, where some have called for federal agencies to divert unspent Ebola funds to the Zika response.
And what about a President Trump? Fauci says he would stick around.
"I'm not a political appointee," he said. "I'm a scientist and a public health official. I've been one before they all came, I'll be one when they all leave … I'm not going to quit depending on who's president."