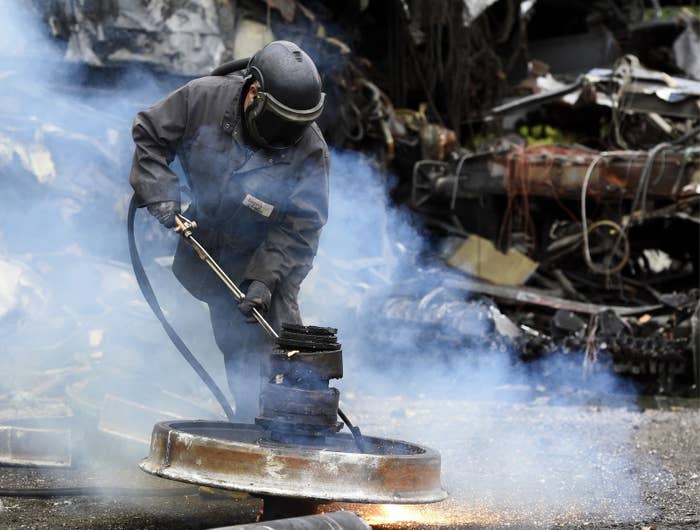 The EPA on Tuesday named its first 10 hazardous chemicals — most notably asbestos — to a new roster of workplace or home health hazards that may result in some of the chemicals being banned.
Largely composed of industrial solvents, flame retardants, and workplace cleaners, the announcement of the new list kicks off a long-awaited overhaul of how the environmental agency regulates dangerous chemicals.
"We now have the power to require safety reviews of all chemicals in the marketplace," EPA official Jim Jones said in a statement. A June law had required the first 10 chemicals to be named by Dec. 19.
Asbestos, a fire-resistant material that causes mesothelioma cancer, was widely expected to be on the list. Naming the chemicals to the list begins a five-year review that might lead to their ban.
According to the American Chemistry Council, "a chemical's inclusion in this first group of ten chemicals does not in and of itself indicate anything about the safety of the chemical."
The industry group said they expected the EPA to conduct detailed risk evaluations before making any decisions on the use of the chemicals.
"In order to help ensure the most credible results, it is imperative that EPA engage stakeholders early and often throughout the risk evaluation process, including through peer review and public comment," the ACC said in a statement.
The 10 chemicals on the list are: Asbestos, Carbon Tetrachloride, Cyclic Aliphatic Bromide Cluster, Methylene Chloride, N-methylpyrrolidone, Pigment Violet 29, Tetrachloroethylene (also known as PERC or dry cleaning fluid), Trichloroethylene,1-4-Dioxane, and 1-Bromopropane.

"While this is an important milestone, this list is just the first 10 of 1,000 chemicals in need of urgent EPA review," Scott Faber of the Environmental Working Group said in a statement. He noted the June law also doesn't cover cosmetics and similar consumer chemicals.
One disappointment for environmental groups was the new list did not include lead, known to be a health hazard for decades. Lead was most recently the cause of a public health disaster in Flint, Michigan, where water pipe corrosion led to its widespread diffusion in drinking water.
"It is tragic that while children continue to be exposed to ongoing, unnecessary uses of lead in consumer products, EPA is not even starting the process of phasing out these uses with its new authority to regulate toxic substances," attorney Eve Gartner of the environmental group, Earthjustice told BuzzFeed News by email.