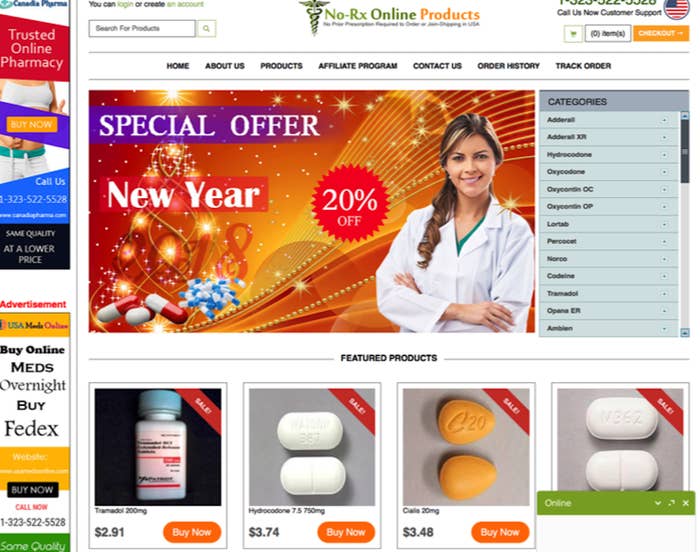 Facing federal government scrutiny for failing to stop internet sales of illicit opioids, tech giants are fighting back with a report blaming the "Dark Web" — the part of the internet that allows complete anonymity and is a hub for black markets.
In 2017, President Trump declared a nationwide public health emergency over overdose deaths from opioids, painkillers, and illicit drugs such as heroin and fentanyl. FDA chief Scott Gottlieb in April called for Google, Facebook, and other tech companies to crack down on online pharmacies selling painkillers such as oxycodone and fentanyl, now the leading cause of drug overdose deaths.
On Monday, the Center for Safe Internet Pharmacies (CSIP) released a report ahead of a Wednesday meeting at FDA headquarters aimed at curtailing illegal online sales of opioids. The group is funded by tech companies, including Paypal, Facebook, and Google, that could be negatively affected if the government decided they were criminally responsible for any drugs sold illegally through their platforms.
The CSIP report surveyed the 12 largest marketplaces on the Dark Web and found thousands of offerings for opioid painkillers and psychedelic drugs. Of 100,000 drug listings on the Dark Web, about 8% were for opioids, which people can buy using bitcoin or other cryptocurrencies with delivery often promised via the US Postal Service.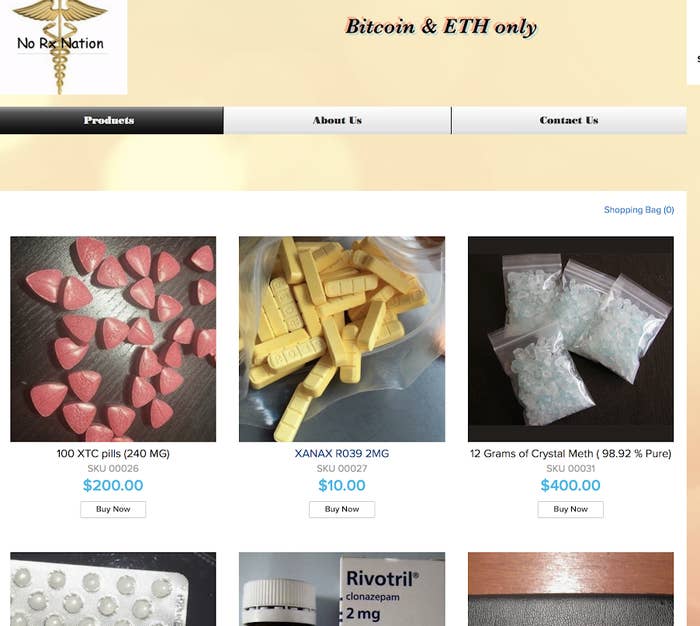 "This activity on the Dark Web is not only nefarious and known to be that by both buyers and sellers, but it is legitimately a source of illegal opioid sales," CSIP's Marjorie Clifton told BuzzFeed News.
In contrast, supposed pharmacies on the regular (or "open") internet offering prescription opioid painkillers were largely credit card scams rather than real providers of illicit drugs, according to separate research conducted by payment processors.
"These are not legitimate," Clifton said. "These are companies trying to sell time machines and light sabers," she said, meaning their products don't exist.
On the other side, pharmacists and pharmaceutical firms say that internet platforms have been too lazy to shut down online pharmacies peddling dangerous illegal drugs and counterfeit pills.
"These online pharmacies selling prescription drugs without a prescription are openly acting illegally, so they should just be shut down automatically," Libby Baney, a consultant with the Alliance for Safe Online Pharmacies (ASOP), a pharmaceutical industry nonprofit, told BuzzFeed News. "I agree that the Dark Web is part of the problem but just looking there isn't going to solve everything."
Clifton said that tech companies block more than 117 million fake internet pharmacy ads a year, but many then reappear automatically under new names. That means tech companies need a partnership with FDA and other government agencies to go after the individuals behind these ever-changing networks, she argued, and can't fix the problem alone.
The Dark Web relies on anonymous web browsers such as Tor and cryptocurrencies such as bitcoin to complete sales, the CSIP report noted, putting it outside the reach of most people. It noted an estimate of only around 170,000 transactions a year on the Dark Web, a small number set amid the backdrop of perhaps 23 million people nationwide every year dealing with problematic drug use, according to the National Institutes of Health.
The majority of Dark Web sales seen in the report happened at just one market that was recently subjected to arrests and a shutdown by the Drug Enforcement Administration.
However, Timothy Mackey, a researcher at the University of California, San Diego, told BuzzFeed News that pretending the Dark Web was the whole problem with online drug sales was "myopic." The Dark Web markets can serve as a wholesale seller of illegal drugs to the wider drug market, for starters. Particularly with fentanyl — an opioid perhaps 30 to 50 times stronger than heroin, now cut widely into counterfeit pain pills, heroin, and even cocaine — sizeable Dark Web sales could cause many deaths.
A recent British Medical Journal study, he noted, found that sales of opioids through the Dark Web were 13.7% of all such drug sales, a percentage that had surged after efforts to curtail prescriptions of painkillers earlier in the decade. (The CSIP report, in contrast, noted a 2016 federal estimate that it was only 5% of sales.) Fentanyl went from rarely purchased on those markets in 2014, according to the BMJ study, to the second-most purchased type of opioid there in 2016.
"It's a bit of a stretch to say that the Dark Web is the whole problem online," Mackey said, noting reports that fake pharmacies on the regular web are tied into Dark Web wholesalers, serving as retailers of their drugs. And the CSIP report does note some foreign pharmacy networks on the open web that appear to deliver drugs to buyers.
"They are all part of an ecosystem of illicit drug sales," Mackey said.
CORRECTION
More than 117 million bogus pharmacy ads are blocked online every year. An earlier version of this post misstated that as 117 million blocked sites.