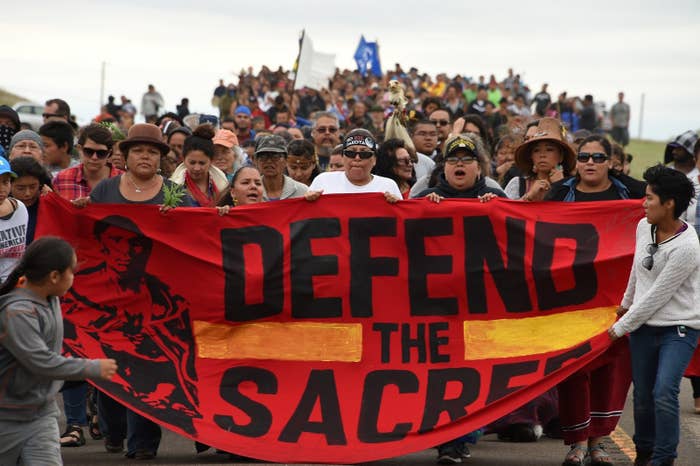 Long sidelined, Native American tribes suddenly look like the future power brokers of the American West, say environmental experts assessing the federal government's halt to the hotly disputed Dakota Access Pipeline.
In terms of environmental risk, the pipeline is not expected to be any more damaging than past pipelines traversing tribal lands — which are far less risky than moving the same oil by rail or truck. But for the first time, authorities are assessing risk by doing more than crunching numbers, and actually making the tribe's cultural concerns paramount in the equation.
In a last-minute move on Friday, the Obama administration halted the project, a proposed 1,200-mile pipeline linking bursting oil fields in North Dakota to refinery hubs in Illinois. Three federal agencies reversed the US Army Corps of Engineers' July approval of the pipeline, which had sparked fierce protests from the Standing Rock Sioux Tribe that led to injuries in a face-off with protesters and guard dogs.
Friday's statement from the Justice Department called for "nationwide reform" on taking account of tribes' views on big energy projects that cross their land, and asked for a voluntary 20-mile construction halt around Lake Oahe, a sacred site to the Standing Rock Sioux.
"It is a game changer," attorney Kevin Lee of the Minnesota Center for Environmental Advocacy told BuzzFeed News.
In the past, oil companies and developers who wanted to dig up the West would only need to consult with tribes on traversing sacred lands, and might ignore these concerns on privately owned land. Now they might also need complete agreement from tribes, Lee said. "The geography of the American West is such that you can't start any kind of big project without crossing Native American land."
The Lakota and Sioux tribes have complained that the pipeline would disturb sacred areas and could pollute drinking water, and that it was approved without enough consultation with Native Americans. On Friday afternoon, a federal judge rejected a tribal request to halt the pipeline, finding the Standing Rock Sioux couldn't show "irreparable injury" from the project, the standard required for him to issue an injunction. About an hour later, however, the Justice Department's statement made this ruling moot.
BuzzFeed News asked representatives of Energy Transfers Partners, which owns the project, to comment on the federal halt to the pipeline by phone and email, but received no reply.
In general, oil pipelines are roughly 40 times safer than sending oil by railroad, now the standard for North Dakota oil, and 100 times safer than trucks. At least 10 oil trains have exploded near small towns in North America in the last three years, a factor that the Dakota Access project has pointed to in weighing risks from the project.
Steel pipelines today are made of rust-resistant alloys that are tested for leaks by changing the pressure in pipes and running electrical currents along their lengths to detect resistance from corrosion. Large oil pipeline spills (meaning more than 500 gallons) decreased by 32% in the last five years, the industry says.
That's not to say they're entirely safe.
"What they don't tell you is they are defining their way out of having a problem," attorney Rebecca Craven of the Pipeline Safety Trust in Bellingham, Washington, told BuzzFeed News. Unmentioned, she said, is that federal data suggests that newer pipelines 10 to 15 years old are leaking more frequently than old ones. "While the risk of a pipeline leaking in any one spot are small, the risks that it is leaking from somewhere are large."
And when pipelines rupture, the leaks are enormous: A 2010 pipeline burst sent hundreds of thousands of gallons of crude oil into the Kalamazoo River. That led to a $62 million fine and $110 million in monitoring costs.
All the small leaks from oil pipelines add up to about five Kalamazoo-like leaks nationwide, Craven noted. And pipeline firms detect the leaks only about 10% of the time, raising questions about how hard they are looking.
Regardless, US District Judge James Boasberg had concluded on Friday that the Dakota Access route, which would travel within 300 feet of existing natural gas pipes under Lake Oahe, met conditions for a "general permit" for pipelines under federal law. The company promised to do tests for pipeline rust every five years, and to add spill equipment near the lake.
The Army Corps of Engineers had made "dozens" of efforts to consult with the tribe with little response, the judge found, despite the outrage voiced by the tribe and its environmentalist allies about the pipeline traversing burial and historical sites.
It's no surprise that the tribe was not interested in cold assessments of environmental risk, experts say.
"In this case the Native American issues are a quite understandable sense of violation, disempowerment, and unfairness, not from this particular project per se but from a history of having been treated so badly," David Ropeik, author of How Risky Is It, Really?: Why Our Fears Don't Always Match the Facts, told BuzzFeed News by email. "The risks invoked as advocates try to make their case are usually mostly cover for what those advocates really care about."
Stepping into the case, the Obama administration signaled that the protests meant those centuries of exploitation and abuse merited more attention.
"All of the risks and none of the benefits have been going to Native Americans disproportionately for oil, gas, and uranium for a long time," Kierán Suckling of the Center for Biological Diversity, a nonprofit conservation group that opposes the pipeline, told BuzzFeed News. "This could change the way the federal government makes these kind of environmental assessments forever."
The Dakota Access protests are different from one that accompanied the Keystone XL pipeline, the ill-fated project cancelled by Obama in 2015 after seven years of protest, which turned into a huge environmental argument against the climate change effects of burning heavy oil from Canada.
"I'd say Dakota Access is much more of a grassroots, indigenous struggle against the immediate environmental risks posed by the pipeline," sociologist Christine Shearer of the environmental nonprofit CoalSwarm told BuzzFeed News.
"Dakota is still much more about environmental justice and the uneven impacts of oil development — impacts that are resisted and unwanted, as illustrated by the protectors being attacked by dogs and having their ancestral lands dug up."
CORRECTION
All the small leaks from oil pipelines add up to about five Kalamazoo-like leaks nationwide, according to Rebecca Craven. Craven initially said it was about a dozen.