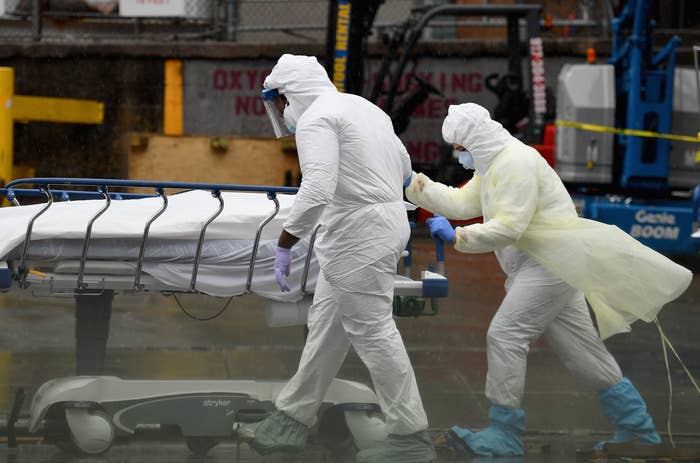 Update: This story has been updated to reflect the fact that the two authors of the original letter have since issued a "corrigendum" in the Journal of Forensic and Legal Medicine stating that the forensic unit worker they had previously written about did not die, and that they had no scientific confirmation that the virus had spread to them via a dead body. Read our new story on the updated situation here. The story below has been changed to reflect the correction.
Ten days after publishing a letter in the Journal of Forensic and Legal Medicine suggesting the first fatal case of the novel coronavirus had spread from a corpse to a medical examiner in Thailand, the journal has published a correction from the authors stating that the original report was poorly written and had been misinterpreted.

"The authors regret that the article might not have good writing for clarification in the primary text and it might result in misinterpretation," wrote the authors, Won Sriwijitalai of the RVT Medical Center in Bangkok and Viroj Wiwanitkit of China's Hainan Medical University. "The authors did not mean to suggest that the victim had died, and that the authors do not know for sure and cannot scientifically confirm that the virus moved from the dead body."
Their previous letter, published on April 12, had stated, "This is the first report on COVID-19 infection and death among medical personnel in a Forensic Medicine unit."
Elsevier, the publisher of the journal, did not immediately respond to a request for comment.
Very little is known about how long the new coronavirus can survive in dead bodies or whether corpses can be contagious to people who handle them.
"Not just the medical examiners, but morgue technicians and the people in funeral homes need to take extra care," said Angelique Corthals, a professor of pathology at CUNY's John Jay College of Criminal Justice. "It is a real concern."
Ebola is the best-known virus that poses an infection risk from dead bodies, but guidelines from the World Health Organization also recognize a risk to workers who handle dead bodies from hepatitis, tuberculosis, and cholera.
On March 25, the head of Thailand's Department of Medical Services had announced the bodies of coronavirus victims were not contagious amid reports of temples refusing to perform funeral services. However, some morgue workers worldwide have raised concerns as hastily built facilities have been erected to handle excessive deaths.
"Anyone coming into contact with a COVID19 positive body, alive or dead, should be using personal protective equipment to prevent exposure," health policy expert Summer Johnson McGee of the University of New Haven told BuzzFeed News by email. Coroners are increasingly being asked to conduct investigations into causes of death for patients who had died and were not tested, she noted, in efforts to trace contacts with exposed family members, neighbors, and coworkers.
"Autopsies and subsequent investigations present real risks for coroners to acquire COVID-19," she said.
As efforts increase for temporary mass burials of victims and temporary morgues, medical personnel handling human remains need to be included in priorities for protective equipment, said Corthals.
"We need to take care of the people who take care of the dead."
CORRECTION
An earlier version of this article, using information published in a letter to the Journal of Forensic and Legal Medicine, reported that scientists had announced the first fatal case of the coronavirus spreading from a corpse to a forensic medicine worker. According to a correction later published by the authors in the journal, it's now unclear if the coronavirus spread to the person from a dead body, and they now say the staff member did not die.
CORRECTION
The name of CUNY's John Jay College of Criminal Justice was misstated in an earlier version of this post.