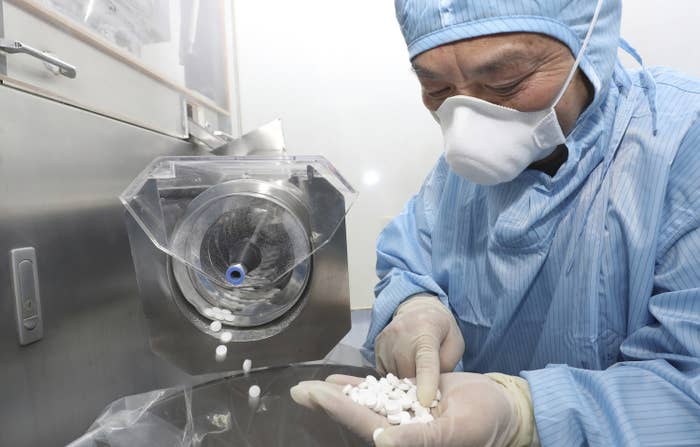 The journalists at BuzzFeed News are proud to bring you trustworthy and relevant reporting about the coronavirus. To help keep this news free, become a member and sign up for our newsletter Outbreak Today.
WASHINGTON — President Donald Trump is pushing the FDA to expand its use of experimental drugs intended for other diseases — including an anti-Ebola drug and a longtime anti-malaria medication — against COVID-19, the disease caused by the novel coronavirus, as a central part of the nationwide response to the growing pandemic, he said in a press conference on Thursday.
Trump said the anti-malaria drug chloroquine — which is already being used in China and South Korea to treat COVID-19 — would begin distribution for patients in the US. "We're going to be able to make that drug available almost immediately, and that's where the FDA has been so great. They've gone through the approval process. It's been approved," he said.
Later in the press conference, FDA Commissioner Stephen Hahn clarified that the drug would be made available to patients as part of a clinical trial. "That's a drug that the president has directed us to take a closer look at as to whether an expanded use approach to that could be done, to actually see if that benefits patients," Hahn said. "We want to do that in the setting of a clinical trial."
The drug has already been approved by the agency to treat malaria, which means doctors could prescribe it to patients on an "off-label" basis. "If clinical data suggests this product may be promising in treating COVID-19, we know there will be increased demand for it," said an FDA statement on Thursday. "We will take all steps to ensure chloroquine remains available for patients who take it to treat severe and life-threatening illnesses."
The FDA is famously cautious about approving new drugs, typically through a lengthy approval process that takes years. The order from Trump points to the seriousness of the pandemic, feared to overrun US hospitals with cases in the next two months. Worldwide case numbers stood at more than 220,000 cases on Thursday, with US case numbers passing 10,000 and growing at a rate of 30% a day in the last two weeks.
The experimental Ebola medication remdesivir, already in clinical trials in China, will also be provided to US coronavirus patients under compassionate use rules by the FDA, which allow the use of unapproved drugs in serious cases when no other treatment options are available. Drugs provided under such protocols will have their data collected to prove their safety to the wider population, Hahn said at the briefing.
"We want to make sure we are giving the right drug at the right dose to the right patient at the right time," said Hahn.
The White House announcement underscored the lack of an effective drug to treat COVID-19, which has led to a worldwide race to repurpose both old and new drugs to find what works.
"Usually new drugs take a decade or longer to develop, and cost billions of dollars," the American Chemical Society's Cynthia Liu, who led a March survey of possible drugs to treat the novel coronavirus, told BuzzFeed News. "We don't have that time with this epidemic, so it is logical and smart to look to drugs we have already."
The report found about a dozen existing drugs, including four antiviral drugs already in clinical trials, could treat COVID-19, along with another two dozen experimental new drugs in development. The Ebola drug remdesivir is one of the four antivirals being tested worldwide, a class of medicines that interfere with the reproduction of viruses. Another antiviral, an HIV drug called lopinavir, failed to produce better outcomes for COVID-19 in a clinical trial whose results were released on Wednesday.
Peter Aldhous/BuzzFeed News
In China, more than 400 clinical trials are now listed on a nationwide registry of efforts aimed at COVID-19. The US registry lists more than 100 underway.
"We might as well test all approved drugs," Columbia University virologist Vincent Racaniello said on a podcast Thursday that looked at the options for treating the new coronavirus with old options. Chloroquine, which has shown promise in cutting the "viral load" of patients in a small French clinical trial of 20 patients, was not such a long shot as a treatment, Racaniello noted, adding that past studies showed it was widely helpful against other viruses. But on Saturday, Australian researcher Gaetan Burgio noted that the French study failed to adequately measure the amount of virus in control patients, calling into question its conclusions about the efficacy of the drug.
On Thursday, Trump stated that one of the advantages of chloroquine was that it's a well-known drug and would likely be safe if given out to patients immediately. "The nice part is that it's been around for a long time, so we know that if things don't go as planned it's not going to kill anybody," Trump said. The FDA approved the use of chloroquine to treat malaria in 1949.
However, a 2018 study looking to use chloroquine against the chikungunya virus found it actually worsened the disease for patients. And virus experts such as Shibo Jiang of China's Fudan University and the New York Blood Center have expressed caution against giving patients too many drugs without careful monitoring, worrying about combined toxicities that might crop up in unexpected ways by dosing patients with drugs that have never been tried together before.

A dispute over another drug, the Japanese flu drug Avigan, has emerged between Japan and South Korea after Chinese health officials called it effective in treating the novel coronavirus. On Monday, South Korean health officials decided against using the drug, citing safety concerns.
Another class of treatments that FDA's Hahn discussed are so-called biologics, which include vaccines, antibodies to the coronavirus, immune-system triggering drugs, and other genetic treatments. The ACS report found more than 500 patents for such treatments aimed against SARS and MERS, which are closely related to the new coronavirus that causes COVID-19.
In particular, Hahn touted work on isolating antibodies, cells that fight off infections, from patients who have recovered from COVID-19. Collected and concentrated from blood donations, these cells could be given to health workers on the front lines of treating the disease as a preventive treatment against infection.
"That'll be a bridge to other therapies," said Hahn, emerging in the next three to six months of testing drugs for effectiveness against COVID-19. The endgame of the drug discovery race is the development of a vaccine. The first federal vaccine trial was announced on Monday, with preliminary safety results expected in April.

Mass production of a vaccine — at least 10 are under development worldwide — will take 18 months to two years, National Institute of Allergy and Infectious Diseases Director Anthony Fauci told BuzzFeed News in February.
"That's very fast for a vaccine, which in the past has taken seven years or more," Fauci said. "But it can't happen overnight."
UPDATE
This post has been updated with a comment from an FDA statement.