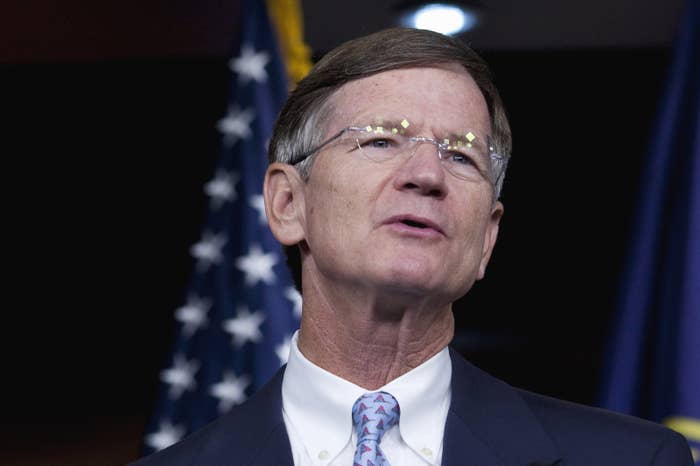 A fight in Congress is raging over recent research that knocked down a favorite argument of climate science doubters, with a committee slamming scientists with a subpoena.
In the escalating battle, Rep. Lamar Smith of Texas, chairman of the House Committee on Science, Space, and Technology, has issued a subpoena to the National Oceanic and Atmospheric Administration (NOAA). Last week, NOAA said it won't provide emails and documents requested in the subpoena, but Smith is expected to renew his demand for agency emails and data this week.
"It was inconvenient for this administration that climate data has clearly showed no warming," Smith said in a statement about the subpoena sent to BuzzFeed News. "The American people have every right to be suspicious when NOAA alters data to get the politically correct results."
In particular, Smith is referring to a recent NOAA-led study that invalidated a long-fought-over slowdown in global surface temperature increases since 1998. A standard talking point for climate science doubters in political fights about climate change over the last decade, the slowdown vanished in the study after NOAA scientist Thomas Karl and colleagues added in more weather station data and corrected for biases in older measurements.
The subpoena fight is just the most recent in a slew of actions taken by a once-quiet committee now increasingly prone to investigating scientists. Hearings are regularly critical of NASA, EPA, and the National Science Foundation (NSF) research, with one on Thursday scheduled to hear industry representatives attack an EPA decision to limit mining in an Alaska river basin. The committee has also issued subpoenas to EPA.
In the last two years, Smith has sent committee staff to personally inspect confidential grant documents at the $7.3 billion NSF and proposed a re-written charter for that agency that would require NSF's chief to personally certify that each research grant it makes is in the U.S. national interest.
Smith gained the power to unilaterally issue subpoenas and allow committee staff to depose agency scientists only this year, which is quite unusual for a committee chairman, said Mark Harkins, a former science committee staffer now at the Government Affairs Institute at Georgetown University. "The committee now has powers that you more often see in an investigative committee."
Smith's defenders say the committee is only conducting proper oversight of science agencies whose research plays into costly questions of regulating industry, environment, and taxpayer dollars spent on research. "I would have loved to have subpoena power," former science committee chairman Rep. Robert Walker told BuzzFeed News.
"It's not the scientists but the political people," Walker said. He fears that the Obama administration appointees at NOAA and other science agencies have run roughshod over the scientific process. "There are legitimate concerns when these results are trumpeted in press releases," Walker said. "In real science, things are never that simple."
But Rep. Eddie Bernice Johnson of Texas, who leads the Democrats on the committee opposite Smith, called his subpoena effort "a fishing expedition" in a letter last month. Despite sending 50 letters and subpoenas to federal agencies, Smith's committee had yet to discover any scientific misconduct at federal agencies, Johnson said. She called his efforts "illegitimate harassment of our nation's scientists."
The science committee fight comes as the Obama Administration makes the case for a global climate deal at a Paris summit later this year, and as Republicans fight against new EPA rules limiting greenhouse gas emissions.
The subpoena asked for communications from scientists and staff regarding monthly temperature reports and the study led by Karl, a widely respected climate scientist at NOAA.
In response, NOAA's Coby Dolan noted that agency had twice provided its scientists to committee staffers to explain the findings, most recently in October, and pointed out to them where the data was already publically available. But it is not giving Smith the emails he has requested.
"There is no truth to the claim that the study was politically motivated or conducted to advance an agenda," said NOAA's spokeswoman Ciaran Clayton in a statement sent to BuzzFeed News. "We have provided all of the information the Committee needs to understand this issue."
In June, Smith spoke at the annual conference of the conservative Heartland Institute, a hotbed of attacks on climate science. In his speech, he argued that since industrial emissions of greenhouse gases constitute only a trace amount of the total atmosphere, "it's hard to imagine that little amount would lead to the extreme consequences often predicted."
Smith was also incensed by NASA's finding that 2014 was the warmest year on record, a mark that almost certainly looks to be eclipsed by this year's temperatures. The space agency didn't properly account for uncertainties in those measurements, he said in his speech. But the American Meteorological Society confirmed the 2014 temperature record a month later, in July.
In the subpoena dispute, "there seems to be distrust on both sides, among scientists about the intentions of the committee," Harkins said. "And on the majority side, about the forthrightness of scientists."