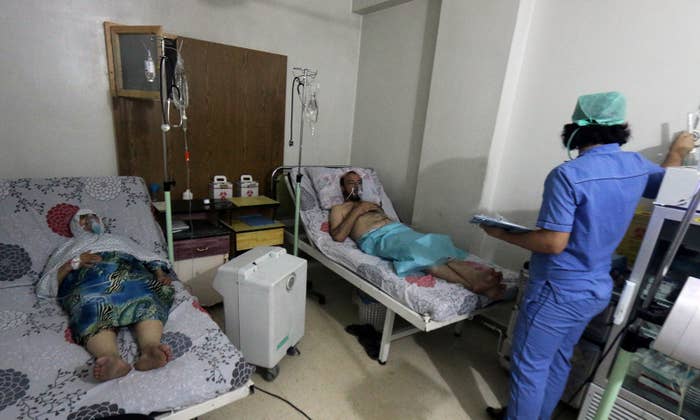 US health officials announced a $16 million plan on Thursday to test the first antidote for exposure to chlorine gas, a scourge of war and industrial accidents for more than a century.
The proposed antidote, known as R-107, will be tested under agreement with Radikal Therapeutics, Inc. of Beverly, Massachusetts, and U.S. agencies that address chemical and biological terror threats. In 2005, a train derailment of chlorine cars in Graniteville, South Carolina, killed nine people and led to hundreds of injuries.
"The United States faces a wide variety of threats to health security," said Biomedical Advanced Research and Development Authority (BARDA) acting director Dr. Richard Hatchett, in a statement. "Not being prepared for any of them could cost lives."
The contract will spur production of large quantities of the antidote, an injection that acts on lung tissue, and test its effects in people over two years. If successful, the effort may expand to larger safety tests in people, a seven-year $85 million effort. "This development work would not expose people to dangerous levels of chlorine gas," according to BARDA.
"There is concern that groups in Syria such as ISIS have access to chlorine gas," Amesh Adalja of the UPMC Center for Health Security told BuzzFeed News. "We haven't had a counter-measure for chlorine gas even after a century, and one is much needed."
Before this, the US government has prepared counter-measures largely for biological weapons, rather than chemical ones.
"There's simply not very much time between the exposure of a chemical agent to the onset of what are a potentially devastating set of symptoms," noted Matt Watson, also at the UPMC center, by email. "The eventual availability of this [antidote] could cause our first responders, clinicians, and disaster planners to rethink how we would respond to large scale chemical exposures. That's really why it strikes me as important."
Chlorine gas was first introduced in warfare in the trenches of World War I and as recently as the ongoing war in Syria, where government attacks on Aleppo in April injured 40 children. A terrorist attack on a chlorine gas tank farm might cause 100,000 casualties, by Homeland Security Council estimates.