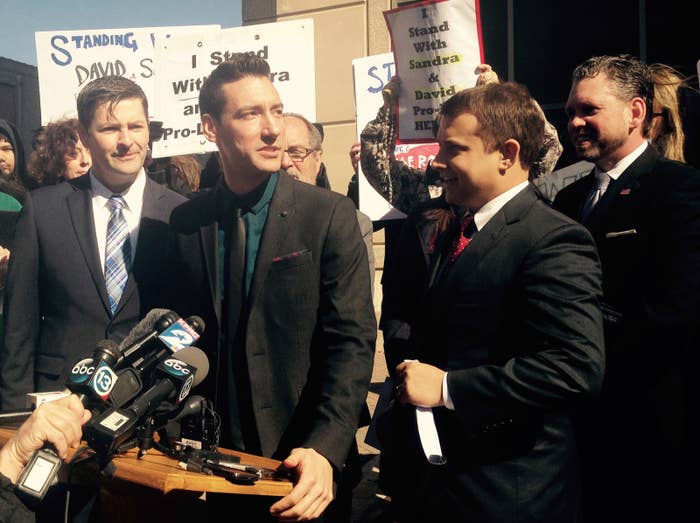 The Houston district attorney's office on Tuesday dropped the last criminal charge, for felony false identification, against anti-abortion activist David Daleiden, whose secret recordings of Planned Parenthood officials inflamed national politics last summer.
The February indictments of Daleiden, 27, by the Harris County, Texas, District Attorney's office had come after a grand jury originally assembled to investigate Daleiden's charges that abortion clinics were illegally profiting from sales of fetal research tissues. The grand jury found that Planned Parenthood had done nothing wrong, as have investigations in a dozen other states.
Instead the grand jury concluded in February that the activist and a colleague, Sandra Merritt, 62, of Davis, California, should face charges of trying to buy body parts and using a fake ID in making covert recordings of clinic officials. But the decision to investigate Daleiden came only after the grand jury had passed its original time limit, it turns out, which has now led to the decision to dismiss the charges.
"The grand jury took the investigation where the facts led it, however Texas law limits what can be investigated after a grand jury extension order is issued," Harris County district attorney Devon Anderson said in a statement sent to BuzzFeed News on the decision to drop the charges, first reported by The Houston Chronicle. "In light of this and after careful research and review, this office dismissed the indictments," Anderson said.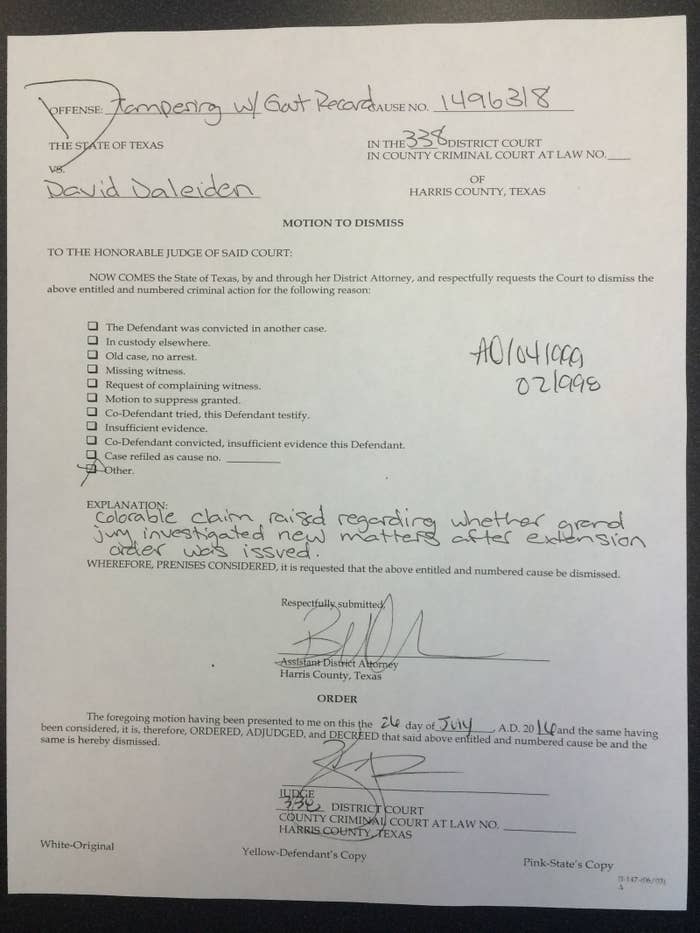 Attorneys for Daleiden and his non-profit Center for Medical Progress (CMP) had requested a judge dismiss the felony charge on Monday, following the dropping of the misdemeanor charge of trying to illicitly buy body parts last month, where the judge similarly found the grand jury had gone beyond its remit. Daleiden had reportedly offered clinic officials $1,600 for samples of fetal tissues donated to research by abortion patients, far more than typical transfer fees in biomedicine.

"Today's dismissal in Houston is a huge win for the First Amendment rights of undercover journalists," CMP's attorney, Peter Breen of the Thomas More Society, told BuzzFeed News by email. "This meritless and retaliatory prosecution should never have been brought."
CMP's edited videos of conversations with abortion clinic personnel and tissue bank officials revived abortion politics last summer, nearly leading to the shutdown of the federal government that ended with the surprise resignation of House majority leader John Boehner of Ohio. A November shooting at a Colorado Springs Planned Parenthood clinic that killed three people, including a police officer, saw the alleged shooter, Robert Dear, 57, reportedly tell arresting officers, "no more baby parts," to explain his actions.
"The decision to drop the prosecution on a technicality does not negate the fact that the only people who engaged in wrongdoing are the extremists behind this fraud," Melaney Linton, president and CEO of Planned Parenthood Gulf Coast, told BuzzFeed News by email. "They spread malicious lies about Planned Parenthood in order to advance their anti-abortion agenda."

CMP still faces three civil cases in federal courts in California, brought by Planned Parenthood, the National Abortion Federation, and StemExpress, a tissue bank targeted by Daleiden. A Congressional committee headed by Rep. Marsha Blackburn of Tennessee is still investigating Daleiden's charges, but has not yet had the activist testify at a hearing.