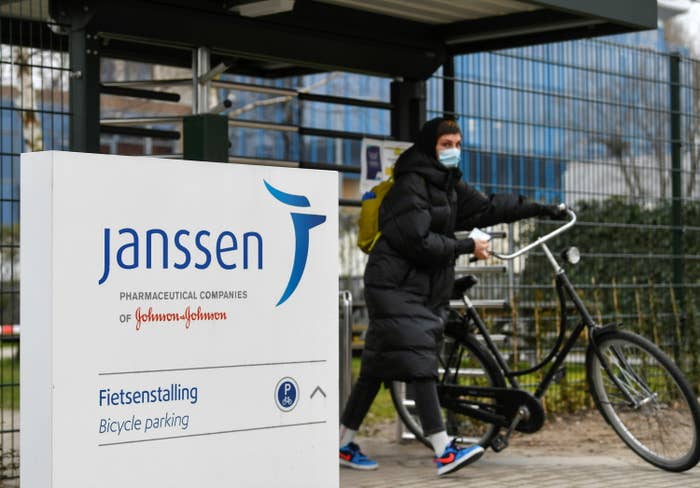 A CDC advisory panel voted unanimously on Thursday to recommend that people preferentially use COVID-19 vaccines other than Johnson & Johnson's single-shot one.
CDC Director Rochelle Walensky accepted the recommendation on Thursday evening, endorsing a "clinical preference" for the two other US vaccines, which mRNA shots made by Moderna and Pfizer-BioNTech. "Individuals who are unable or unwilling to receive an mRNA vaccine will continue to have access to Johnson & Johnson's COVID-19 vaccine," said a statement released by the agency.
Over the course of the day, panelists heard testimony from vaccine safety–monitoring officials about very rare blood clotting side effects of the J&J shot linked to at least nine deaths. Initially halted in April for 10 days due to concern about the side effect, the J&J shot has been given to more than 17 million people nationwide.
The highest risk was seen for women 18 to 49 years old, with blood clotting seen in 8.7 cases out of every million shots, and deaths in 1.2 of those cases. No incidents of blood clots have been reported after J&J booster shots, according to the FDA.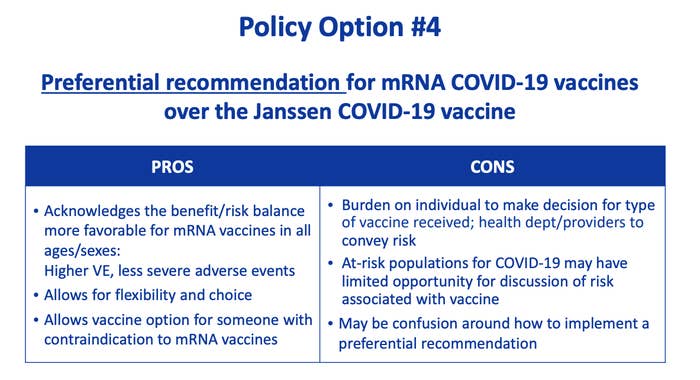 Some panelists, such as global health expert Beth Bell of the University of Washington, said they wouldn't recommend their own family take the J&J shot, due to the risks, however slim. Health officials suggested the blood clots may occur with all vaccines of the same type as the J&J shot, noting similar observations with an AstraZeneca vaccine.
Against that, they weighed its usefulness in vaccinating hard-to-reach people, such as people experiencing homelessness or those who cannot leave their homes, and people allergic to the mRNA vaccines made by Moderna and Pfizer-BioNTech. The shot is also used worldwide, requiring less refrigeration and care than other vaccines.

"I think we originally thought it was going to be a sprint, and it's turned out to be a marathon," panel chair Grace Lee of the Stanford University School of Medicine said after the vote. "I thought things were going to get easier for the committee, and it continues to be the deliberations are getting harder and more complex."

The panel passed on voting completely against the use of the vaccine in its decision, she noted.
Janssen, the J&J subsidiary that makes the one-shot vaccine, did not reply immediately to a request for comment from BuzzFeed News.

This is a developing story, please check back for updates.
UPDATE
This story has been updated to note the CDC director accepting the advisory panel reccomendation.