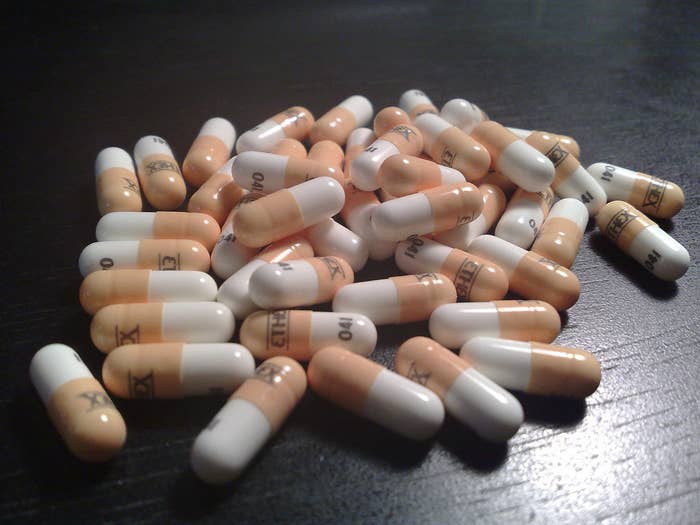 In a bid to blunt a nationwide opioid drug addiction epidemic, federal health officials on Tuesday called for doctors to stop prescribing chronic pain patients so many of the drugs.
Opioid painkillers, members of the morphine family such as OxyContin and Vicodin, are now prescribed to as much as 4% of the U.S. population — 250 million prescriptions — with their use quadrupling since 1999. Some 1.9 million Americans are now addicted to, or dependent on, the painkillers. And from 1999 to 2014, about 165,000 people died of overdoses.
"We know of no other drug prescribed so frequently that kills so many patients," said CDC Director Thomas Frieden, at a briefing for reporters.
The federal health agency released the dozen opioid prescription guidelines in the journal JAMA. They will not have the power of law but will guide insurance company recommendations to doctors and Veterans Administration prescriptions for retired military patients, with the aim of curbing dangerous prescribing practices. "Almost all opioids on the market are just as addictive as heroin," Frieden said.
The guidelines do not address prescriptions for cancer patients or those in hospice care, Frieden said, but would apply to those suffering from work injuries, car crashes, or other causes of long-term pain.
The guidelines are based on three principles. First, opioids should be a last option for these patients, with aspirin-related drugs and exercise preferred. Second, when given, doses should start out low and only increase slowly. Third, patients should be monitored and a plan for getting them off the drugs should start with their prescription. The guidelines also call for getting naloxone, a drug used to counteract overdoses, into the hands of more doctors, nurses, police, and emergency personnel.
"Widespread adoption of the CDC's recommendations in clinical practice would help reverse the epidemic of opioid overprescribing," Yngvild Olsen of the Institutes for Behavior Resources, Inc. in Baltimore wrote in an editorial accompanying the new guidelines.
Statistics suggest that 1 out of every 150 patients prescribed long-term opioid painkillers die of a condition related to their prescription within three years of its start, Frieden said. "Pain is a very challenging condition to treat, and for many years it was not adequately addressed," he added. Although opioid painkillers appear effective for short-term pain, they don't appear to help, and may even worsen, long-term pain.
Patrice Harris of the American Medical Association told BuzzFeed News on Monday that her organization strongly supports efforts to curb painkiller addiction, and 10 of the 12 guidelines, with some reservations about guidelines for specific dosages. "We are concerned about one-size-fits-all recommendations in medicine."
Draft versions of the guidelines had been criticized by some pain patient advocacy groups for calling for these low doses of opioid painkillers, and Frieden said the final version attempted to address these concerns by recommending a range of dosages for pain patients.

"The key is turning around the way we treat pain in this country," Frieden said. "We have to recognize that the best pain treatment is not what cuts the pain the most immediately, but what works best in the long term. Too many families have paid the price."