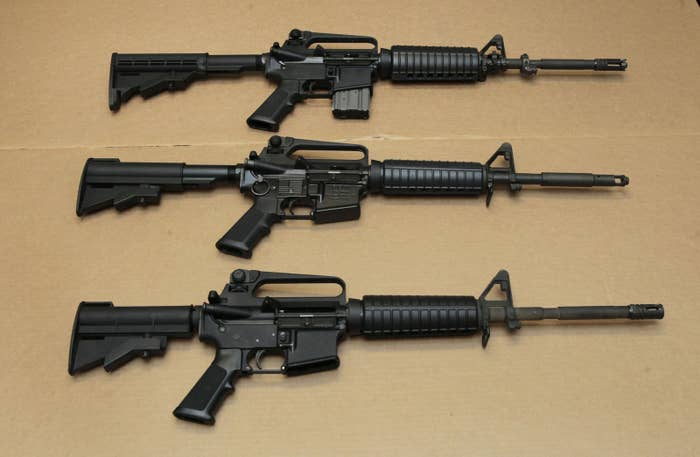 In the aftermath of the Orlando murder of 49 people, several doctors groups are calling for the CDC to restart its scientific research on gun violence, which Congress has blocked for the last two decades.
After defeats for all four Senate amendments aimed at gun sales on Monday night, a turn to science might actually work, one lawmaker says.
"I could see that as a compromise that passes at the end of the year, some money for gun research," Sen. Chris Murphy of Connecticut, who last week launched a 15-hour filibuster that led to Monday's votes on four gun-control measures, told BuzzFeed News.
Murphy doubted those gun-control amendments would pass, and indeed they fell on largely party-line votes. But he suggested that last week's push from the American Medical Association (AMA) and other medical groups might sway such swing-state Republican lawmakers to vote for the $10 million that CDC has requested this year for gun injury research.
"With approximately 30,000 men, women and children dying each year at the barrel of a gun in elementary schools, movie theaters, workplaces, houses of worship and on live television, the United States faces a public health crisis of gun violence," AMA President Steven Stack said in a statement after the Orlando shooting.
"An epidemiological analysis of gun violence," he said, "is vital so physicians and other health providers, law enforcement, and society at large may be able to prevent injury, death and other harms to society resulting from firearms."
The CDC hasn't done much gun research since 1996, when Rep. Jay Dickey of Arkansas sponsored a federal budget amendment that said CDC funds could not "advocate or promote gun control." At the same time, Congress transferred the $2.6 million CDC budget for firearms injury research to brain research. The agency now spends only about $100,000 on collecting injury statistics including firearms data every year.
In December, after a mass shooting in San Bernardino that killed 14 people, calls to restore federal dollars for gun injury research fizzled, despite Dickey himself calling for "money to let science thrive and help us determine what works," in a Washington Post essay written with Mark Rosenberg, president of The Task Force for Global Health.
The National Rifle Association (NRA) is widely seen as the roadblock to the gun research funding. The NRA did not respond to a request for comment on the call for restoring these studies.
"Right now legislators are scared stiff, scared to the death of the National Rifle Association," Rosenberg told BuzzFeed News. He argues that the Dickey Amendment can remain on the books to reassure gun owners that CDC isn't advocating for new laws, even as it researches how to limit gun injuries and deaths. "It's not a question of either or."
Only last week, California's legislature appropriated $5 million to set up the California Firearm Violence Research Center, another sign of renewed interest in gun violence science.
Without federal research, Rosenberg said, lawmakers won't have any rational basis for deciding whether proposed gun rules — from banning terror watch list members to promoting concealed carry laws — are likely to work.
But some gun rights advocates say there is already plenty of research on gun injuries. John Lott of the Crime Prevention Research Center in Alexandria, Virginia, told BuzzFeed News that his next book, scheduled for release in August, will show that researchers are doing twice as much research on firearms today as they were in 1996, despite the CDC research blockade. (Against this, the National Library of Medicine's study database lists 165 "firearms" studies completed in 1996 vs. 149 completed in 2015.)
Lott views the push for CDC funding as just a money grab by researchers biased against guns. "People are getting plenty of funding already from foundations," he said, particularly those sponsored by billionaires Michael Bloomberg and George Soros.
Rosenberg, who headed the CDC's National Center for Injury Prevention and Control from 1994 to 1999, said that only a federal effort over many years can coordinate the large number of cities, hospitals, and people needed to answer basic questions about firearms injuries.
"We've been stopped dead in our tracks for 20 years," he said. "We were just getting started and we know almost nothing about what works to prevent gun violence."