One early morning last August, at the foot of the massive Mount Polley gold mine in British Columbia, Canada, a large dam broke. Water surged for four days, dumping some 6.6 billion gallons of arsenic-laced sludge into some of the most pristine lakes on the planet.
It was one of the largest mining dam collapses in history, with cleanup costs totaling $200 million. Now the reverberations of that environmental catastrophe are spilling farther afield.
The U.S. has more than 900 mining dams that could wreak havoc like Mount Polley's did, threatening towns, streams, and people from coast to coast. That's the message that three dozen environmental groups, including the Sierra Club and EarthWorks, are sending Thursday to the Environmental Protection Agency, Forest Service, and Bureau of Land Management.
The groups' letters, provided exclusively to BuzzFeed News, report that large mining dams in Montana and Minnesota sit on the same suspect materials as the Mount Polley mine's dam. What's more, engineering firms linked to the disaster also worked on at least four large U.S. mining dams. Cleanup costs of a similar U.S. disaster, the letters warn, would cost "billions of dollars."
Mines of all sorts, whether pulling up gold, copper, or coal, also produce "tailings" — fine grit left over from grinding valuable minerals from ore. Mining companies regularly pump a slurry of these tailings into ponds held up behind dams.
Most often miners just build a dirt wall with a more solid core across a valley to make a tailings dam. Sediments might remain trapped behind these dams for decades — unless they fail, which usually happens to at least one a year, or leak, which they all do a little.
Over the past three years, several U.S. coal mines have made headlines for big leaks, such as one last year that dumped at least 140,000 tons of toxic waste into North Carolina's Dan River. But the threat is much bigger than that.
More than 300 U.S tailings dams currently in operation carry a "high" hazard designation, meaning that their failings would likely lead to human casualties, according to a BuzzFeed News analysis of the National Performance of Dams Program database maintained by Stanford University. Another 203 carry a "significant" risk, threatening environmental damage.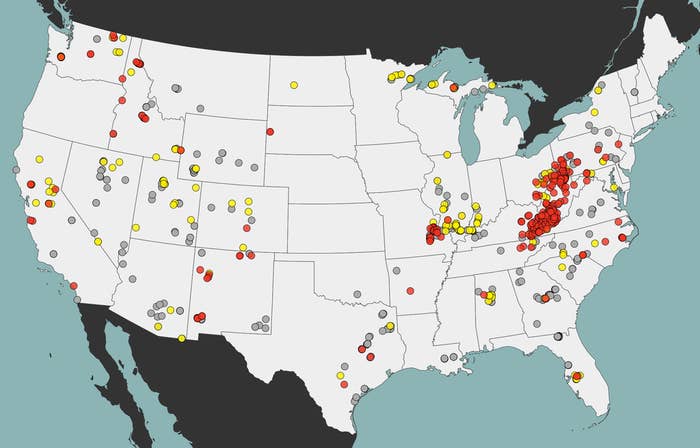 West Virginia, which is littered with coal mines, holds most of these, with 120 dams that stockpile tailings, 104 of which are high risk. But the biggest tailings dams are located mostly in Western states such as Utah, Arizona, and New Mexico.
"Nobody designs a dam to fail. But we need to take a hard look at all these tailings dams now," environmental geochemist Glenn Miller of the University of Nevada, Reno, told BuzzFeed News. "Even the ones that don't collapse are leaking and will present environmental cleanup costs that last far beyond the life of the dam."
Last month, Canadian police raided the offices of the Mount Polley mine's designers and owners, the Vancouver-based Imperial Metals mining company.
The police told the Vancouver Sun that they were looking for "offences with respect to the environmental management act and the federal Fisheries Act."
In January, independent investigators hired by the province of British Columbia — industry experts who included Steven Vick, the author of the only textbook on building tailings dams — published a damning report on the dam disaster. They found that the August catastrophe happened due to the flawed design of the Mount Polley dam.
In fact, according to the report, the Mount Polley failure started before the mine even opened in 1997.
There, engineers initially mistook a layer of hard, glacial grit underlying the planned walls of the hillside dam for stable ground. The dam's unstable walls grew higher year after year, its slope increasing ever more steeply to eventually hold back a 988-acre wastewater lake. Since 2011, if not before, the dam had been operating beyond its capacity.
Building a dam on a loose foundation was like loading a gun, said engineer Norbert Morgenstern of Canada's University of Alberta, who chaired the accident investigation. Making the growing dam's sides steeper, he said at a January presentation, "pulled the trigger."
The report also found it "disconcerting" that engineers never questioned the integrity of the dam over years of inspection, and that the dam nearly overflowed in May of last year without drawing any concern.
"I view the situation as completely unacceptable performance," Alaska Department of Natural Resources dam safety engineer Charles Cobb, who was not one of the accident investigators, told BuzzFeed News. "All of the problems at Mount Polley were foreseeable and manageable with the appropriate engineering, construction, and operation. Nobody can blame God for this incident."
Earlier this week, the Mining Association of Canada announced a review of all tailings dams in every province of that country, in a reaction to the accident report. The report concluded that bringing the risk of tailings mines failures to zero was impossible. As a result, British Columbia, which has about 123 tailings dams alone, could expect two failures a decade from current designs.
The fundamental problem is that tailings dams are obsolete, said Vick. At the accident report presentation, Vick and Morgenstern both called for replacement of the dams with dry, capped domes to secure mine tailings.
"We can't continue business as usual," said Vick. "We can't continue to use technology that's 100 years old."
Imperial Metals and the Mount Polley dam were considered well-run, entirely typical enterprises.
"Most people think dams are big solid structures that never move, but dams are dynamic," dam safety engineer Jim Pawloski of the Michigan Department of Environmental Quality told BuzzFeed News. "There's a lot going on inside a dam, especially earthen ones like most tailings dams. They move."
The situation at Mount Polley, where dam walls were just ramped up from year to year to hold more waste, "is not unusual," Pawloski says.
That's just what worries Miller, who sees a lot of regular mining industry practices as risky. "We have a whole lot of tailings dams in the United States," he says. "Mount Polley is an extreme example of the risks. But every dam leaks and even if they don't suffer a breach, we have to live with the waste from them for a long, long time."
In Michigan, consulting engineers hired by dam owners conduct safety inspections and file reports with the state, a common practice nationwide. Inspectors eyeball dams for leaks, seepage, and water level drops, and may check instruments within the structure.
But the Mount Polley dam broke despite regular inspections, which did not pick up any signs of trouble. In fact, maintenance engineers had examined the part of the dam that failed hours before its collapse.
What's more, the inspectors are often hired by mining companies, which is rife with conflicts of interest, Miller said. "Why would the company renew your contract if you tell them their dam is a problem?"
Also not unusual are cases where mine operators declared bankruptcy or walked away from tailings dams after the mine stopped yielding ore. More than a decade ago, the EPA estimated that "tens of thousands" of these abandoned dams litter the landscape nationwide.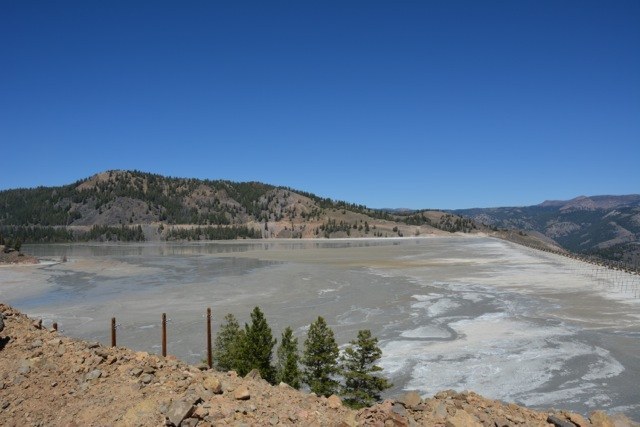 In the United States, a patchwork of state laws and regulators oversee dam safety, including tailings dams.
The U.S. Association of State Dam Safety Officials has called for one federal standard for dam safety. Now only hydropower dams are reliably subject to federal oversight. Many of those states have too few dam safety officials monitoring the nation's 80,000 dams, Cobb said. Alabama doesn't have any.
In Idaho, the massive Thompson Creek mine tailings dam sits above the headwaters of Idaho's Salmon River. Some 550 feet tall and made out of sand, the dam was recently proposed to grow even taller and its slope to grow steeper. Already plagued by acid drainage that requires filtration, the dam holds back 100 million tons of tailings from a molybdenum mine. Its height would rise to 750 feet tall in the new proposal.
"We'd really rather not have a massive dam full of tailings that leaks acid upstream of the Salmon River," John Robison of the Idaho Conservation League told BuzzFeed News. "These dams will have to last for thousands of years in some cases and we'd rather see them set on a good glide path to something safer."
In light of the Mount Polley disaster, Alaskan Sen. Lisa Murkowski has called for review of the safety of a newly proposed dam, Canada's Kerr-Sulphurets-Mitchell gold mine. A similar spill there could spill waste into the Unuk River just north of the Canadian border. "Thousands of Alaska natives, commercial fishermen, and tourism industry stakeholders have legitimate concerns," she wrote in a letter U.S. Secretary of State John Kerry.
Farther south, the Mount Polley disaster has spurred worries about a proposed silver mine on U.S. Forest Service land only about 7 miles upstream of the tourist town of Patagonia, Arizona.
"Our town's entire water supply is from groundwater, and the tailings dam would feed into the creek running through the town," conservationist Wendy Russell of the Patagonia Area Resource Alliance told BuzzFeed News. "We already have acid leaks from historical mines," she said. "We don't need a Mount Polley here."