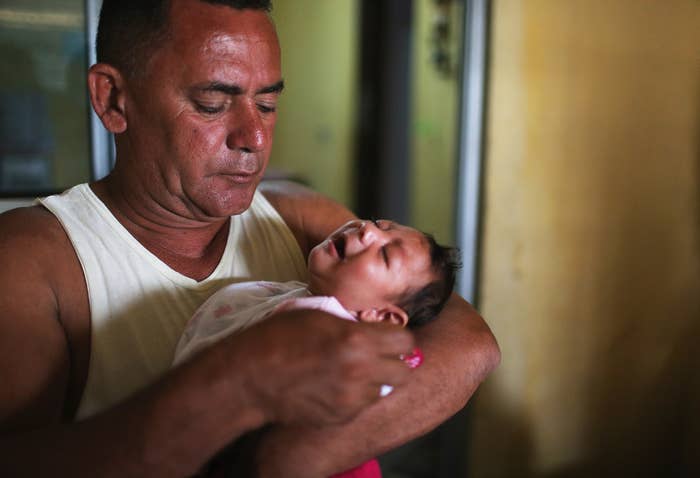 Nine U.S. women who were infected with the Zika virus while traveling to countries affected by an outbreak of the tropical disease suffered a range of pregnancy complications, including miscarriage and the birth defect microcephaly, federal health officials reported Friday.
Of the group of nine, two suffered miscarriages, two ended their pregnancies because of brain abnormalities, and one gave birth to a child with microcephaly. The four others were infected in their second or third trimester. Of those, two either gave birth to healthy children or are continuing their pregnancies.

"We did not expect to see these brain abnormalities" in such a small sample of infected women, said Julie Villanueva of the U.S. Center for Disease Control and Prevention in a briefing with reporters.
Infections during the first trimester appeared particularly dangerous, CDC officials suggested during the briefing and in an accompanying reports.
In the last year, the mosquito-borne Zika virus is thought to have infected more than a million people in Brazil, and has now spread to more than two dozen countries and regions in the Americas as far north as Mexico and Puerto Rico.
"We have the potential for hundreds of thousands of cases in Puerto Rico," CDC Director Tom Frieden said.
The Zika virus has been associated with a surprising increase in reported cases of microcephaly, a severe birth defect marked by a shrunken brain and skull, enough to trigger a World Health Organization public health warning earlier this month.
The microcephaly link remains unconfirmed definitively, Frieden said, "but evidence of a connection is growing stronger almost day-to-day."
The CDC is recommending that pregnant women avoid travel to Zika-affected regions, and that women living there take strong measures to avoid mosquitoes.
A surprise to public health officials has been the ready sexual transmission of Zika virus, Frieden said, with the agency reporting 14 suspected cases of U.S. women who acquired the disease from their male partners — men who had returned from travel to Zika-infected regions — earlier this week. Oregon public health officials reported a new sexually-transmitted case in a woman on Friday morning.
Of the six best-investigated cases of sexual transmission, CDC officials said all were transmitted by vaginal intercourse from an infected man who either had Zika symptoms, such as rash and fever, or had symptoms within two weeks. Until now, medical researchers had never seen a mosquito-borne disease that is sexually-transmitted, Frieden said.
"No one is more impatient for answers than we are," Frieden said.
Researchers do not know how long the Zika virus remains in semen after an infection, so they are recommending that men who have traveled to affected regions abstain from sex or use condoms for the duration of a pregnancy.