WEST BALTIMORE — At the sidewalk's edge in a vacant lot, the crowd gathered around the card table, to learn how to bring someone back from the dead.
On the table rested a vial of naloxone — the drug that reverses overdoses from heroin and other opioid drugs — screwed into a nostril-shaped inhaler. Daryl Mack of the Baltimore City Health Department had assembled the kit in about 30 seconds in front of the crowd.
The watchers, older black men and women from Baltimore's Sandtown neighborhood, nodded at Mack's description of a black person turning ashy gray during an overdose as their breathing stops, and how the drug on the table will call them back from the edge of death.
Mack tilted his head back and mimed squeezing the gadget up each nostril. "They are going to call you everything but a child of God," he said. "You just saved their life. But to them, you just ended their high."
"That's the truth, they're unhappy," said one woman in the crowd. "They try to get up and leave, and go get high again."
Over the past year, opioid overdose deaths in Baltimore — known as the "heroin capital" of the US — have increased by 54%, mirroring cities all over the country. Behind this rise is fentanyl, an opioid 100 times more potent than morphine and 50 times more powerful than heroin. Whereas most street users might snort or inject 5 to 20 milligrams of heroin, bought and sold in little baggies about two blocks from where the card table stood, just 1 milligram of fentanyl can get someone high. And 2 milligrams will kill.
"We have had three overdoses in this three-block area in one weekend," said Mack's colleague, community health educator John Harris.
Desperate to curb the death toll, the Baltimore public health department has issued a last-ditch response: handing out free doses of naloxone to all comers in overdose "hot spots," as part of its long-running needle exchange program.
"We are seeing more and more overdoses in people who have been using heroin for years and years, old timers," Derrick Hunt, program director of the Baltimore City Health Department's Community Risk Reduction Program, told BuzzFeed News.
Last year, Baltimore Health Commissioner Leana Wen issued a blanket prescription for naloxone to the entire city. Since then, city officials say, these free doses have prevented 500 people from overdosing.
"Most naloxone programs operate in coordination with syringe exchange programs," Alice Bell of Prevention Point Pittsburgh told BuzzFeed News, by email. "It is a new phenomenon to have naloxone programs operating in other settings," she added. But increasingly, police office, parents, and spouses in hard-hit communities are also trained.
Daily, Mack and his colleagues park a deliberately nondescript, off-white, camper on these streets, parallel to crumbling sidewalks littered with syringe pieces and plastic plungers. In three-hour shifts, the van stops to allow addicts aboard to swap their dirty needles for clean ones and, if they wish, two free doses of naloxone.
"Is that naloxone?" asks a young man dressed in a nice jacket, stopping by the card table. His neighbor once sold him a dose for $75, he said, when his girlfriend overdosed. "And it saved her. She woke right up."
He picked up his own kit after getting a demonstration.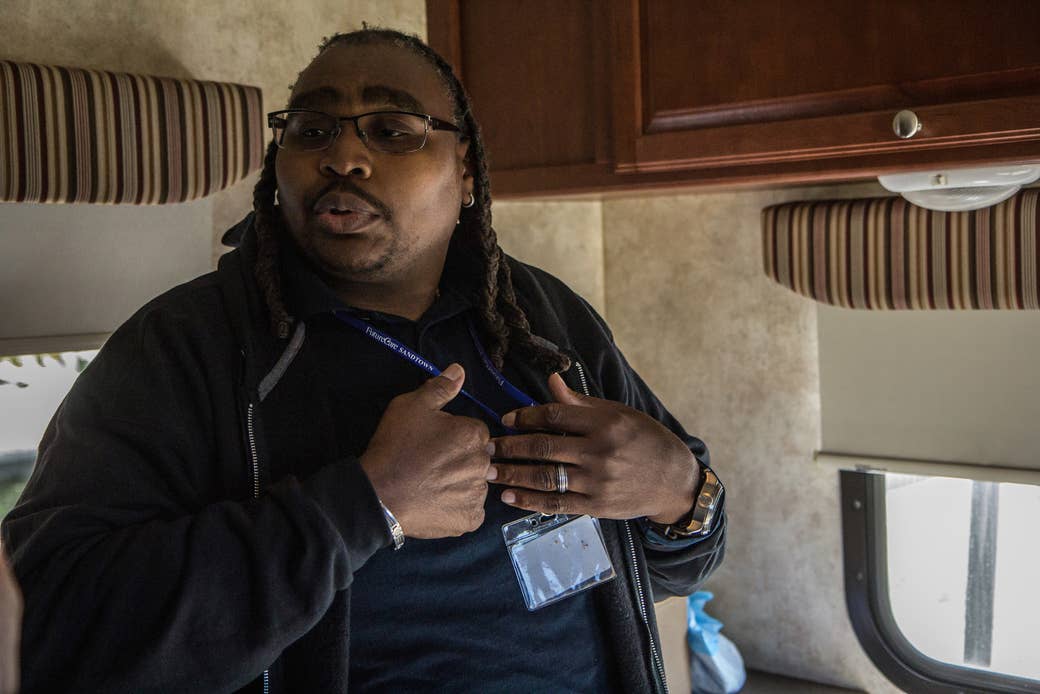 Overdoses of heroin and prescription opioid painkillers kill more than 28,000 people a year nationwide, a rate that has roughly tripled in the last 15 years. Heroin-related deaths surged, in particular, after state and federal efforts to curb prescription opioid painkillers turned some addicts to heroin instead.

The basic math of opioid addiction is that roughly 20% of people who try heroin or other opioids become physically dependent. Without the drug tickling their brain receptors, they will get the shakes, chills, vomiting, and worse. The chief of the National Institutes of Drug Abuse, Nora Volkow, has compared addiction's effects on the brain to those of diabetes on the pancreas, with addicts needing opioids as much as diabetics need insulin. Heroin addicts often call getting a fix to stave off withdrawal "getting well."
Now fentanyl, and its even more potent chemical cousin, carfentanyl, has arrived not just in Baltimore but in places like Sacramento; where 12 people died in March; New York City, where nearly half of drug overdose deaths since July involved fentanyl; and Huntington, West Virginia, where 26 people overdosed in one day in August. A fentanyl overdose killed Prince at his mansion in April, reportedly delivered by a fake prescription pain pill.
A thin man with a wide smile and kind eyes, Harris has been walking up and down the bricked doorways and burned-out windows of Sandtown on this sunny Wednesday afternoon warning residents about fentanyl-laced heroin.
"I know this place, I know these people," said Harris, himself a recovering heroin addict, who injected the drug for three years before going into recovery. He said he still catches himself scanning the ground looking for discarded baggies while walking the street where the only open businesses are a corner food store and a man selling CDs out of a box. "It is a different scene here at night."
After the overdoses spiked this year, the city started sending out teams to warn people about fentanyl in overdose hot spots, such as this one in Sandtown, and training them to use naloxone.
"That's where that fentanyl is, down that way," said another woman watching the crowd, pointing to the area two blocks away where young men are dealing drugs. Harris has been down there already.
"They let me talk. You have to ask them," he said. (He mimed the dealers, stiffly looking at his feet and then jerking his head up to glare upward: "What do you want?") He told them the fentanyl in the drugs that they are dealing is killing their customers. They listened, then told him to move on.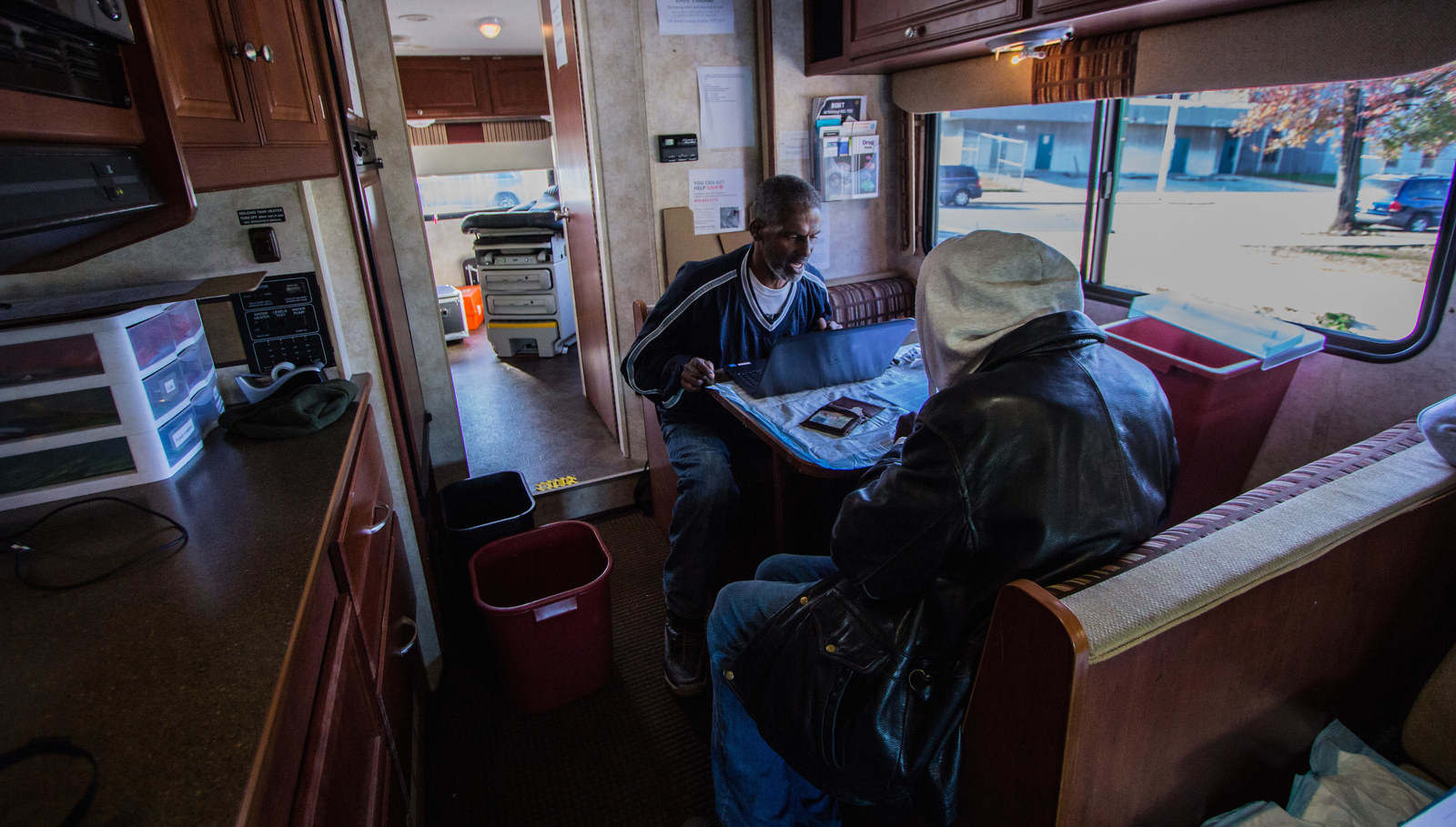 Midway through one of Mack's outdoor demonstrations, a shabbily dressed young white man with crumbling teeth and red-rimmed eyes knocked on the door of the needle exchange van.
Baltimore's needle exchange program, around for 22 years, is one of the country's oldest. The way it works is very simple: Six days and nights a week, city workers drive the camper van to different street corners and park for a few hours.
Heroin addicts — about 2,500 of whom the health workers see every year — come into the van with dirty needles, which they deposit in an orange medical waste bin sitting on the camper's kitchen table. They answer a few questions about themselves, and whether they have seen anyone overdose, and leave with clean needles and an offer for addiction treatment.
In the van that morning, one man with a gray hood over his head deposited a brown paper bag bulging with needles in the bucket and told health educator Luc Figueiredo Miller that he had witnessed about 22 overdoses in the last year.
"When was the last time?" Miller asked.
"Last month."
"Who was it?"
"I didn't know him."
"He was a stranger, male?" Miller asked. "Where?"
"On a street corner."
"Was it possible he had taken fentanyl? Was there fentanyl in the heroin, was it a white powder?"
"It's possible, don't know."
"What happened when you gave him naloxone?"
"He came to. It took about seven minutes."
"How was your interaction with the police, with the EMT?"
"It was okay."
The needle exchange program is credited with cutting the HIV infection rate among heroin users in Baltimore from 64% in 1994 to 8% in 2015.
"The science of needle exchange programs is really settled — they cut infection rates," medical epidemiologist Jay Unick of the University of Maryland, Baltimore County, told BuzzFeed News. "The question is how do we take the next step, to stop the overdoses."
Anyone who knocks on the van's door will be trained, if they want, to assemble a naloxone inhaler and leave with a two-dose kit. The city has trained about 15,000 people, according to Hunt, the program's director.
The price of naloxone has more than doubled in the last three years, Hunt said. The price hike — from about $12 for a 2-milligram syringe to $33 — led to a Senate hearing this summer asking how a decades-old drug suddenly became more pricey in the middle of an overdose epidemic.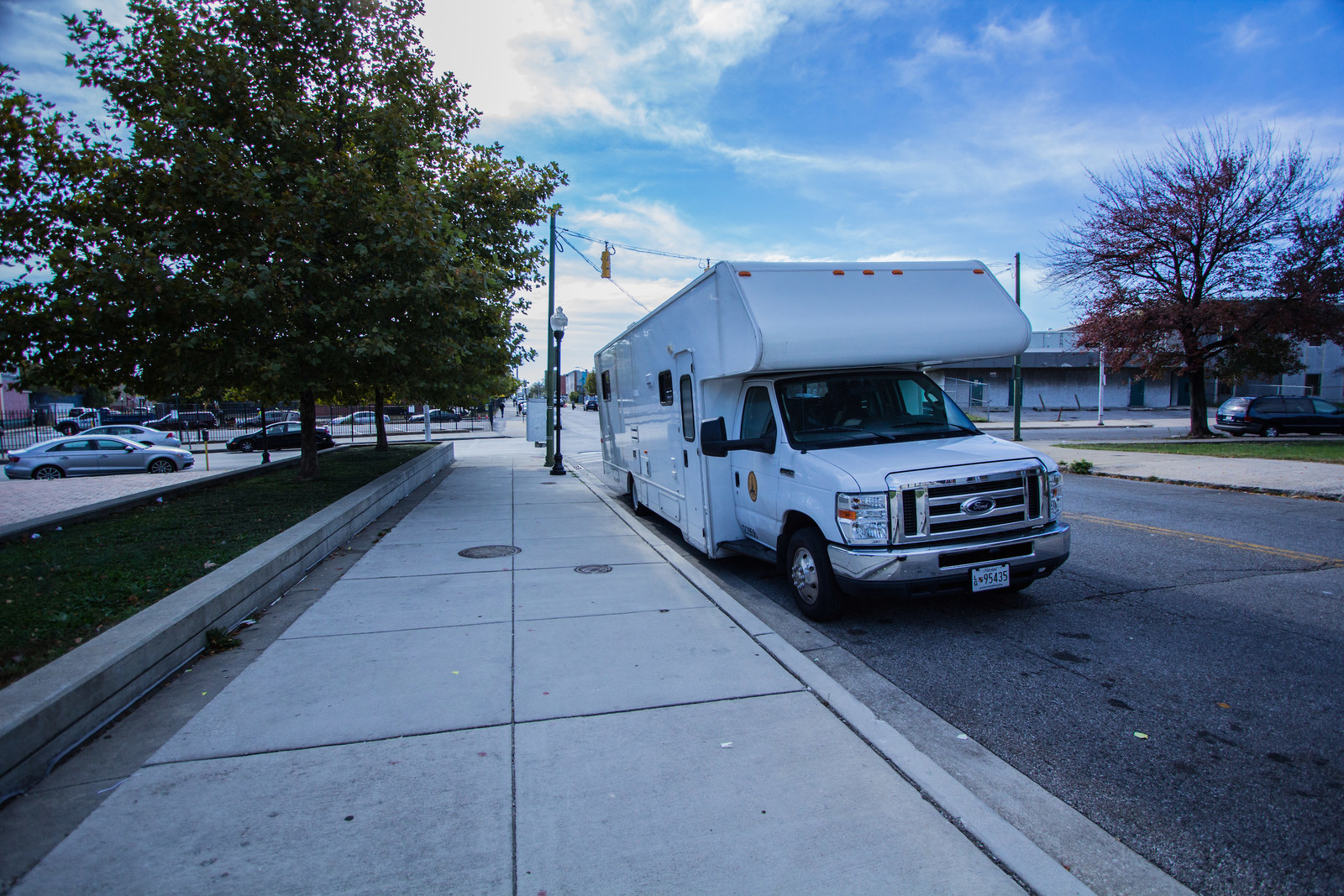 Despite the cost, Baltimore is moving to a higher-dose naloxone inhaler that doesn't require any assembly and costs the city $75 for two, 4-milligram doses. "We just put in a really huge order, in fact," Hunt said. The larger naloxone dose helps with fentanyl overdoses, he said, which would otherwise require multiple doses.
In the back of the van, a grandmotherly woman closely watched a demonstration of how to assemble the three-part naloxone kit.
"I've snorted, but I never injected," she said. "I don't do any of that stuff now."
She described how a woman had overdosed and died in the bathroom of a domestic violence shelter where she was staying. "I'm just worried about finding someone like that woman again," she said. "They just found her dead. She was blue."
As part of her naloxone training, she was warned to tell emergency personnel that the person who overdosed isn't breathing, even if they are, so that the ambulance will come quicker.
The addicts who take naloxone have to go to the hospital because the drug wears off after about a half hour, while the heroin or fentanyl in their body might remain potent for hours.
In Baltimore, the program is saving lives, but not fast enough amid the city's rise in overdoses. The time might have come for an even more drastic intervention: setting up safe spaces for people to shoot up where they won't be arrested, Unick, the University of Maryland researcher, suggested. "No one has ever died in a safe overdose facility," he said, while adding the step would be "ethically challenging" for public officials.
The suggestion leaves Hunt, the needle exchange program director, cold. "We really are in the business of trying to get people into treatment, not harming themselves — that is the point of what we are doing."
But even if every addict took advantage of their offers of treatment, there are not enough beds at treatment centers to get everyone into "on demand" treatment, a long-sought goal of addiction programs (a 2009 study found that even with on-demand treatment, only 1 in 8 people who started a recovery program stuck with it for six months). "We can find slots for people, but sometimes it does take time," Hunt said.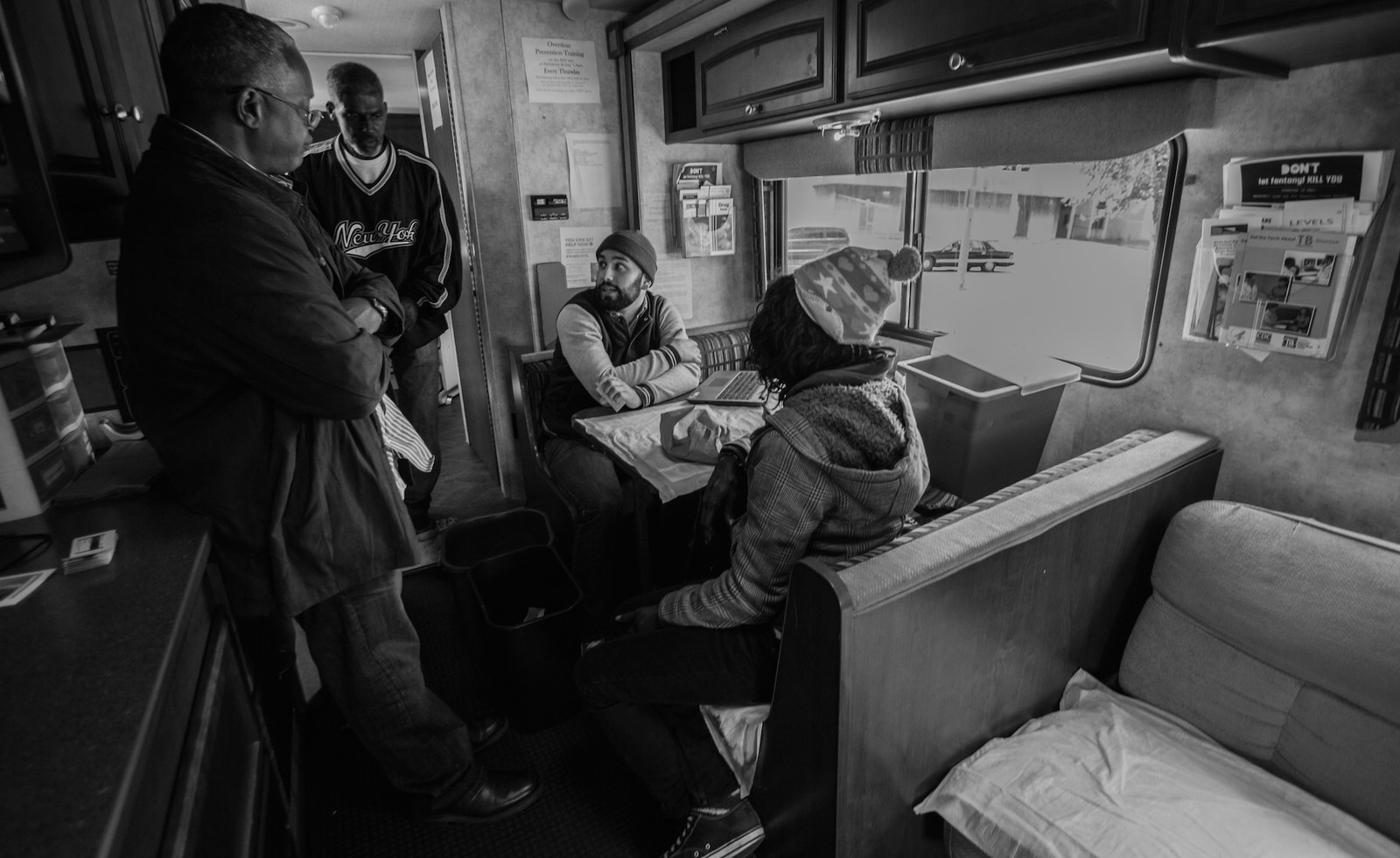 "If they had beds, I could walk out this door and get 10 people back ready to go," said a 55-year-old black man — the stark yellow in his eyes that is likely a sign of hepatitis — who came by the van to drop off his needles. "If you have to wait for treatment, then you are getting sick while you wait, and then you don't go."
An addict for half his life, the man said he spends his days acting as a dealer's "tout," calling out the names of brands of heroin or pills to other addicts, in exchange for drugs. "I might call, 'Joe Flacco, we got Joe Flacco'" — referring to the Baltimore Ravens quarterback — "or tell them we got pills for $20. I don't steal. I don't want to go to prison."
Mere heroin is "all gone," he said. "It's all fentanyl, lots of synthetic drugs. Lots of young guys around now, they don't even know what they are getting, they think it is heroin, but it's white, that's fentanyl. And a lot of them are dying."
By late afternoon, as the public health team folded up its card table, Harris said that it is hard as a recovering addict to be around drugs, needles, discarded baggies, and all the other sights, sounds, and smells of heroin.
"But I can help people — they see me and see [that] someone can change their life." ●