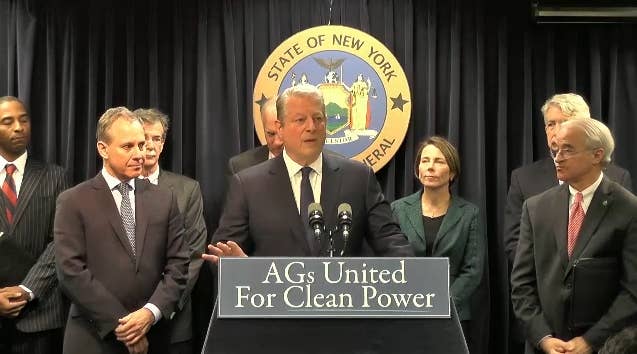 Joined by Al Gore, attorneys general from 18 states and territories announced a coalition on Tuesday aimed at joint investigations into whether fossil fuel firms such as ExxonMobil misled investors about the risks that climate change posed to its investors.
"We have heard the scientists and we have heard what is happening to the planet," said New York attorney general Eric Schneiderman at a briefing for reporters. "Every fossil fuel company has a responsibility to be honest with its investors."
Schneiderman started an investigation last year into ExxonMobil's past statements casting doubt on climate models under securities fraud regulation. Attorneys general from Connecticut, Colorado, Maryland, Massachusetts, Virginia, and the U.S. Virgin Islands joined him to convene the multi-state effort, along with legal representatives from 11 other states.
"What these attorneys general are doing is extremely important," former vice-president Al Gore said at the briefing. He compared fossil fuel firms to tobacco companies that suffered a huge legal defeat in the 1990's over their misstatements about cancer and heart disease risks of cigarette smoking, in lawsuits started by states over health costs. "These brave members of this coalition are doing their job like they did in the tobacco case," Gore said.
Expansion of the investigation to more states is required because of the widespread nature of past misstatements by energy firms about global warming, Schneiderman said. The investigation will go beyond ExxonMobil and Peabody Energy, which last year rewrote its financial statements after an investigation by Schneiderman's office. Attorneys general from Iowa, Tom Miller and Vermont, William Sorrell, who were instrumental in the tobacco lawsuits, are members of the newly-announced climate coalition.
The "AGs United for Clean Power" group are largely members of states that have supported the Obama Administration's clean power plan that would cut greenhouse gas emissions from power plants nationwide. The plan is opposed by many coal states.

A Greenpeace investigation last year revealed that ExxonMobil had made payments to climate critics despite a 2007 pledge to stop funding PR campaigns aimed at generating doubts about global warming. Historical investigations by Inside Climate News and the Los Angeles Times also showed that the firm's scientists had explained the likelihood of global warming as far back as the 1970's to Exxon's leadership.

"The allegations leveled against ExxonMobil again today are politically motivated and based on discredited reporting funded by activist organizations," Exxon's Suzanne McCarron said in a statement emailed to BuzzFeed News. "The investigations targeting our company threaten to have a chilling effect on private sector research."
New York, Massachusetts, California and the U.S. Virgin Islands have started investigations already, Schneiderman said at the briefing.