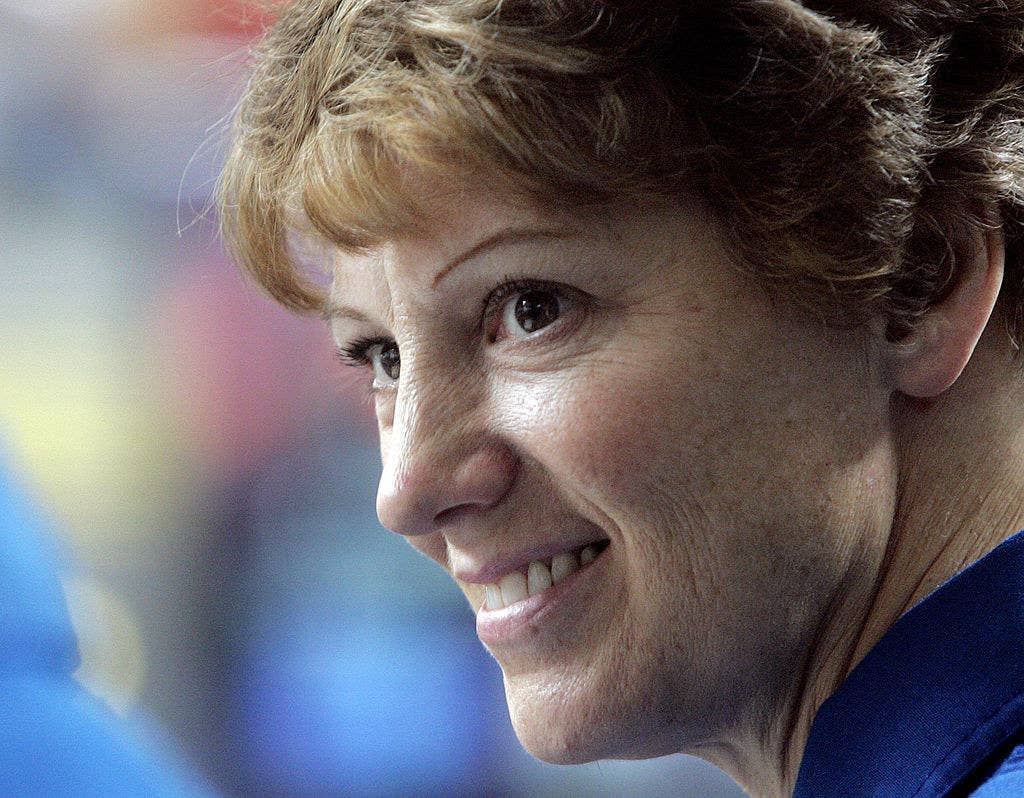 Colonel Eileen Collins is known for firsts: the first woman to pilot a space shuttle (1995); the first woman to command one (1999); and the first astronaut to steer NASA's space shuttle through a backflip, some 250 miles above the Earth (2005).
And on Wednesday night, for "Make America First" night at the Republican National Convention, Collins will celebrate the first moon landing and give a speech calling for more American wins in space.
Criticism of Collins' support for Republican candidate Donald Trump came swiftly after the announcement of her speech last week. People dismayed by Trump's past statements on women and climate science, such as former NASA Deputy Administrator Lori Garver, decried Collins lending astronaut cred to Trump, joining many others on Twitter.

But astronauts are not exactly strangers to politics, Collins' defenders say, nor to the now-regular remake of the US space program that comes with every new presidential administration. Astronauts have served both parties in Congress, from Republican Sen. Harrison Schmitt of New Mexico to Democrat Sen. John Glenn of Ohio.
Glenn retired from the astronaut corps and ran for office in 1964, only two years after he splashed down on the third manned American flight into space. (At the 1976 Democratic convention, Glenn gave a speech that was reportedly so "dry and flat" that many delegates walked out.) Five astronauts in all, including current Democratic Senator Bill Nelson of Florida, an ardent supporter of the space agency, have served in the US Congress.
The whole business of being an astronaut is half a public relations job, after all, as writer Tom Wolfe observed in the The Right Stuff, an obligation that started with Glenn and NASA's first generation of "Mercury 7" astronauts. "From a sheerly political or public relations standpoint, the astronaut was NASA's prize possession," Wolfe wrote.
And once they retire, astronauts are freely allowed to express their political views.
"Anyone who knows Eileen Collins know she will make a very powerful, uplifting argument for space exploration," Clayton Anderson, a retired astronaut and author of The Ordinary Spaceman, told BuzzFeed News.
Former astronaut Mark Kelly, who is married to former Congresswoman Gabby Giffords, has endorsed Hillary Clinton, Anderson noted, without much backlash. "All politics aside, it is a great honor to speak at one of the political conventions."
Collins, now 59 and retired, was famous for a cool head under intense pressure. She commanded the space shuttle Discovery on its 2005 mission, which was the first to launch after the tragic 2003 loss of the space shuttle Columbia. She has flown four space shuttle flights in all, and clocked more than 872 hours in space.
"She's an incredibly accomplished, competent, and courageous individual," former NASA official Scott Pace of George Washington University told BuzzFeed News. Pace doesn't expect the speeches Wednesday night by Collins and Republican notable Newt Gingrich, who called for a US moon base in the 2012 campaign, to mark any embrace of space by Trump, who has sent mixed signals on his enthusiasm for NASA.
"I think it's safe to just say that space is crucial to US national security, economic, and international leadership and thus it's natural that it be part of the theme of 'Make America Great Again'," said Pace, a space advisor to Mitt Romney in the 2012 election.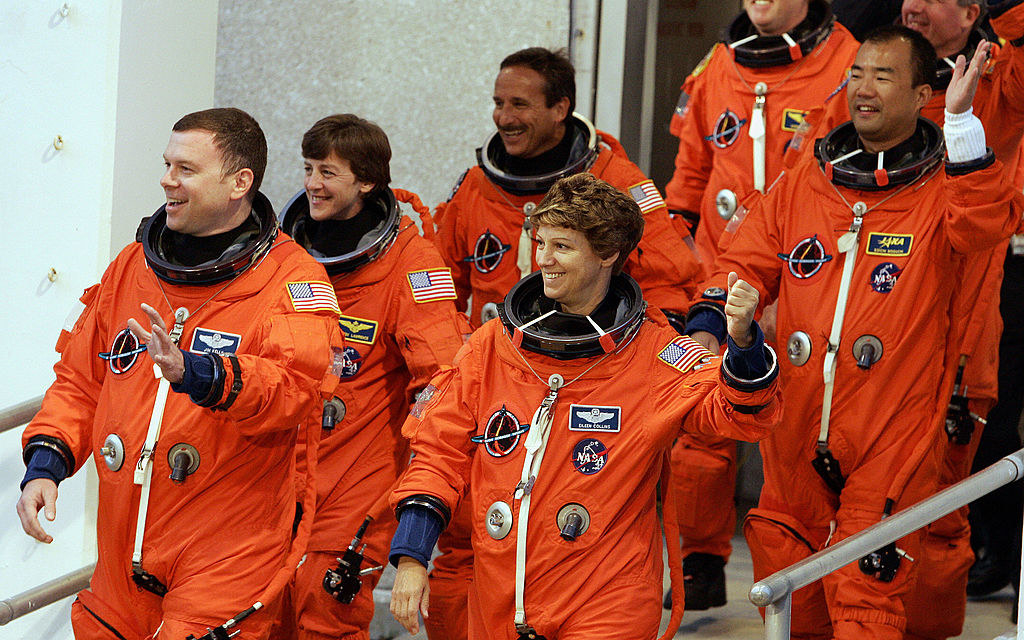 Wednesday is the 47th anniversary of the 1969 human moon landing, and Collins' speech is anticipated to extol the virtues of space exploration.
"I will be talking about how the Apollo program inspired Americans to rally behind a cause: John Kennedy's challenge to land a man on the moon," Collins said in a statement sent to Mashable. "We can raise awareness of how the U.S. human space program has slowed over the years."
Although NASA's budget has declined from its high point in 1965, others point out that the agency still gets $19.3 billion a year — more than the EPA, the Labor Department, or the IRS — for what is still the most glamorous arm of the federal government.
In recent testimony before Congress, Collins has pushed for NASA to build jumbo Space Launch System (SLS) rockets intended to carry astronauts outside low Earth orbit. Critics call the program a multi-billion dollar "Rocket To Nowhere" boondoggle.
In comments to BuzzFeed News, Garver, a former space policy advisor to Hillary Clinton, complained that Collins had blamed the Obama Administration for the 2011 end of the space shuttle program, when in fact that was a 2004 decision made by the Bush Administration.
Collins has also blamed "bureaucracies, behind closed doors" for the "divisive, damaging, cowardly" cancellation of a Bush Administration space rocket program. The program, called Constellation, was actually over-budget and faced increasingly costly delays, as a number of reviews and the NRC report showed. "Funding for the Constellation Program was inconsistent and unreliable from its initial formulation through its cancellation," NASA concluded in a 2011 review of the program.
The Obama Administration instead embraced a plan to send astronauts to retrieve a small asteroid and return it to lunar orbit (yes, this is really the plan), a mission midway between the moon and Mars. As Collins' testimony indicates, the decision sparked endless debate, with Republicans such as space committee head Ted Cruz more often expressing interest in moon missions on the way to Mars, an argument he made as recently as last Wednesday, at the "NASA at a Crossroads" Senate hearing.
"Every time there was a new administration, there was a change in direction at NASA," Anderson said. "This time won't be any different."
The chief space questions for the next president, whether Trump or Clinton, include deciding whether to keep funding the SLS jumbo rocket, figuring out what will replace the International Space Station (which NASA has only agreed to support until 2024), and whether to continue with Obama's asteroid mission, Marcia Smith of Space Policy Online told BuzzFeed News by email. "It's human spaceflight that usually captures the most attention."
Which might explain why Collins is giving her convention speech, calling for a renewed NASA. "No president wants to be the one to cancel NASA," said Anderson, who supports a moon base effort himself. "They all seem to want a legacy instead."

CORRECTION
John Glenn was the third American in space. An earlier version of this post misstated he was the second. (That distinction goes to Gus Grissom.)