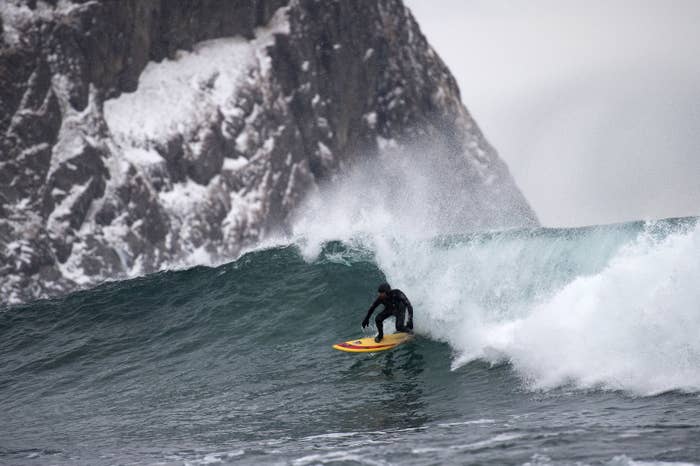 Arctic sea ice this winter was both thinner and scanter than ever before measured by satellites, federal scientist reported on Wednesday, around 8% less ice than normal.
The National Snow & Ice Data Center report set a record low for the coverage of sea ice in the Arctic Sea during a polar winter. "Arctic sea ice appears to have reached its annual maximum extent on March 7," said the announcement, falling about 1.2 million square miles short of its normal extent in past winters.
The record comes as the third in a row for shortfalls of winter ice across the Arctic.
"You cannot deny that a trend is happening here," Max Holmes of the Woods Hole Research Center told BuzzFeed News. "No one is making this stuff up. Sea ice is easy to measure. And it is a good canary in the coal mine for warning us about the warming that is happening everywhere."
Satellite records for Arctic sea ice go back to 1979, a time period in which global warming has increased about twice as rapidly at the North Pole compared to the rest of the world. As a result, sea ice records are falling in the Arctic.
"It is happening year after year," Holmes said. "Records stand out for a reason. They tell us something is happening."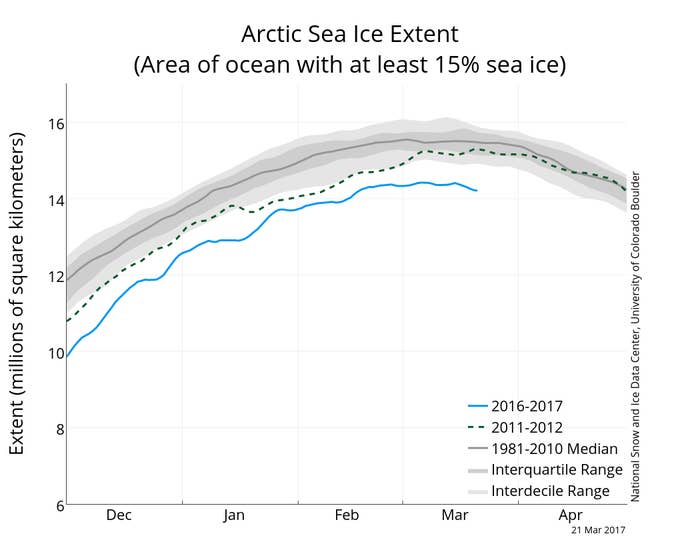 Arctic sea ice reaches its maximum extent typically growing about 25% over freezing winter months, expanding by about 6 million square miles in a typical year. The sea ice steadily grows over the winter and peaks in its extent in March.
But this year, a series of Atlantic storms delivered warmer than normal waters to the Arctic, especially in the Barents Sea, north of Scandinavia. That helped keep that region largely ice-free through the winter, which was the driver behind the record low for its extent.
"It has been a remarkable winter for the Arctic — very warm throughout the Arctic through pretty much all of the winter," NASA scientist Walt Meier told BuzzFeed News by email.

Eighty-seven miles south of the North Pole, in the midst of the perpetual nighttime of the Arctic winter and typically the coldest time of year, some data buoys even exceeded the freezing point.

Upper atmosphere temperatures averaged 4 to 9 degrees Fahrenheit above average across much of the Arctic in February as well. High air temperatures measured over the Barents and Kara Seas only dropped back down to freezing normals in that month as well.
2016 was also the warmest year on record, with much of the northern hemisphere enjoying a balmy winter, tied to both an El Niño year and long term global warming.

"This winter, while remarkable, is part of a long-term trend towards lower winter sea ice extents and warmer winter temperatures that is seen in our long-term records, going back to 1979," Meier said.
He added that while conditions are ripe for summer sea ice in the Arctic (its minimum point) to also hit a record low extent this year, current conditions don't guarantee it.
"The ice is very thin and in some ways that poises conditions for really low summer ice," Holmes said. "I wouldn't be surprised to be talking about a record low this summer either."