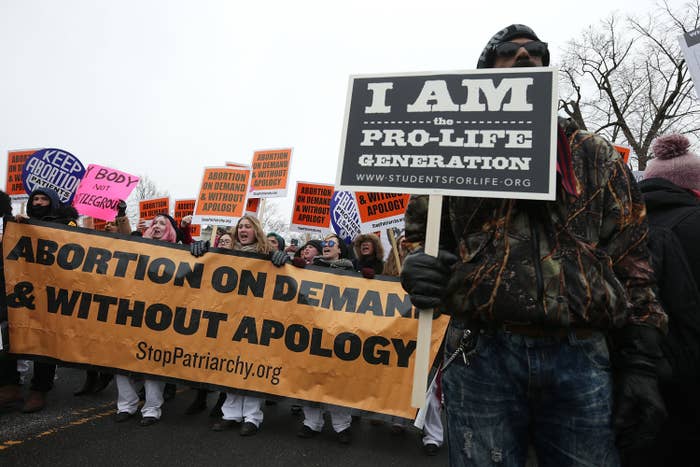 Anti-abortion activists wants to send secretly recorded tapes from abortion clinic conferences to the Supreme Court.
In a petition sent on Friday to federal district judge William Orrick III, the anti-abortion Center for Medical Progress (CMP), headed by activist David Daleiden, said that it wants to offer secretly recorded audio in support of an ongoing Texas abortion clinic regulations case now before the High Court.
A temporary restraining order blocks release of CMP's videos, which were recorded surreptitiously by anti-abortion activists using false identities, from a National Abortion Federation conference.
"Daleiden cannot include this information in his brief without first receiving permission from Judge Orrick or he will be held in contempt of court," Thomas Ciesielka, spokesman of the nonprofit Thomas More Society law firm representing CMP, told BuzzFeed News in an email.
This summer, the group had released a series of edited, secretly filmed videos of Planned Parenthood personnel that it said proved illicit sales of fetal tissue and that illegal abortion procedures were being performed by abortion clinic doctors. Planned Parenthood denied the accusations.
The resulting controversy led to a series of congressional hearings, a Senate vote on defunding the women's health organization, and investigations in 10 states. In November, a gunman killed three people at a clinic in Colorado, reportedly saying "no more baby parts" to the police officers who arrested him.

The Texas case in which CMP says it wants to submit audio tapes in a supporting amicus brief is Whole Woman's Health v. Cole. The lawsuit challenges Texas restrictions on abortion clinics that require their doctors to have hospital admitting privileges and their facilities to match those of small hospitals. If enacted, the restrictions would leave only about 10 abortion clinics open in Texas.

However, inclusion of the two or more hours of audio tapes from the NAF conference into a Supreme Court brief would release them into the public domain.
"This is just another attempt by this group to undermine the TRO (temporary restraining order) which they've tried before many times," NAF attorney Derek Foran told BuzzFeed News, adding that the group opposes release of the audio. "These guys are radicals and they won't take no for an answer."
"Even though there's nothing on these tapes, they try to put them out there and make ridiculous allegations that threaten the safety of abortion clinic providers."

The petition comes on the same day of the 2016 March For Life in Washington, D.C., which featured antiabortion protestors facing off with abortion supporters in front of the Supreme Court.