Army Refuses To Admit Human Error In Anthrax Scandal
The U.S. Army's Dugway Proving Ground relied on inadequate radiation to kill anthrax samples sent to biodefense labs worldwide. "By any measure this was a major institutional failure," said Deputy Defense Secretary Robert Work.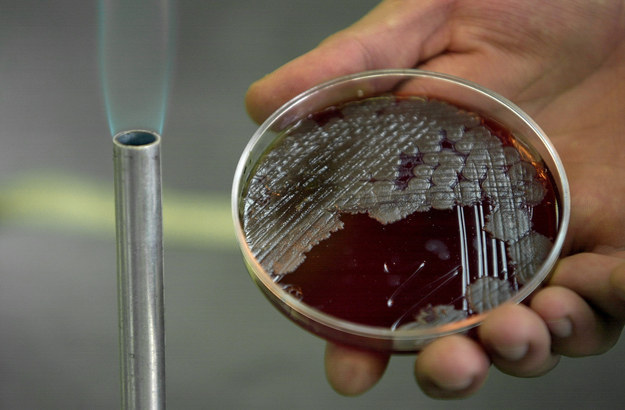 ARLINGTON, Virginia — Scientists at an Army lab that shipped live anthrax samples that were supposed to be dead to labs worldwide should have realized they were making the mistake, defense officials said on Thursday at a Pentagon briefing.
Inadequate radiation of excessively large batches of anthrax meant that about half — 17 of 33 — of "inactivated" batches from the U.S. Army's Dugway Proving Ground in Utah since 2003 contained live spores, all certified as killed, said deputy defense secretary Robert Work.
Shipments from those tainted batches were sent to 86 different labs in the U.S. and seven other countries.
Dugway officials initially told investigators that spores survived irradiation at the lab 2% to 3% of the time, whereas investigators found it was actually 21% of the time, the Pentagon investigation report said.
"That should have told someone that something was wrong," Work said. "By any measure this was a major institutional failure."
Dugway compounded its error by testing samples of the batches for too little time to see if they had survived radiation. These faulty protocols were the problem, Work said, and "there were no findings of malfeasance."
But independent scientists say this explanation is nonsense.
"This pretty much is a whitewash, where the procedures were the culprit," Richard Ebright, a molecular biologist at Rutgers University, told BuzzFeed News. "Here we have a human failure that did not involve humans somehow. It's really quite remarkable."
Work said he is directing Defense Undersecretary Frank Kendall to begin a full-scale investigation of the lab's technical leadership. In the meantime, a moratorium on shipments of inactivated anthrax spores to biodefense labs will continue. Defense officials will present the findings to a Congressional committee on Tuesday.
A Maryland lab reported that Dugway had sent its researchers live spores in a package that was supposed to contain dead ones in May, sparking the investigation.
At the briefing, Work revealed that the Maryland lab only tested its shipment of spores for viability because it was shipped without an inactivation certificate, unlike the other labs.
Ebright says that reveals gross negligence at the other labs, which should have tested their samples regardless of its certification. "Especially with something so deadly, that's just microbiology 101."
No one was injured or infected by any of the suspect samples, Work said. But "that is no consolation for a terrible failure."
The labs receiving the samples were testing anthrax detectors and other biodefense systems with their samples, Kendall said at the briefing. They were not the much rarer labs that regularly handle live anthrax.
One of the new report's findings is that no standard defense protocol exists for killing anthrax samples. What's more, each of the four labs (including Dugway) that produce the spores for other labs uses slightly different procedures, pointing to a deficit of research into the basic biology of the bacteria.
But some scientists strongly disagree. Ernest Blatchley III, an environmental engineer at Purdue University, told BuzzFeed News by email that the scientific work on killing anthrax spores (and making sure they are dead) is "quite extensive." So it's surprising, he added, that the Defense Department doesn't have a standard protocol for killing anthrax and other dangerous germs.
Ebright said that it appears that Dugway is producing large batches of anthrax to justify the continued existence of its oversized anthrax production facilities, which date to the era of the U.S. biowarfare program halted in the late 1960s.
The technical appendix of the report reveals that no dose of radiation used by the four biodefense labs investigated is sufficient to kill batches of anthrax with more than 100 million spores. Dugway batches contained as many as 100 billion spores in an irradiated batch.
"All of them are using doses of radiation their own report shows aren't sufficient," Ebright said. "Dugway is a production facility making large batches to keep its factory going, and fudging its books to hide the problems it appears."
In a redacted June 15 response to a CDC investigation, an unnamed Dugway official promised to revise and test its procedures for irradiating anthrax spores.
This post has been updated with comments from Blatchley.