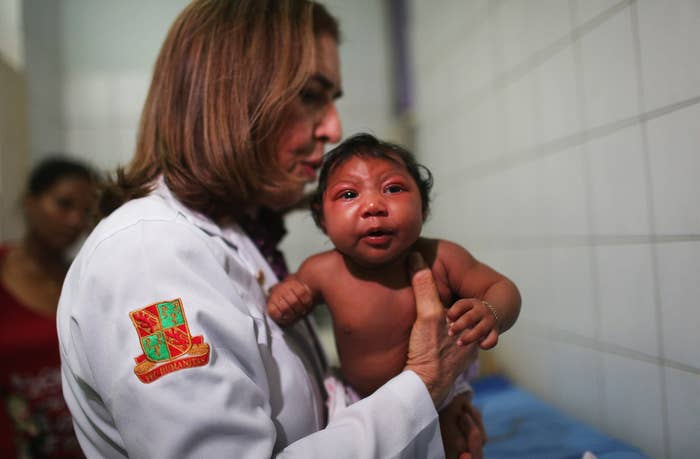 The World Health Organization (WHO) will call an emergency meeting on Monday to address Zika virus, citing public alarm over severe birth defects in Brazil now associated with the rapidly spreading tropical disease.
Some 3 to 4 million people in South America and North America may become infected by Zika in the next 12 months, health officials estimated at a WHO update in Geneva, Switzerland, on Wednesday. Zika arrived in Brazil only in May, and reports of microcephaly, an abnormally small brain, linked to the disease in nearly 4,000 cases there first alarmed public health officials only in late October.
"The level of alarm is extremely high," WHO Director Margaret Chan said on Wednesday. Chan called for the emergency meeting to decide if the Zika outbreak will be declared an international emergency, requiring international efforts to stem its spread, now seen in 23 countries in the Americas.
Because the disease is carried by a common mosquito, it threatens to travel everywhere from northern Argentina to the southern U.S., WHO Pandemic Disease Director Sylvie Briand told reporters at a briefing on Wednesday, potentially threatening 500 million people.
The meeting comes in response to travel advisories from the U.S. Centers for Disease Control and Prevention telling women considering becoming pregnant to avoid travel to 24 regions now reporting cases of Zika, a growing list, and countries such as El Salvador telling women to put off pregnancy while the infection is spreading.
"It is far better to be over-prepared than to wait until a Zika epidemic spins out of control," public health expert Lawrence Gostin of the O'Neill Institute for National and Global Health Law at Georgetown said in a statement about the emergency meeting. If the link between Zika virus and birth defects is confirmed, he said, a worldwide response to protect women of child-bearing age from infection will be required.
The U.S. National Institutes of Health is supporting two approaches to a Zika virus vaccine, National Institutes of Allergy and Infectious Disease head Anthony Fauci said at a separate Zika briefing on Wednesday.
But a Zika vaccine will not be widely available "even in the next few years," Fauci added, although a preliminary safety trial of one of the experimental vaccines may start before the end of the year. "We are already talking to a few companies to work with us on advanced vaccine development."
Fauci also said that "essentially there is no risk" of Zika in the continental U.S., echoing other experts. The 31 cases reported in the U.S. so far were all people who had been traveling in other countries. But they did not spread the virus after returning to the U.S.
"Questions abound. We need to get some answers quickly," Chan said. The link between Zika and birth defects, as well as neurologic ailments in children reported in French Polynesia in 2014 in association with the disease, is only suspected, not proven. There are also suspicions that co-infection with other tropical diseases may explain the birth defect outbreak in Brazil, which needs investigation.
But the rapid spread of the disease, and the public alarm, means the world needs to gather to tackle Zika, she suggested. "The possible links, only recently suspected, have rapidly changed the risk profile of Zika, from a mild threat to one of alarming proportions."