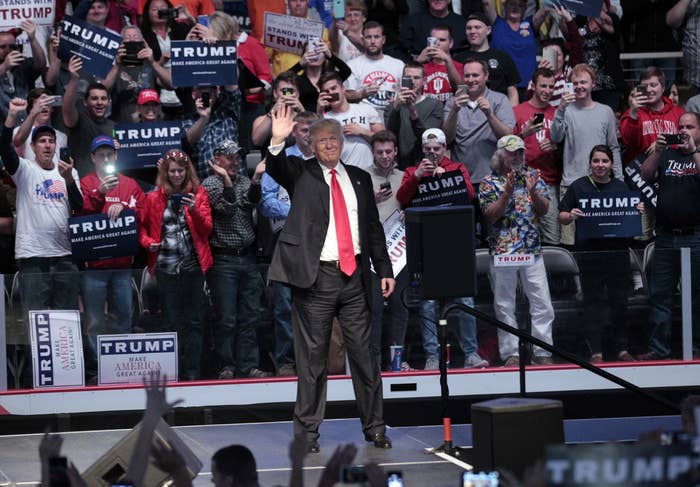 Aug. 21, 2015 was a big day for Donald Trump's emerging presidential campaign. He drew his biggest crowd up to that point — 30,000 fans — to a rally in Mobile, Alabama, promising to repeal Obamacare and end birthright citizenship.
Yet Trump wasn't just politicking: On that same day, he incorporated four companies that seem related to a possible hotel project in Jeddah, the second biggest city in Saudi Arabia. He was president and owner of THC Jeddah Hotel Advisor and DT Jeddah Technical Services Advisor.
The Jeddah companies came to light in Trump's latest financial disclosure filings, released Wednesday by the Federal Election Commission. The documents do not detail the purpose of the Jeddah companies, and Trump's campaign did not immediately respond to a request for comment. In the past, Trump has named other hotel companies after the cities in which the projects were located. One example: THC Baku Hotel Manager LLC, used while trying to build a hotel in Baku, Azerbaijan.
The new disclosure filings also reveal a raft of other projects Trump appears to have pursued during his presidential run — among them a tower in India and two resorts in Indonesia that paid him up to $10 million just to license his name.
The revelations highlight the potential challenges Trump may face as he seeks to disentangle his business dealings from his possible future as the head of the U.S. government. Since he announced his candidacy June 16, 2015, Trump has formed at least 46 companies that he controls.
Some of the companies are designed merely to hold other entities, sometimes so that another legal entity — not Trump himself — technically has control over the holdings.
The companies tied to the apparent project in Saudi Arabia may be the most puzzling. In August, Trump incorporated a total of 8 firms with the name Jeddah. Four were dissolved within months; the remaining four remain active. There has been no public disclosure about the purpose of any of the companies.
Trump's apparent business efforts in Saudi Arabia could raise eyebrows, especially because he said in February that the nation "blew up the World Trade Center," an apparent reference to the 9/11 attacks.

Trump campaign spokeswoman Hope Hicks did not immediately respond to a request for comment. Another executive in Trump's company also did not return a call Wednesday.