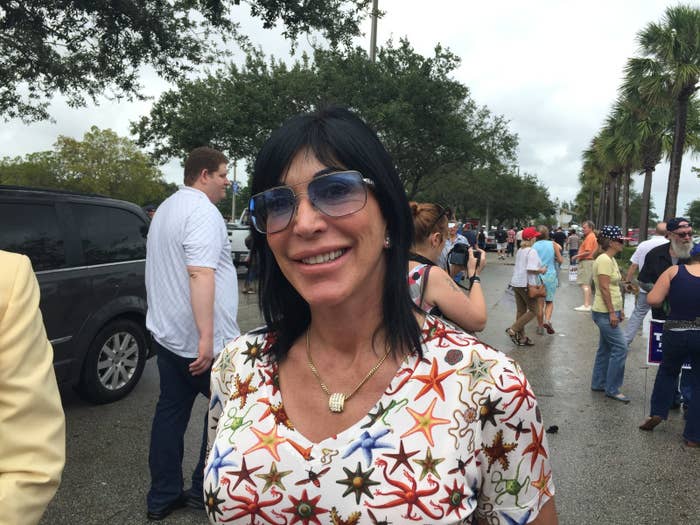 WEST PALM BEACH, Florida — Trump supporters rallied Thursday for a candidate they said they would support to the end of the Earth, no matter what evidence of his alleged past misdeeds might emerge.
"I'd never change my mind, never," said Debbie Knight, of Lighthouse Point, who impersonates Elvis and Cher when not supporting the Republican nominee. Knight said there is "literally" nothing he could do or say to change her views, because she "just hate[s] Hillary."
Trump's speech seemed designed for supporters like Knight. Wrapping together conspiracy theories about Hillary and Bill Clinton, the news media, and the Washington elite, Trump fed his supporters red meat aimed at deflecting a recent deluge of allegations that he forced himself on women sexually — something he said he did to women on recordings that surfaced in the past week.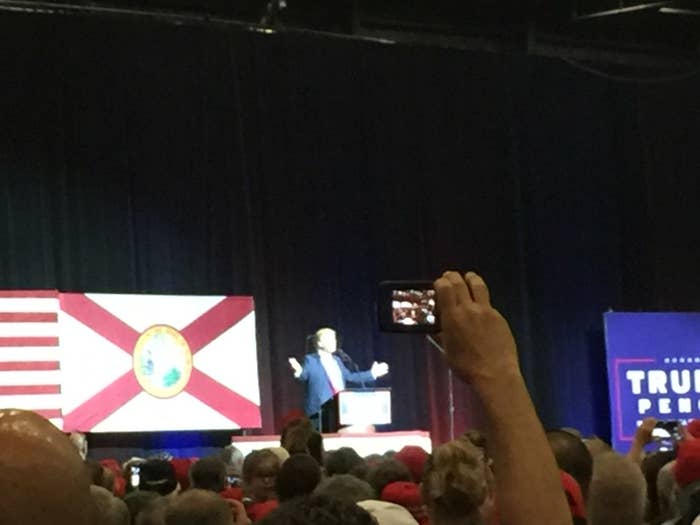 Inside the rally, the anger was palpable. Criticism of the news media drew the loudest boos, louder even than Clinton's name. As paramedics wheeled an emergency stretcher by, several in the crowd shouted, "It should be for Hillary!" And out front, a woman in a Hillary mask, shackled, was marched to and fro by a man holding her chains as the crowd chanted, "Lock her up!"
Some supporters acknowledged his behavior with women but excused it as normal for a "real man."
"I have three older brothers, and I spent my whole career in a male-dominated industry, plumbing," said Heidi Diktaras, 62, before the rally. "That's just the way [men] are," she said of Trump's alleged assaults.
"I know they're going to grope and stuff, but he backed off," she said, unlike Bill Clinton, whom she claimed sexually assaulted women.
The recent allegations that Trump walked into beauty pageant contestants' dressing rooms when they were naked, forcibly kissed a reporter, and groped a woman on an airplane are all "baloney," said Judy and Maddy, two supporters from Port St. Lucie who declined to provide their last names.
Describing themselves as "staunch Trump supporters," they said information about Trump's alleged treatment of women doesn't matter because "we believe he's going to make America great, give us back our dignity, support the veterans."
"All men talk and all women talk," Maddy said. "He's for the people and she's for herself."