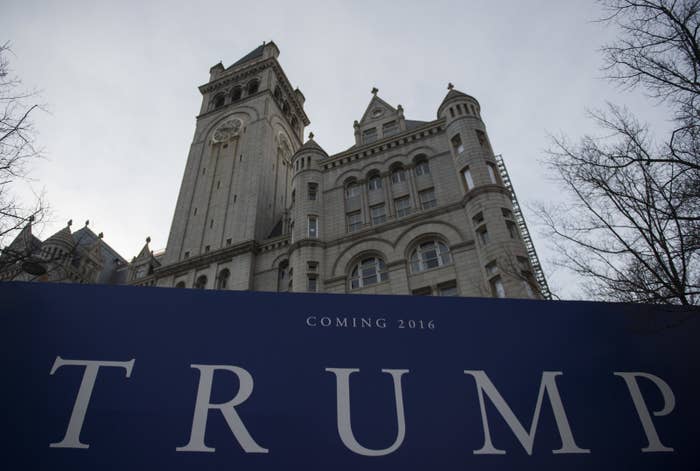 One of Donald Trump's companies prepared financial estimates for its lenders and investors that were "rosier" than the projections it used internally, a financial analyst for the company said in a deposition obtained by BuzzFeed News.
The testimony concerns Trump's $200 million project to transform the Old Post Office building — a taxpayer-owned landmark just five blocks from White House — into a luxury hotel. The company developing the hotel is owned by Trump and three of his children, Ivanka, Donald Jr., and Eric.
Lenders were told the hotel could earn millions of dollars more than the more conservative, internal estimates, the financial analyst, Raymond Flores, testified. He said those internal projections "generally tend to err on the side of being pretty conservative."
Later he said, "And then there are other projections where, you know, we're pitching to a lender or an equity source, where it's rosier." With these projections, he said, "we're pushing the boundaries of — we're pushing ranges of reasonability at those — at those projections to show, you know, what the hotel could be."
He defended the more aggressive projections, saying the company would not have put them forth "unless we could reasonably stand by them," but his testimony gives a forensic look into how the company developing Trump's D.C. hotel operated.
Representatives from the Trump campaign and the Trump Organization did not respond to requests for comment Friday evening. But earlier this week, before the full depositions were released, a spokesperson for the Trump Organization emailed BuzzFeed News the following statement: "Because no one can predict the future, it is standard practice in virtually every industry for businesses to run multiple financial models analyzing projected performance based on varying outcomes. Once again, this is yet another example of the media attempting to make something out of nothing."
Financial experts say many companies prepare multiple sets of projections, and there's nothing inherently illegal about that. The potential trouble arises when projections are used to misrepresent what management knows to be true.

From a legal perspective, a projection about the future is more opinion than fact, said Robert Bartlett, a professor at the University of California Berkeley School of Law who specializes in securities regulation and capital markets. Still, he added, the existence of two sets of books could help illuminate the matter.
"It smells a little fishy," he said. "If the internal set of books was what they held out to themselves as the true and likely scenario, then that would seem to be circumstantial evidence that the rosy projections were not honestly held projections."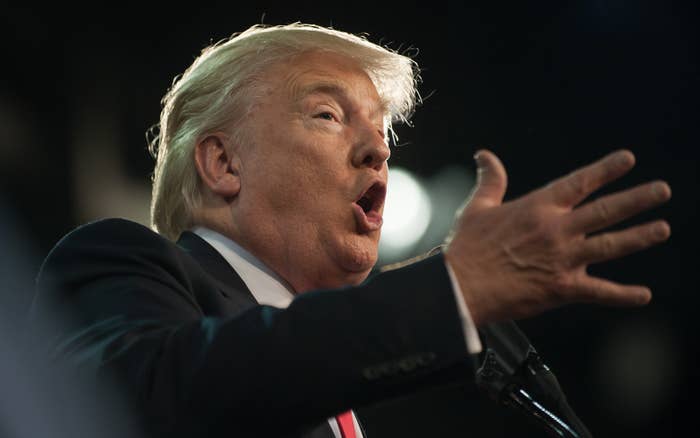 Flores spoke in a deposition that was taken in May by attorneys for Geoffrey Zakarian, a celebrity chef and restaurateur who pulled out of the hotel project after Trump's incendiary comments about Mexicans last summer. Trump's lawyers had sought to keep much of the deposition out of public view. On Thursday, BuzzFeed News filed a motion asking the court to release the full testimony.
At one point, a lawyer representing Zakarian asks Flores about exactly how "heightened" the lender-focused projections were. The lawyer said that the "current model" lists room revenue "at $40 million and change. And under the base model that you said was the rosier or lender-focused projections, you show room revenue at roughly $10 million more, or $50 million and change. Correct?"
Flores responded: "Looking specifically at Year 2018, yes."
Flores went on to acknowledge that food and beverage revenue was $15.7 million for the "current model" versus "roughly $32.5 million" for the lender-focused projections.
Despite their more upbeat assumptions, Flores said, Trump's company would not make projections it could not reasonably stand behind.
"Yeah, they were rosier, but not unbelievable to the point where no one is going to take us seriously," he said.
Asked which projection he would trust if he was betting his own money, Flores joked, "Well, ask me tonight, we'll see."
He added, "I think, you know, it's — it depends. It really depends." He continued, "I'm not a big better, not a big gambler, from that point of view. But I know there is — it is within the realm of possibility to do great things with this hotel."
The revelation comes after Trump's lawyers filed a motion this week asking the judge in the case to withhold portions of the deposition testimony from the public, including sections detailing how the "rosier" financial estimates were to be used. BuzzFeed News then filed a motion to oppose keeping the depositions secret, arguing that Trump's business record is particularly important to the public because he is the Republican Party nominee for president — and that his lawyers failed to meet the legal standard of showing the remarks were "trade secrets."
The judge ruled Thursday night that Trump's lawyers had indeed failed to meet the legal standard needed to keep the information secret. Friday afternoon, Trump's team filed an emergency motion asking the judge to reconsider.
Trump's company won a competitive process in 2013 to transform the Old Post Office building into a hotel. His team gained advantage by making certain promises, including promises about a co-investor that later withdrew and an architect who was removed from the team shortly after Trump won, BuzzFeed News reported earlier this year.
When he signed the lease, Trump had put down an equity investment of $2.4 million, according to a lease document later obtained by BuzzFeed News under the Freedom of Information Act. He gave more than 22 percent ownership of the project to three of his children, Ivanka, Eric, and Donald Jr., even though the document shows they did not put in any equity of their own.
Trump's only known lender on the project is Deutsche Bank, which gave him a $170 million construction loan. Trump put up the government lease as collateral.
Deutsche Bank representatives did not respond to requests for comment late Friday.
- William Alden contributed reporting.