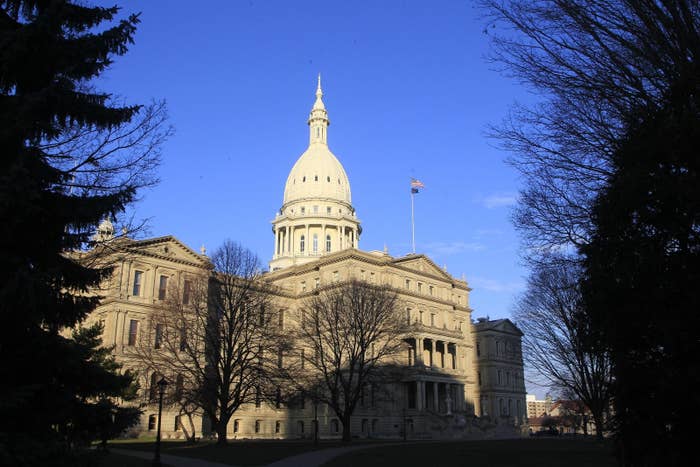 Despite wall-to-wall coverage of the midterms, nearly all political analysts continue to miss the most important story of today's elections. It will not be in the halls of Congress, it will be in state legislatures across the country, where Democrats suffered their most consequential losses during the Obama era.
Reversing those losses would have an even bigger impact than taking control of the House of Representatives. It is these state governments that will determine who can vote in 2020, how much is done to protect those votes from foreign interference, and who controls Congress for the decade after. State legislative losses in the Obama years, and decades of negligence before that, created the political dynamics of today. And it's state legislatures that build the bench for future leadership: Prior to the presidency, Barack Obama's longest employment was as an Illinois state senator.
It's also state legislatures that control the laws and regulations that affect our lives — expanding or limiting health care, setting minimum wages, and determining climate goals. With Brett Kavanaugh cementing a conservative majority on the Trump court, states will be the last line of defense to protect reproductive rights, the safety of drinking water from polluters, and the integrity of government from corporate cash.
Today's politics can be directly linked to the sweeping Republican state legislative victories in the Obama years. In fact, the entire fight to win Congress is so difficult because of politically gerrymandered maps implemented by new Republican state majorities in 2012. In Wisconsin, voting policies put in place after Republicans won state government in 2010 likely flipped the state to Trump in 2016. Substantively, the Betsy DeVos's agenda to destroy public education was piloted in Michigan, which became a Republican trifecta in 2011.
Forty-six state governments, representing more than 90% of Americans, are up for grabs today, and the outcome of these elections will define our country. So we analyzed what to expect.
In 22 chambers, we identified tipping-point districts — the most difficult districts to flip to win a bare majority. We then calculated the necessary Democratic overperformance needed to flip the tipping-point district in each of three prior elections (2016 and 2012 presidentials, 2014 legislative). Finally, we considered the current presidential approval rating, presence of contentious local issues, and viability of the candidates in each state.
One such candidate is 25-year-old Mari Manoogian, running to flip a seat in the Michigan House. She has knocked on over 6,000 doors. As two former state legislators who both loved the doors ourselves, we can attest that's a lot of effort — and it works.
But that's not the only reason Manoogian's seat is likely to flip. It is also one of more than 400 state legislative districts held by Republicans in which Hillary Clinton won. If 75% of Democrats running in these districts win, 319 seats will flip from Republican to Democratic control.
That's a lot of seats, but it will not flip very many statehouses: Only five chambers would switch control from Republican to Democrat. In these states — New York, Colorado, Maine, and New Hampshire — the legislature has been close for a long time, with recent swings in both directions.
If we add Republican-held districts that Obama won to the calculation, the number of seats and chambers each grows: 490 seats and 8 to 9 chambers would flip, including in Michigan, Wisconsin, Iowa, Florida, and Minnesota. These states all voted for Obama in 2012 but maintained Republican control in statehouse chambers because of partisan gerrymandering that many thought was unassailable. In this scenario, North Carolina is also in play, since its gerrymandering was so egregious that it has new, court-ordered districts this cycle.
Of course, there is a chance that overall Democratic performance will outstrip 2016 and 2012. (It's not a wild-eyed notion. After all, Congress did not flip in either of those years; this year, the odds are that it will.) If Democrats in the age of Trump outperform the Obama and Clinton years, more than 600 seats and more than a dozen chambers would flip. In this scenario, Pennsylvania, Arizona, and even Texas could be added to the states above, and a reversal of control in both houses becomes likely in more of the states.
In any of these scenarios, Democrats are poised to turn the tide on the statehouse losses of the Obama years. Just how many candidates and chambers are swept up will depend on the same national forces buffeting Congress — and the hyper-local forces powering candidates like Manoogian from door, to door, to door.
Daniel Squadron is the cofounder and executive director of the Future Now Fund and was elected the youngest member of the New York state Senate in 2008, serving until 2017.
Raj Goyle is a technology entrepreneur in New York City who represented the 87th District in the Kansas House of Representatives from 2006–10. He is the founding chair of the State Innovation Exchange.