As ad dollars that used to fund journalism pour into the coffers of Facebook and Google, the information business is experiencing a trend familiar to other American industries: The product they produce is now competing with cheaper versions coming from overseas.
Content farmers in the Philippines, Pakistan, Macedonia (of course), and beyond are launching websites and Facebook pages aimed at Americans in niches such as politics, mental health, marijuana, American muscle cars, and more.
Based on Facebook engagement and other metrics, some of these overseas publishers are now beating their American counterparts. In the process they're building an industry centered on producing and exporting cheap (and sometimes false) information targeted at the US.
"This is like all of the basic stuff happening in economics and politics today," said Tyson Barker, a political economist with the Aspen Institute Germany who specializes in international economic policy. "It's a globalization trend and you've seen it also in manufacturing and other industries."
Americans and others in the English-language world are used to buying clothing and other products with labels that say "Made in China" or "Made in Bangladesh." Thanks to the rise of platforms like Facebook and Google, a growing amount of the information being served up in English is now coming from overseas, albeit without the same kind of labeling.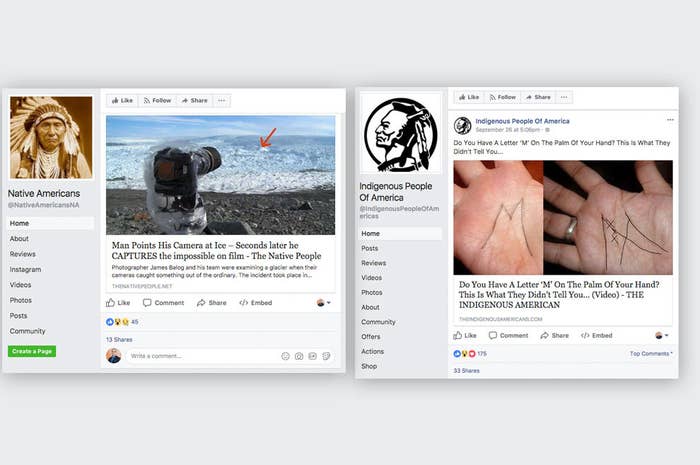 One surprising area where the impact of this trend is being felt is with Native American news and content.
A few weeks ago, Indian Country Today Media Network, an online and print publisher for Native Americans, announced that it was suspending operations due to the lack of a sustainable business model.
"ICTMN has faced the same challenges that other media outlets have faced," said a letter from publisher Ray Halbritter. "It is no secret that with the rise of the Internet, traditional publishing outlets have faced unprecedented adversity."
But while ICTMN had to stop operations, a raft of overseas-based publishers of content about Native Americans continue to forge ahead and experience growth and revenue primarily thanks to Facebook.
TheNativePeople.net, which has two associated Facebook pages with close to half a million fans between them, is run by a man in Kosovo. The website TheIndigenousAmericans.com also pumps out Native American news for visitors coming from its Indigenous People Of America Facebook page, which is approaching 1 million fans, almost twice the number of ICTMN's. The page has experienced steady growth: It added roughly 200,000 new fans since BuzzFeed News first wrote about it in a December story that identified a slew of Native American publishers based in Kosovo and Vietnam.
A Vietnamese publisher runs WelcomeNative.com and YesWeNative.com, two sites promoted by the Yes We Native Magazine Facebook page, which has more than 350,000 fans. The page says its owner is based in San Francisco, but domain ownership records list the owner as a person named Minh Nhat Tran of Hanoi. Domain owners can list whatever name and location they want in registration records; however, the email address used for both domains has also been listed as the contact for job postings in Vietnam for graphic designers and Facebook page managers, further showing a link to Vietnam. The same person also runs an American news site called USANewToday.com.
Some of the Native American pages and websites earn money from advertising on articles. Many also operate online stores where they sell T-shirts with Native American designs, as well as clothing, mugs, and other items. As reported by BuzzFeed News, these designs are often stolen from actual Native American artists.
"These pages are taking our work and paying for the sponsored posts on Facebook and making tons of money off of us," said Aaron Silva, the Native American cofounder of The NTVS, a clothing brand in Minnesota.
BuzzFeed News has identified other online publishers in countries including Macedonia, Pakistan, Georgia, Croatia, India, and the Philippines that produce information aimed primarily at US audiences.
"It's clear that those foreign publishers have developed avenues and methods to get their content into the American traffic flow," said Sarah Thompson, an Indiana woman who operates the Exploiting the Niche Facebook page.
When not homeschooling her children, she hunts down scammers and clickbait artists who target niche information topics. Many of them turn out to be based overseas, she told BuzzFeed News. When asked to name some of the topics where this is the case, she rattled off a list.
"The US military and veterans are popular themes as well as police and police dogs. Anything with animals, animal abuse, wild animals, beautiful nature, flowers, Native Americans, Christianity," she said. "Really, it could be anything. Any subject I have looked into I have found the corrupt pockets where that community is being exploited."
Jason Kint, the CEO of Digital Content Next, an alliance of large digital publishers, told BuzzFeed News the current economics of online content often favor people who excel at gaming platforms, rather than media brands doing reporting and original content creation.
"If proper trust frameworks aren't in place to ensure consumer and advertiser trust, then the automation/farming of the content will move to the lowest cost, ethics, laws available," he said.
Native American publishers aren't the only ones competing with — and sometimes losing out to — overseas publishers in a niche aimed at people in the US. As previously reported by BuzzFeed News, the town of Veles, Macedonia, is home to dozens of websites targeting American conservatives which often publish fake news. A recent BuzzFeed News analysis of partisan political news websites and Facebook pages revealed that a page run by a 20-year-old in Macedonia outperforms many of the biggest conservative news Facebook pages run by Americans. BuzzFeed News has also found publishers in Kosovo and Georgia that publish (often fake) news crafted for American conservatives.
Health is another niche attracting overseas publishers. According to domain ownership records from DomainTools, a man in Pakistan named "Kashif Shahzad" owns over 200 domain names, several of which focus on mental health and related topics, including MedicalHealthRecords.us, HealthTimes.info, and GeneralHealthcare.co. Another of his sites, GreatAmericans.world, focuses on fibromyalgia and is heavily promoted from a Facebook page called US Health Care. He also owns DailyMedicalNews.co, which is promoted by a Facebook page called Depression Awareness with close to half a million fans. BuzzFeed News contacted him at the email address listed in his domain registrations but did not receive a reply.

One way the (often plagiarized) content from this network of sites spreads is to have fake Facebook accounts share it in Facebook groups about health topics. Thompson pointed BuzzFeed News to several accounts that were part of a group of interconnected profiles that consistently share articles from the same health sites into Facebook groups. Some of the accounts are also administrators of these groups, which focus on mental health, fibromyalgia, addiction, and medical marijuana, among other topics. Along with the fake accounts, some groups, such as this one about marijuana, have administrators based in Pakistan.
One suspicious account with the name Rabia Anwar is a member of seven Facebook groups about marijuana and five dedicated to fibromyalgia. The account's profile features a photo of a woman, but earlier photos posted on its timeline clearly show it originally belonged to a man. (The account info is also set to male.) The profile also prominently presents the photo of a Pakistani actress and her family as if it depicts the person behind the account.
Since August, the account's public posting activity consists entirely of sharing new articles from the network of health sites run from Pakistan into Facebook groups.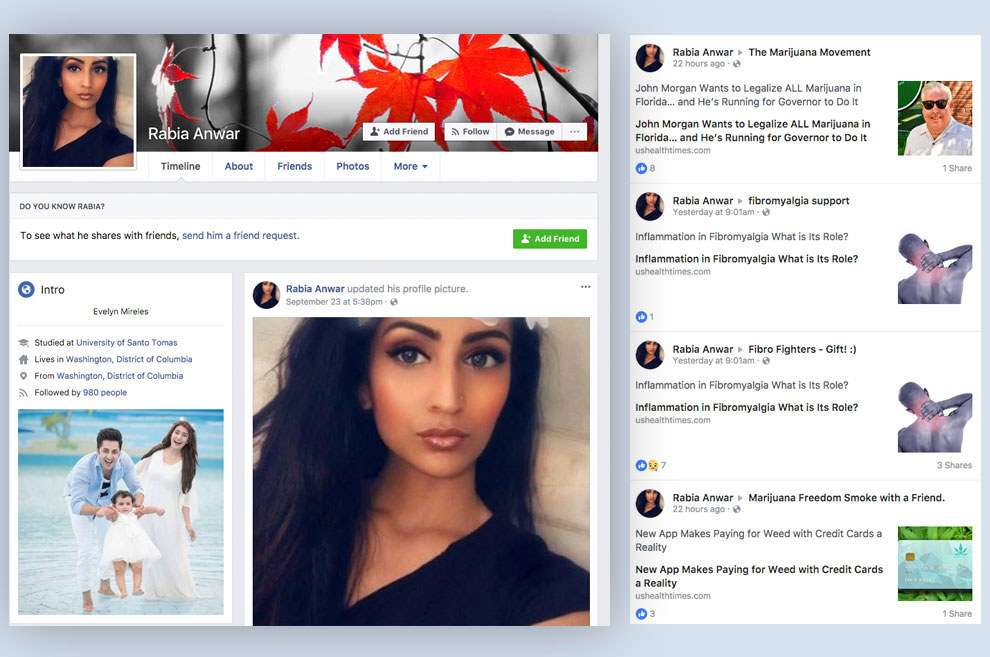 Thompson was most alarmed when she identified what she believes are fake Facebook accounts that are active in Facebook groups and present themselves as recovering drug addicts. These accounts repeatedly share content from overseas publishers.
"The thought of these spamming bots infiltrating a support group of recovering addicts made me so mad," she said. "Some clickbaiter thousands of miles away is violating the trust and privacy these communities afford to each other for mere pennies per click."
Along with the violation of trust, Thompson is concerned that many overseas publishers in the health vertical simply copy and paste whatever information will grab attention, which can often be false claims about new cures, or misleading health warnings.
"They could be giving them bad information, distracting them from proven treatments with snake oil spam, eroding their trust in their doctor, or even giving them bad information that could harm them," she said. "It's not a joke, it's not harmless. The heroin epidemic in the Midwest where I live is really bad. Lots of people are dying."
Health is also a focus for Macedonian publishers. Wired magazine reported on Aleksandar and Borce Velkovski, two brothers who got rich from HealthyFoodHouse.com, a website filled with health tips and recipes. BuzzFeed News also found dozens of health-focused domain names registered to people in Macedonia.
That country is in fact home to a cottage industry of websites focused on motorcycles, American muscle cars, horses, and other topics.
The glut of English-language publishers in Macedonia is partly thanks to a man named Mirko Ceselkoski. More than a decade ago, he figured out how to make money by running websites about cars and other niche topics aimed at Americans. When he met with BuzzFeed News in July in Skopje, Ceselkoski provided a business card that described him as "The Man Who Helped Donald Trump Win US Elections (me and my students from Veles)."
Ceselkoski claims credit for Trump's win because many of the young publishers in Veles took a course he offers on how to make money with English-language websites. Ceselkoski charged $425, which is roughly equivalent to the average monthly salary in the country.
"I was instructing my students that they should write news aimed at American people," Ceselkoski said.
He denies telling students to publish fake news, but does instruct them to copy a few paragraphs from a story that's performing well on Facebook and create a new story from that. It's the content equivalent of an overseas factory pumping out knockoffs of the latest fashion trend.
Plagiarism is a standard tactic of low-quality overseas publishers. All of the content BuzzFeed News reviewed on the health sites run from Pakistan was stolen from other websites. (There was even one story about antidepressants stolen from BuzzFeed.)

The same is true for players in the Native American niche. TheIndigenousAmericans.com recently featured a Q&A with actor Adam Beach. That interview was stolen word-for-word from Indian Country Today Media Network.
The same plagiarism frequently occurs in the world of fake political news, too. As previously detailed by BuzzFeed News, multiple publishers in Macedonia, Kosovo, Bulgaria, and Georgia plagiarize the fake articles published on a group of websites run by a man in Maine. The man, Christopher Blair, calls himself a liberal troll and claims he publishes the fake stories — such as "BREAKING: Hillary Clinton Personally Funded Antifa Terrorists With $7.1 Million Bankroll" — to expose the ignorance of American conservatives. After months of having his content stolen, he managed to get some of their websites and Facebook pages shut down.
"They will copy, paste, and post as many times in a day as they can. They steal content from pages with a lot of shares," he said.
Sometimes overseas publishers mix their topics to puzzling effect. A website called USMedicalCouncil.com shows new visitors a pop-up message to like the Fibro & Chronic Pain Center Facebook page. That page constantly posts articles connected to health spammers in Pakistan. However, USMedicalCouncil.com recently switched topics and now posts hyperpartisan political stories. One of its most recent is a completely false story alleging incest in the Trump family.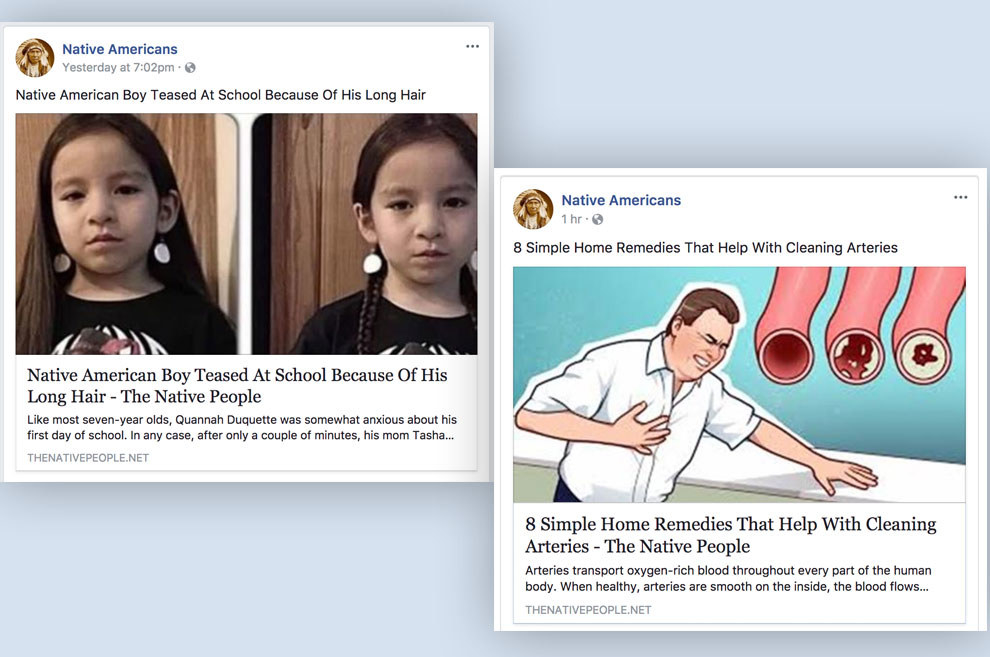 TheNativePeople.net, which is run from Kosovo, is just as likely to publish a list of "home remedies" to help with clogged arteries, which itself is an article copied from a health site run by a Macedonian, according to domain registration records.

But not all overseas publishers working in English operate at the lowest end of the value chain. Bored Panda publishes viral content about art, design, and other topics. It frequently works with the original artists to create stories. The company was founded in Lithuania, and that's where the majority of its staff is based. Owner Tomas Banisauskas did not respond to interview requests from BuzzFeed News, but he did publish a post on Medium titled "How we built a global media business with $5/month." The $5 in question is the cost of his initial web hosting bill.
"I was laser-focused on profits from day one," wrote Banisauskas, who studied business at Vilnius University. "The idea was to create content that people would share on social networks, which would bring free traffic back to my website. All this traffic then could be monetised with AdSense banners."
He said Bored Panda succeeded by focusing on publishing a smaller number of quality posts, rather than churning out a large number each day. This, and what he said was a decision to avoid using clickbait headlines, helped his site avoid a crash in traffic that hit viral sites such as Upworthy when Facebook changed its algorithm, according to Banisauskas.
There are also some American and British companies taking advantage of the overseas information explosion by using relatively cheap labor in the Philippines or India to create content for their websites. BuzzFeed News recently revealed that the content for International Business Times Australia is actually produced by writers in the Philippines. Its parent company, Newsweek Media Group, which publishes the magazine of the same name, also employs writers in India to create content for its global IBT editions. One overseas writer for an IBT website told BuzzFeed News they are required to write five articles per day.
There are also companies, like Tune Media, that are based in the Philippines and use local writers there to produce content for a range of English-language sites about topics such as gaming and news.
The rise of overseas publishers is the result of basic internet economics. The most valuable audience for digital ads is English-language website visitors from countries such as the United States.
"Because American traffic pays better, American themes are commonly exploited," Thompson said.
The growth of overseas publishers also reflects another, connected economic trend: Rates for digital display ads have been falling for years, which means a publisher earns less money per ad view. Part of the reason for falling digital ad rates is the massive amount of online content being produced, which results in an abundance of inventory for advertisers to choose from. This makes it more difficult for US publishers to earn sustainable revenue from digital advertising, as evidenced by the experience of Indian Country Today Media Network and many others.
In response to declining display ad rates for text content, some publishers have been laying off writers in favor of producing video content, which attracts higher advertising rates. But the so-called pivot to video has yet to pay off for some publishers, and is causing them to lose traffic.
The reality is that the same factors that create challenges for US publishers are an opportunity for people in countries with a much lower cost of living. A single viral article that generates ad revenue in dollars or euros can provide several months of living expenses for a family in Macedonia or Pakistan. It will barely cover a person's rent for one month in New York.
This is the result of a world where big platforms like Google and Facebook decide which content rises to the top and where anyone with an internet connection — and an understanding of platform dominance — can compete.
Kint, who represents big publishers such as Vox Media, the New York Times, and WedMD (BuzzFeed is not a member), says anyone should be able to publish English-language content regardless of where they're based. The issue is that platforms often don't distinguish between a story from a well-established site and a copycat version stolen by another property in the same niche, according to Kint.
"The revenue seems to be ignorant of quality thanks to Facebook," Kint said.
"It's the result of a move to an automated world in which platforms are able to distribute, mine, and monetize content according to their own dials. On one side is profit and the other side is societal good," Kint said. "Unfortunately, these two goals don't always align."
This is why Facebook and Google are increasingly in the crosshairs of established publishers.
"Media companies fear it destroyed their business and turned the news industry into peasant serfs on the greedy overlord's land," wrote Axios's Mike Allen in a story about Facebook's struggles in the wake of its revelations that Russians had bought targeted political ads on the platform.
At a recent event, NBCUniversal CEO Steve Burke criticized Facebook for the way it handles "professional content," compared to Snapchat.
"Snap treats professional content with respect, unlike Facebook, just to give a real pointed example," he said. "We are making real money on Snap."
Facebook is aware of the criticism. After taking heat for allowing fake news and other forms of misinformation to go viral on its platform during the election, it spent the past 10 months rolling out new initiatives to reduce the spread of misinformation and disrupt the ability of spammers and other bad actors to earn money from its platform. It's spending millions of dollars on sponsorships and other initiatives in the news industry. The company also recently revealed that publishers using its fast-loading Instant Articles are earning roughly $1 million per day in revenue. Google and Facebook now say they are both working on ways to help news publishers earn money from subscriptions via their platforms.
"If journalism isn't surviving in this environment, that's bad for society, but it's also bad for Facebook," Fidji Simo, Facebook's vice president of product, told Bloomberg in June.
But while many American publishers decry the reality of a platform world, it's enabling some people overseas to move up in the digital economy.
For years, people in the Philippines and other developing countries performed menial tasks for Facebook, such as reviewing content to see if it violates the social network's terms of service. They have also toiled in the gray and black markets created by platforms. Some create and sell fake social media accounts, while others offer services to spam Facebook groups with links to try to generate traffic. BuzzFeed News recently spent $10 to purchase 100 fake Twitter accounts from a man in Indonesia.
Wired reported that one Macedonian man was "one of the many peons around the world laboring online for MicroWorkers.com, earning something like a tenth of a cent for liking a YouTube video or leaving a comment."
But then he learned to run his own websites, which drastically improved his economic situation — albeit at the cost of American political discourse.
Barker of the Aspen Institute said this is possible because platforms have effectively erased barriers to entry for information distribution.
"You're putting everybody at the same level in the sense that, as has been reported, if you're in Russia you can help to organize an event in a state like Wyoming to protest against the removal of [confederate] statues or whatever," he said.
The most visible representation of this leveling is that websites look the same in the News Feed or in Google search results, regardless of whether you're a Native American writer who interviewed an actor or a man in Kosovo who stole the original writer's words.
"It's value neutral," Barker said of the platforms and their treatment of information. "It gives a lot of power to capital and very little power to labor. All the power is in the hands of capital — and capital is the platforms." ●