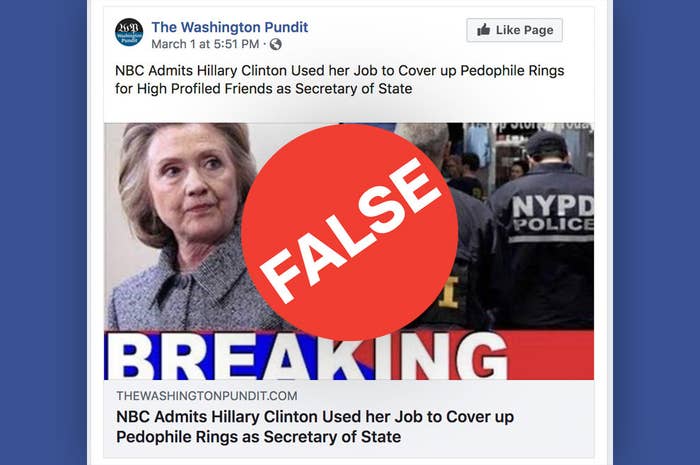 Late last week, a nearly six-year-old story made a comeback, blazing a trail through Facebook groups and Twitter accounts dedicated to the QAnon conspiracy theory and to supporting President Donald Trump.
"NBC Admits Hillary Clinton Used her Job to Cover up Pedophile Rings as Secretary of State," read the false headline on a story from the Washington Pundit, which labeled the Obama-era story as "Breaking."
The text was largely a transcript of an NBC News report from 2013 that aired allegations of a cover-up of sexual misconduct at the State Department while Hillary Clinton was in charge. The core allegations against an ambassador were later disproven and he received a public apology from the State Department. Clinton herself was not accused of anything directly, and NBC News "admitted" nothing.
But on Facebook and Twitter, the story spread as if it were new, inspiring gleeful exclamations that Clinton was finally going to face justice, and that the sickos running global pedophile rings would soon be brought down. In recent years, pedophilia has become something of a point of fascination among the far right. The existence of a worldwide cabal of corrupt pedophile politicians, business leaders, and other prominent people is at the heart of the confusing QAnon conspiracy. And now, thanks in part to QAnon's rabid adherents on social media, stories about pedophiles have emerged as a huge traffic generator on Facebook and Twitter.
Josh Russell, a computer programmer who investigates bots on Twitter, said QAnon followers devote vast amounts of time to investigating theories and that "once they see something that they can use to 'confirm' some conspiracy they believe, they will pick it up and run with it."
That translates into both traffic and a tendency to reframe and then recirculate old news. A recent story from lostmisfits.com, for example, about a pedophile who died in a UK jail generated more than 100,000 comments, shares, and reactions on Facebook over the past roughly three weeks. This happened even though the man had actually died in 2016. The story's headline, "Paedophile Baby Rapist Found Dead In His Cell After Inmates Took Contracts Out On Him," is also false — he killed himself.
Another recent viral pedophile story involves the death of Argentinian model and actress Natacha Jaitt. She had previously made public accusations that prominent Argentinian sports and entertainment figures were involved in a child prostitution ring, and last year tweeted a warning that if she were to die soon it would not be a suicide. Her death on Feb. 23 was ruled a suicide, but now her lawyer and brother are calling for a full investigation.
A story about her on NewsPunch, a site previously known as Your News Wire, has generated more than 70,000 Facebook engagements over the past week. NewsPunch is often caught inserting false details into its articles, and constantly publishes stories about pedophiles,
A NewsPunch story from last May, "Pedophile Who Raped 5-Year-Old Boy Found Dead With Testicles Removed," has generated more than 750,000 Facebook engagements. It was plagiarized from another pedophile-obsessed conspiracy site, Neon Nettle, which fabricated the detail about his testicles being removed.
In its fact-check of the story, Snopes described Neon Nettle as "a fake news site with a particular focus on reporting made-up and exaggerated clickbait stories about pedophiles."
The Washington Pundit also fits that description — at least it did until the site was taken offline after BuzzFeed News interviewed its owner, Michael Cameron Stewart, on March 3.
"I genuinely HATE sexual predators"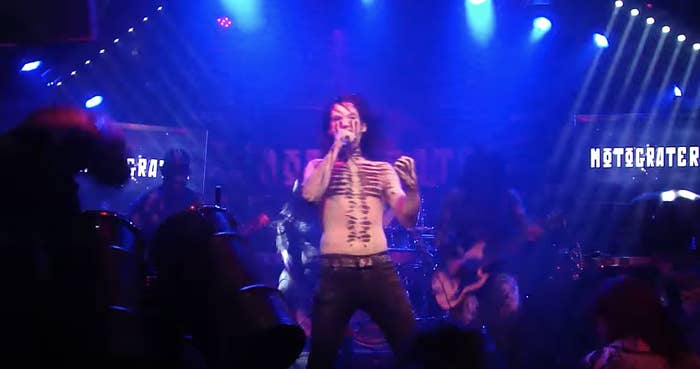 Stewart is a North Carolina man whose previous jobs include being a member of Motograter, a heavy metal band known for its use of body paint, and working for the Barack H. Obama Foundation, the dubious nonprofit run by the former president's half-brother. (The Foundation did not respond to emails or a phone message, but Stewart's LinkedIn profile displays a photo of him and Malik Obama.)
"After working for the organization, I realized things weren't exactly how they appeared to be so I decided to quit and use the information I had to begin a news organization," Stewart said in an interview conducted over Facebook Messenger.
Originally launched in late 2017, TWP was rebooted just a month ago and since then has generated hundreds of thousands of Facebook engagements and tens of thousands of retweets by copying and pasting stories about pedophiles, rapes, and deep state corruption from a variety of other sources, regardless of how recent or accurate they are.
Prior to being taken offline, TWP made money from ads placed via Google's AdSense platform. A Google spokesperson told BuzzFeed News the company doesn't comment on specific sites, but said it has a policy against copying content from other sites without adding "original value."
"When we find websites that violate our policies, we take immediate action," the spokesperson said.
Stewart was emphatic that his site's focus on stories about pedophiles is a result of his genuine personal outrage at the vile act, rather than being the result of a traffic or marketing strategy. He said people close to him have been victims of sexual assault.

"This is not about money. I genuinely care about victims of sexual assault. I genuinely HATE sexual predators," he said in a message.
Stewart said he used to follow QAnon and initially saw Q, its leader, as a credible government insider working to expose corruption. But now he thinks the QAnon community is beset by grifters, and that Q's followers behave like a "cult."
"I don't report on Q because it's very difficult to have concrete evidence and we don't report on anything that cannot be proven," he said.
Yet his site is filled with articles that have false details or are so out of date as to leave out critical information. TWP also recently attracted the attention of fact-checkers at Snopes for a story headlined "CA Democrats Introduce LGBTQ Bill That Would Protect Pedophiles Who Rape Children." (Prior to it being checked by Snopes, Stewart paid to promote that story as an ad to a few thousand Facebook users.)
After it was rated "mostly false," Stewart published a follow-up article to dispute Snopes' finding — while also reprinting the entire fact-check, without permission.
Another TWP story falsely stated that the Clintons were implicated in the exposure of a pedophile ring in Norway. That article originally appeared on NewsPunch (then Your News Wire) in 2016, and TWP copied the entire story.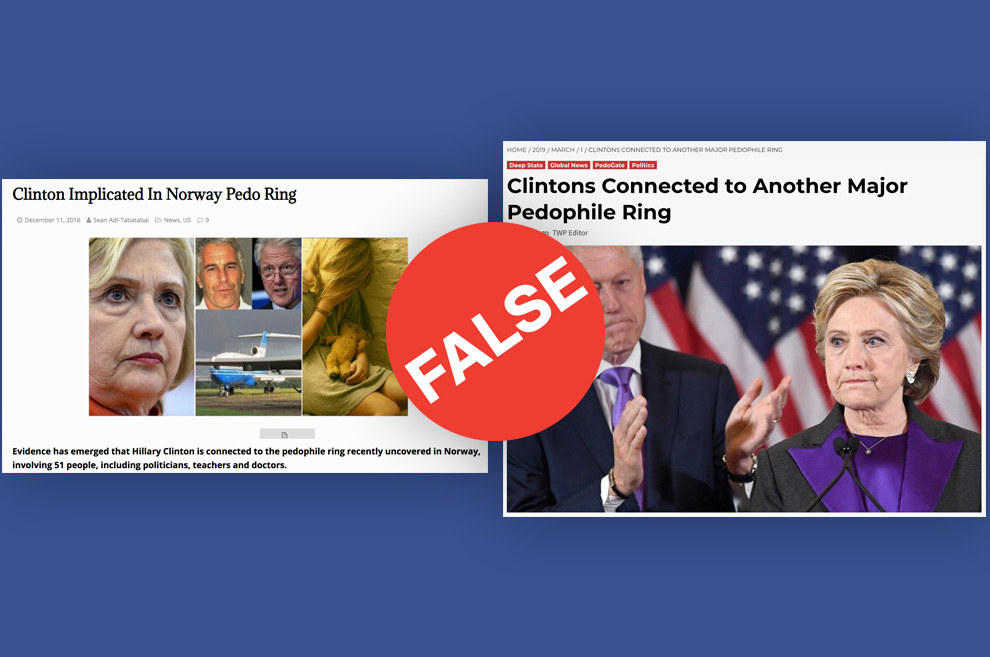 When asked about the rampant plagiarism on his site, Stewart blamed it on technical difficulties brought on by a shift to a new content management system. He emphasized that he's removed or corrected articles when an issue is discovered. Stewart then offered an explanation of plagiarism that inadvertently revealed his site was committing it.
"We never claim to be the author of the work that isn't ours. If you notice, all of the articles use TWP Editor as the author. Most of those are not ours. We never take credit for other people's work." (Crediting the articles to "TWP Editor" instead of the original author and publisher is actually what makes it plagiarism.)
Stewart offered similar reasoning when asked about a post on his site that stated definitely that conservative activist and publisher Andrew Breitbart was murdered. (An autopsy concluded he died of heart failure.)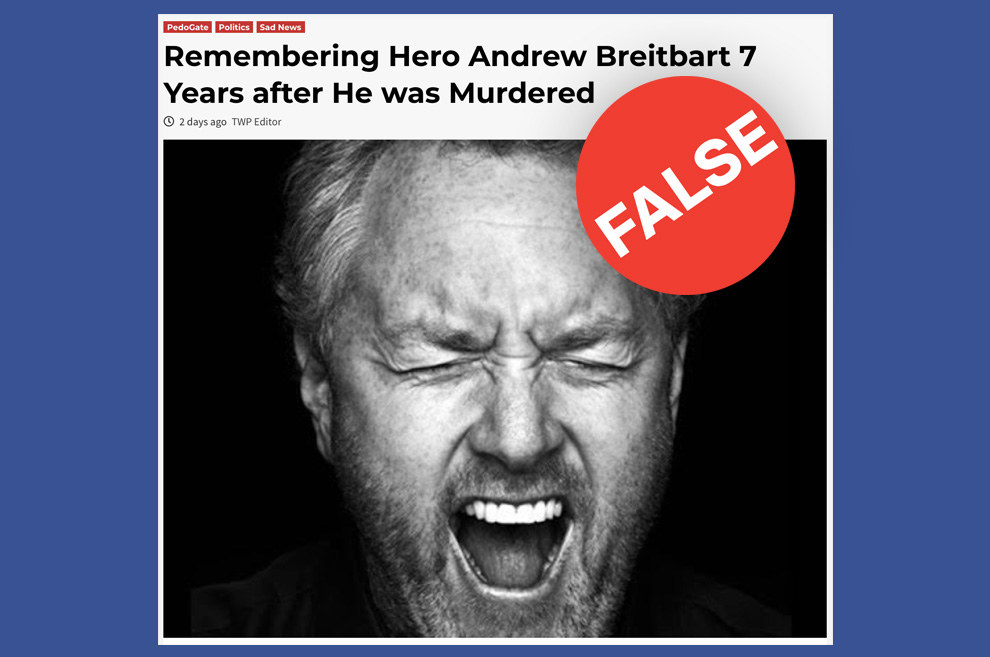 Stewart believes Breitbart was assassinated by powerful people he was about to expose, and claimed inaccurately that Breitbart's death showed signs of poisoning.
"We don't need evidence to know he was murdered and why he was murdered. Great assassins don't leave evidence. The evidence lies in the way he died. That's all we have and it's all we need," he said.
After speaking to BuzzFeed News for roughly two hours on Facebook Messenger, Stewart sent a follow up message to say his site was being hacked.
"Since you've messaged me, we've been hacked and attacked extremely hard," he said, adding, "We'd like to believe this is a coincidence but it's difficult to believe this."
He then blocked the reporter on Facebook. TWP has been offline ever since.