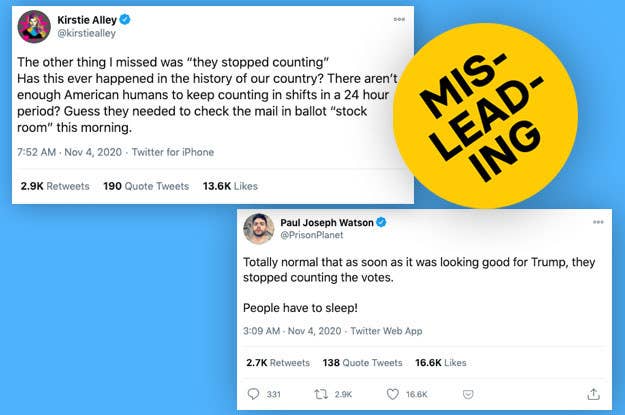 President Donald Trump and his supporters are spreading false and misleading claims that attempt to call into question the legitimacy of the vote, especially in key swing states like Michigan.
There is no evidence of widespread irregularities, and the vote count in swing states is continuing as expected. Prior to Election Day, officials in multiple states said it would take days for votes to be counted in contested states such as Pennsylvania and Michigan, due to the high number of absentee ballots, the impact of the coronavirus pandemic, and record-breaking voter turnout.
BuzzFeed News has journalists around the US bringing you trustworthy stories on the 2020 elections. To help keep this news free, become a member.
Despite the counting continuing as normal, the president and his supporters are pushing several false claims about it on Twitter and Facebook.
One falsehood attempted to cast it as suspicious that some county officials in swing states took a break from counting ballots overnight. Officials in some counties in Pennsylvania, Nevada, and Georgia paused late in the night on Tuesday and resumed counting Wednesday morning. Because the United States does not have a national election authority, those decisions to let poll workers sleep differed by place, with some locations continuing to work around the clock. For example, in Pennsylvania, the count continued overnight in Philadelphia and adjacent Montgomery County.
"We are doing the canvass, we are not stopping for nobody," Omar Sabir, a member of the Philadelphia City Commission, the body that oversees elections, told the Philadelphia Inquirer. "We're here, we're counting. The count has not stopped."
In Michigan, "election officials worked through the night to #CountEveryVote," tweeted Secretary of State Jocelyn Benson.
Benson said the latest Michigan totals included "absentee ballots voted by citizens in Livonia and Dearborn," and that the counting continued in Detroit, Flint, and Grand Rapids. Absentee ballots from Detroit, the state's most populous city, are expected to overwhelmingly favor Biden.
Wisconsin also continued counting absentee ballots overnight, as required by state law.
But the decision to pause some vote counts elicited multiple viral Twitter posts that falsely conflated the temporary break with voter fraud, claiming that Democrats were halting the count to generate fraudulent votes for former vice president Joe Biden.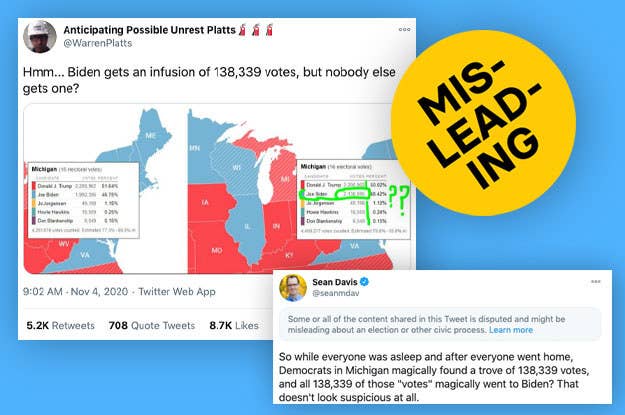 A second falsehood gaining traction among pro-Tump influencers painted new vote totals as suspicious. Trump fueled the fire with a Wednesday morning tweet that called the updated vote counts "VERY STRANGE." Twitter flagged this tweet and at least two others from the president for being potentially "misleading about an election or other civic process."
Michigan's vote totals continued to be updated early Wednesday as absentee ballots were counted. As was predicted well ahead of the election, these ballots favored Biden. Some right-wing Twitter users shared screenshots of a sudden influx of more than 130,000 Biden votes and claimed it was suspicious. But that update was the result of a data error that was quickly corrected, according to a spokesperson for Decision Desk HQ, an election data and analysis service. DDHQ's election results site was cited in many of the tweets making the claim.
"It was a simple error from a file created by the state," the spokesperson told BuzzFeed News. "The state noticed the error and produced an updated count. This happens on election nights and we expect other vote tabulators in MI experienced this error and corrected in real-time as we did."
On Wednesday, the president retweeted a conservative strategist who posted screenshots of the incorrect data in Michigan. That strategist later deleted his tweet and apologized.
If you have a news tip, we'd like to hear from you. Reach out to us via one of our tip line channels.