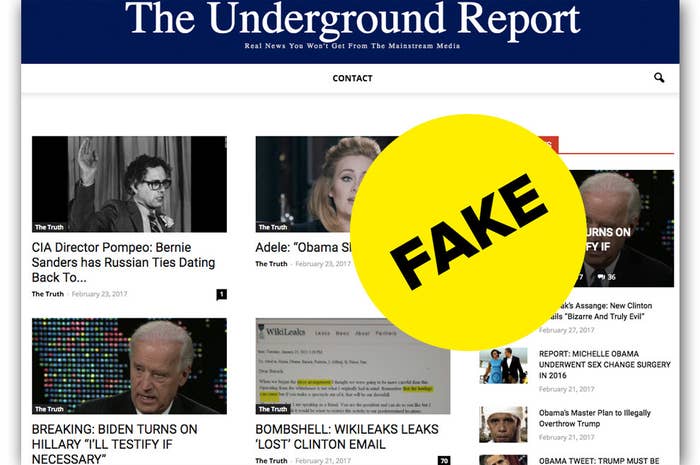 In a little more than a week UndergroundNewsReport.com went from a website that didn't exist to one that claims to have received more than 1 million views thanks to completely false news stories such as Obama running a pedophile ring out of the White House, and Whoopi Goldberg saying the wife of the Navy SEAL killed in the Yemen raid was "looking for attention."
The site's creator spoke to BuzzFeed News after he posted publicly to say most people believed his fake stories and blamed "gullible Trump supporters" for falling for them. He also said he had no trouble getting approval to run ads from the Content.ad network on his site, which earned him roughly $600. (Content.ad did not respond to questions about how the site was approved for its network.)

This example shows it remains easy for people to create, spread, and monetize fake news websites, in spite of efforts by Facebook and other major platforms to crack down.
The owner of UndergroundNewsReport.com identified himself as James, and said he's a 27-year-old American living in Costa Rica. James said he was surprised by the success of his fake news site. "I didn't realize it was going to be as popular as it was because it started out so ridiculous."
He came up with the idea to try writing fake news after seeing the false stories circulating in pro-Trump Facebook groups. "I was looking at some of these things these people were sharing and I couldn't believe it," he said. "We're talking stories like, 'Obama has a bunker next to the White House and he's planning to overthrow Trump with a Muslim army.'"
Before he registered a domain name and launched the site he tested out a fake story about Obama on a free WordPress site with a very basic template, he said. It got enough traffic that he decided to register a domain name on Feb. 20 and put up a full site with fake news targeted at Trump supporters.
He's since published more than 30 hoaxes that collectively generated more than 190,000 shares, reactions, and comments on Facebook, according to data from BuzzsSumo. James told BuzzFeed News his Google Analytics dashboard shows his site attracted over 1.1 million pageviews since going live just over a week ago.
James said it was easy to get his hoaxes to spread. He simply shared each article in two or three Trump groups on Facebook and watched them take off. This approach of seeding content in Facebook groups is used by online spammers to help their content spread, and remains a key strategy of the pro-Trump sites run by teens and young men in Macedonia. James said he saw a lot of people based in Eastern Europe doing the same thing as him with false or dubious stories.

Since admitting his sites is full of hoaxes, James is now facing criticism that he added to the problem of online misinformation. "I understand the argument there," he said. "But I don't know that my one week of fake news has contributed to the ocean of fake news already out there."
He believes his experiment shows people online "want something that confirms their notion or world view." He also said this afflicts conservatives and liberals. "A lot of these people are nuts -- on both sides," he said. "It's not just the Trump people."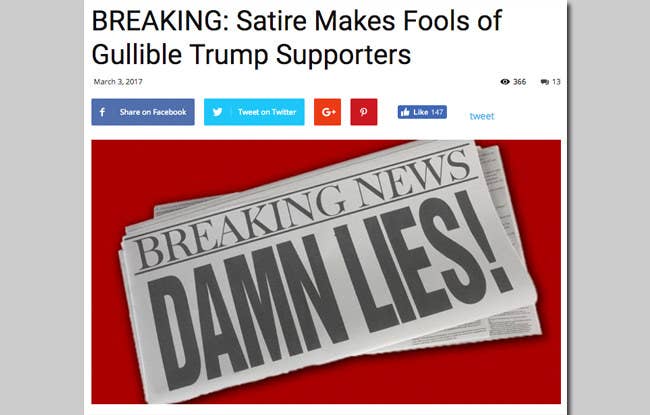 In his post revealing the site is fake, James said his content generated "thousands" of comments and that "a very small handful of people" questioned the hoaxes "despite a disclaimer at the bottom of the page stating that our stories are not based in reality."
He also admitted to enjoying some elements of the "deception."

"There was something artful about the whole process," he wrote. "Even writing this now, I feel like one of the Buddhist monks who spend months or years creating a sand mandala only to wipe it up and destroy it upon completion. However, I find it morally necessary to clean up this mess, for a society that loses the ability to distinguish fact from fiction is a society vulnerable to anything."

All of the hoaxes on the site now include text ad the bottom that says, "*** UPDATE- Anyone who believes this story or any other story on this website needs to read this post ***"
And what about the money he earned? " I don't know what I'll do with it yet," he said.