This viral tweet from @PersianRose1 claims to show a man who died while masturbating during the volcanic eruption of Mount Vesuvius in the year 79.
The tweet set off a volcanic flow of wank jokes, which was kicked off by @PersianRose1 themselves: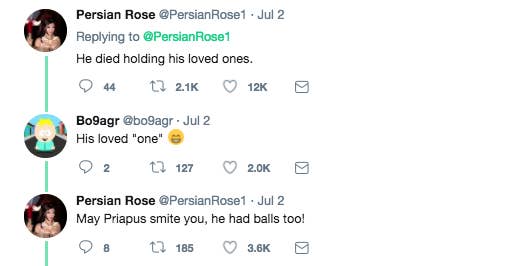 "He held on till the very end.......great man."

"When she wanna evacuate but you tryna ejaculate."

"One last one for Harambe!"

A color version of the image was shared in June on the verified Instagram account for the Pompeii Archeological Area. It posted the photo with the description, "Plaster cast of a victim of the eruption."
A few weeks later, a black and white version of the image was tweeted by @PersianRose1 with the false caption. It instantly began making the rounds. The viral photo Twitter account @HistoryFlick copied the tweet:
Soon there was this hugely viral tweet from @andredoesthings that quoted the original: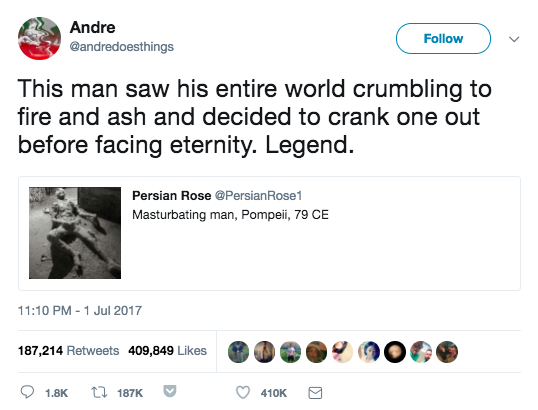 And once again, Mount Wanking Jokes erupted. "Buddy, there's a reason his friends called him Mount Vesuvius."
"REST IN PLEASURE"

"I admire his commitment honestly. 'Fuck volcanoes, I'm getting off!'"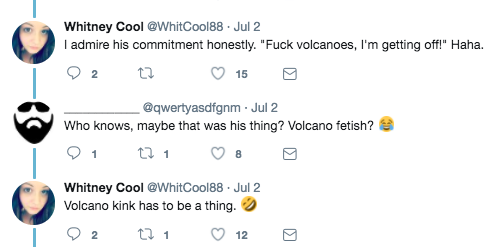 Completing the viral circle, one person copied the comment from @andredoesthings, posted it and the image to Instagram — and then tagged themselves as actually being at Pompeii.