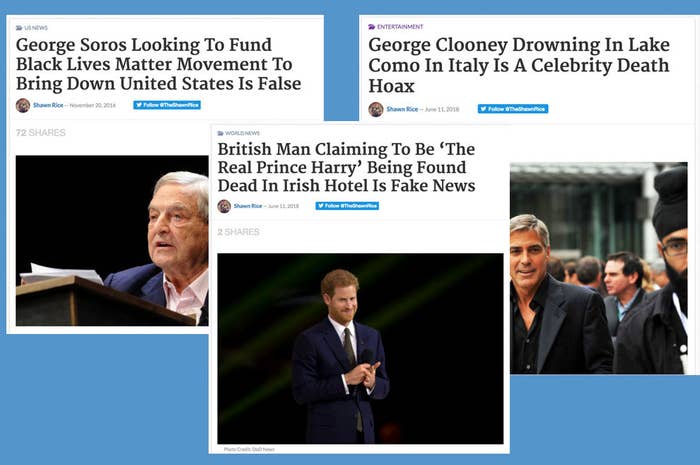 Until yesterday, Shawn Rice was one of the internet's most prolific debunkers of online hoaxes.
Since at least November 2016, Rice has written thousands of articles about hoaxes for business2community.com, a business and marketing blog. His quick, formulaic debunks appeared high on the first page of Google search results and in Google News. He was the site's most frequent contributor and recently scored its biggest hit on Facebook of the past two years with a debunk of a fake story about Netflix picking up the recently canceled TV series Roseanne, according to data from social tracking tool BuzzSumo. Rice's story generated over 80,000 shares, reactions, and comments on Facebook.
But last night close to 6,000 of Rice's more than 7,200 articles were suddenly deleted — including all of his debunks. And Rice's remaining stories were deleted after this story was published.
The purge began hours after BuzzFeed News contacted Rice and the site's leadership — which includes his brother — with evidence of Rice's serial plagiarism and to reveal that his rampant theft of story ideas had been exposed in an elaborate sting conceived by a publisher tired of having its stories copied by Rice.
Rice and business2community.com's onslaught of search engine optimized debunks is a byproduct of the growth of fact-checking and debunking, and increased interest from platforms like Google and Facebook in the practice. This creates an incentive for a site like business2community.com to churn out fact-checks — even if the stories have little to do with the site's brand and content focus. (Rice's other most common article type was quick posts about performances on America's Got Talent, The Voice, and American Idol that each embed a YouTube video and related tweets.)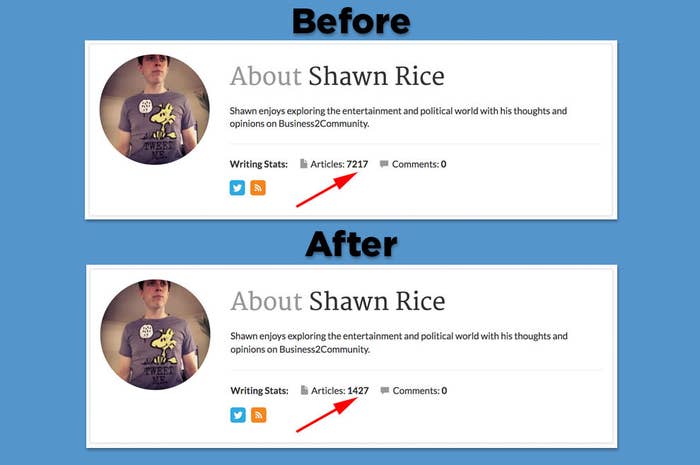 Rice and business2community.com did not respond to multiple emails and Facebook messages. But hours after being contacted, someone began deleting thousands of Rice's articles from the site. Far away in Belgium, Maarten Schenk was gleefully screenshotting Rice's author page as his article count continued to fall.
Schenk is a cofounder of Lead Stories, a website dedicated to debunking hoaxes. He writes all of the site's debunks and is also the lead developer of Trendolizer, a tool used by him and other publishers to track trending content. Trendolizer quickly identifies a hoax as it begins to trend, which enables Schenk to publish a debunk faster than other sites and reap the SEO benefits.
Schenk told BuzzFeed News he was fed up with seeing Rice publish the same debunk immediately after him, thereby pushing Lead Stories further down in search results.
Schenk said, "It is incredibly frustrating to us when Google demotes our link to third or fourth place when a site with a higher page rank comes in and debunks the hoax too, especially when that site learned of the hoax through our site and then uses the exact same evidence we dug up to prove the story false and then doesn't even credit us for finding it."
"Business2Community author Shawn Rice is the worst example of this," he added.
Schenk provided BuzzFeed News with a copy of an email exchange he had with Renee DeCoskey, business2community.com's managing editor, in January, where he complained about Rice plagiarizing content and stealing story ideas. At the time, the site agreed to take more than 150 offending articles offline so Rice could add proper attribution to Lead Stories.
"They promised us he would stop copying things and would give proper attribution in all cases in the future," Schenk said. "But now he just uses us to find hoaxes to write about and does so without mentioning where he found out about them at all."
So Schenk hatched a plan to catch Rice in the act. First, he identified the IP addresses he believed Rice's computer was using when accessing the Lead Stories site. Rice's now-removed LinkedIn profile listed his day job as an editor for LexisNexis, the legal information publisher. Schenk found that IP addresses linked to LexisNexis would access his site before Rice published a new story.
Schenk created an alternate homepage that would be shown only to visitors coming to the site from those IPs, and that would show a selection of content rather than all of his latest work.
Schenk soon saw that Rice would debunk only the stories on that homepage. At one point he put an old story on the special homepage and watched as Rice soon published a post about the same hoax. Rice did not credit Lead Stories in any of these articles.
Then Schenk went a step further and created a blog called the Honey Pot Times and uploaded a George Lucas death hoax. "I know [Rice] likes to steal stories about death hoaxes, so I created one for him," he said.
He published a debunk of the hoax on the special Lead Stories homepage he created for Rice. Soon a computer using a LexisNexis IP address accessed the site, and roughly 30 minutes later, business2community.com's most prolific writer published a story about the very same George Lucas death hoax.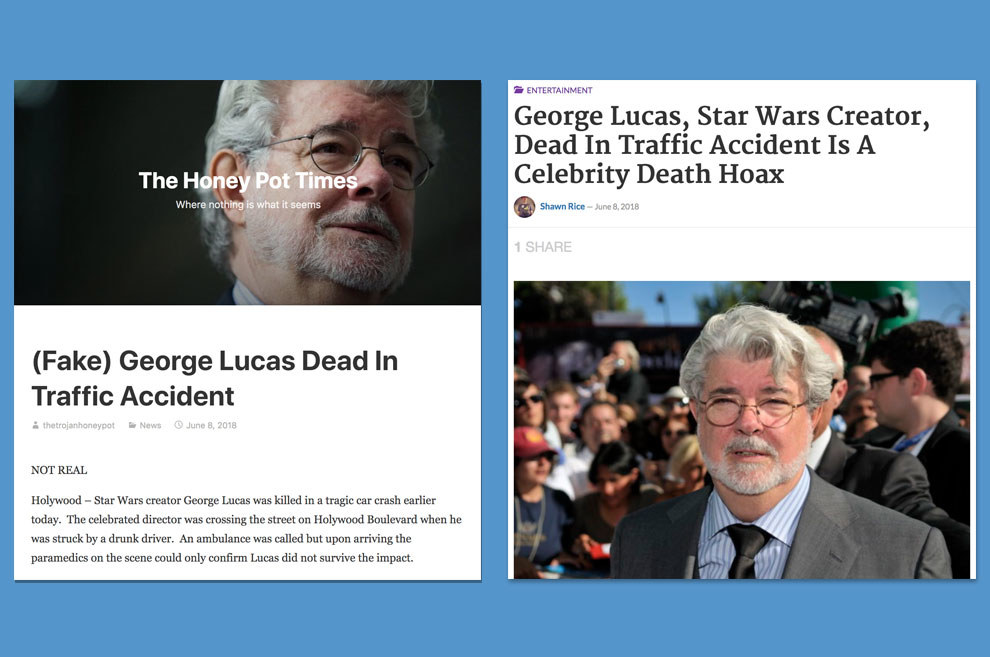 "It proved Shawn blindly copied from other sites without checking or caring if a hoax was actually being spread online or not. And that he undeniably relied on the work of other sites to find hoaxes, without credit or attribution," Schenk said. "There was no possible way for him to have seen that hoax other than via the debunk article on the fake homepage I served up to him."
The process repeated itself again with a George Clooney death hoax on the Honey Pot Times. Schenk even created a Twitter account to share the hoaxes so that Rice would have a tweet to embed in his stories. (All of his debunks follow the same writing formula, and all include sample tweets.) As expected, Rice embedded the tweets from the account in his stories.
Schenk shared the evidence with BuzzFeed News this week. While confirming the details, a reporter examined some of Rice's stories to look for plagiarism and quickly found seven examples within roughly an hour.
For example, Rice's (now removed) article about the George Lucas death hoax included this passage:
Star Wars is an American epic space opera media franchise, centered on a film series created by Lucas. It depicts the adventures of characters "a long time ago in a galaxy far, far away". The franchise began in 1977 with the release of Episode IV: A New Hope (the title given in 1981), which became a worldwide pop culture phenomenon. It was followed by the successful sequels The Empire Strikes Back (1980) and Return of the Jedi (1983); these three films constitute the original Star Wars trilogy.
It's plagiarized from Wikipedia:
Star Wars is an American epic space opera media franchise, centered on a film series created by George Lucas. It depicts the adventures of characters "a long time ago in a galaxy far, far away". The franchise began in 1977 with the release of the film Star Wars (later subtitled Episode IV: A New Hope in 1981), which became a worldwide pop culture phenomenon. It was followed by the successful sequels The Empire Strikes Back (1980) and Return of the Jedi (1983); these three films constitute the original Star Wars trilogy.
The same story also contains this text:
a young Han Solo finds adventure when he joins a gang of galactic smugglers, including a 196-year-old Wookie named Chewbacca. Indebted to the gangster Dryden Vos, the crew devises a daring plan to travel to the mining planet Kessel to steal a batch of valuable coaxium. In need of a fast ship, Solo meets Lando Calrissian, the suave owner of the perfect vessel for the dangerous mission — the Millennium Falcon.
It's copied word for word from the promotional text of the new Star Wars film.
Another debunk with plagiarized text is a Rice story from January 2017 with the headline, "Elizabeth Warren Saying Raped Women Was Acceptable For Tolerance Of Muslims Is A Fake Quote."
It included a lengthy passage about Planned Parenthood that is clearly plagiarized from the organization's website:
In October 2016, Planned Parenthood turned 100 years strong. Planned Parenthood was founded on the revolutionary idea that women should have the information and care they need to live strong, healthy lives and fulfill their dreams — no ceilings, no limits. Learn more about how 100 years of care, education, and activism have changed everything.

Today, Planned Parenthood is a trusted health care provider, an informed educator, a passionate advocate, and a global partner helping similar organizations around the world. Planned Parenthood delivers vital reproductive health care, sex education, and information to millions of women, men, and young people worldwide.
The five other plagiarized articles identified by BuzzFeed News included passages stolen from sources including the Hollywood Reporter, a Twitter Moment, a Change.org petition, the House Budget Committee of the US Congress, lawofficer.com, and the TV listings of local news websites.
BuzzFeed News sent detailed information about these examples of plagiarism to business2community.com's managing editor and to Brian Rice, the cofounder of the site, who also happens to be Shawn Rice's brother. (Brian Rice has a day job with the software company SAP, in addition to running business2community.com.) They did not reply, nor did they comment on the detailed breakdown of the sting operation Schenk executed. Shawn Rice also did not reply to emails or Facebook messages.
Now that the bulk of Rice's work has been removed from the site, it's impossible to determine how many stories included plagiarized material. But the number is almost certainly high, given BuzzFeed News' ability to find seven examples of plagiarism in a short period of time, and Schenk's earlier finding of more than 150 offending stories.
BuzzFeed News asked Schenk via Skype how he feels now that close to 6,000 of Rice's search-friendly posts are gone.
He responded by sending a photo of him holding up a large beer, and said, "I can now spend more time on finding and debunking fake news instead of thinking up new ways to stop that site from exploiting my hard work."
UPDATE
The headline and body text was updated to reflect the fact that after this story was published business2community.com deleted the remaining close to 2,000 articles by Shawn Rice, and he deleted his LinkedIn profile.
CORRECTION
Publishers that use the fact-check markup language will see their work highlighted with a label in search results and in Google News. This article incorrectly said Google was "elevating" fact checks in search results.