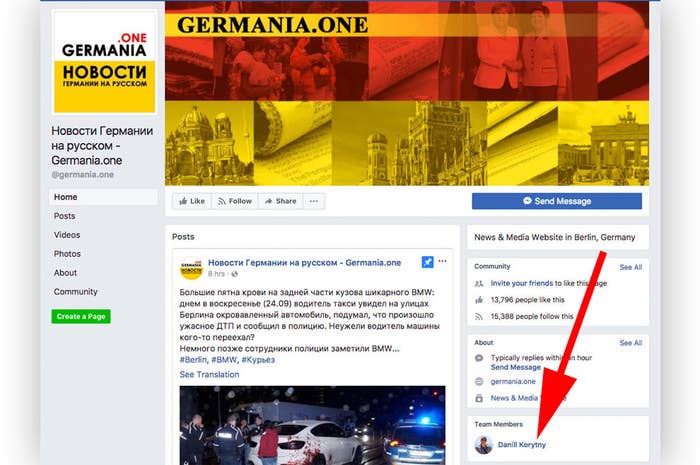 Facebook just launched a way for page managers to identify themselves to the public. The new feature is now available on all pages, but it is optional and therefore unlikely to be used by pages involved in suspect activity.
BuzzFeed News identified an early version of the feature on a Russian-language news page run from Germany. The right-hand rail of the page features a section called "Team Members" and lists the name and profile photo of a man who manages the page. When contacted via Facebook Messenger, he confirmed it was a new feature.
After BuzzFeed News asked Facebook about the "Team Member" section, the company published a Help Center article that details how it works, and a spokesperson said the feature was now available globally.
"Adding yourself as a team member on your Page is a way to show other people on Facebook that you're a manager of that Page," says the help article.

The spokesperson, who agreed to talk on condition of anonymity, told BuzzFeed News the company has been testing the feature "for a few weeks," which aligns with the timing of this question posted to a Facebook help community.

Prior to this new feature there was no way to publicly identify the manager(s) of a page. This differs from Facebook groups, which list the admins of any group. The Facebook spokesperson told BuzzFeed News there are "no plans right now to make this mandatory" for pages.

In addition to showing the profiles of team members on a page's timeline, they will also be listed on the About page. The help article also said that the page will be listed on the Facebook profile of the team members.