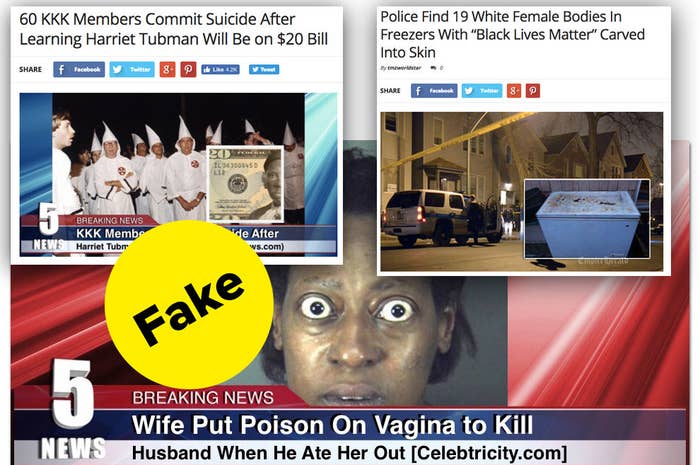 Between the headline and the thumbnail, it was a piece of fake news destined to go viral — and it did. The completely false story has earned over 815,000 shares, reactions, and comments on Facebook since mid-February.
As has been widely reported, the recent US election saw an explosion of politically oriented fake news. But while political misinformation became the focus of international attention and outrage, ViralMugshot and at least 32 other news sites connected to it have quietly been scoring huge fake news hits and staying under the radar by largely eschewing politics.
The sites often publish real stories about crimes and celebrities, but their biggest hits over the past year have largely been hoaxes about hip-hop beefs, sex, insane crimes, health scares, and drugs. These websites provide a perfect case study of how the same sites producing both real and fake content will experience significantly more success on Facebook and elsewhere with false or deeply misleading content.
The network of sites identified by BuzzFeed News uses domains such as ViralMugshot.com, ViralCocaine.com, TMZWorldStarNews.com, TMZUncut.com, SMHWTFNews.com, TheFRT.com, and Celebtricity.com. A previous BuzzFeed News analysis found that two of its sites, TMZ Hip Hop and Celebtricity, together accounted for nine of the top 50 fake news hits of 2016 — more than any other single fake news publisher on the list. A subsequent investigation by BuzzFeed News identified 31 additional websites linked to those two via Google AdSense and Google Analytics IDs. At a total of 33 websites, this operation — which BuzzFeed News has dubbed the Celebtricity Network — is the second largest network of sites consistently publishing fake news on record, just behind the group of 43 sites exposed by BuzzFeed News in December.
An examination of the 20 most-shared stories from the Celebtricity Network on Facebook since March 29 of last year found that all but three were completely fabricated. One exception was the story "Woman Sets Her Husband On Fire For Raping Her 7 Year Old Daughter." The text of the article was based on actual events, but it was paired with the attention-grabbing mugshot of a completely different woman. The result was the network's most successful article in the past 12 months, generating 850,000 shares, reactions, and comments on Facebook. The network's other real viral hits were a true story about a man who beat a 2-year-old to death, as well as as a list titled "5 Reasons Why Hoes Are Winning And You Are Not!"
Aside from those stories, the sites otherwise hit big with hoaxes such as "60 KKK Members Commit Suicide After Learning Harriet Tubman Will Be on $20 Bill" (798,000 Facebook interactions); "Police Find 19 White Female Bodies In Freezers With "Black Lives Matter" Carved Into Skin" (533,000 Facebook interactions); and "Woman Puts Poison On Her Vagina To Kill Husband When He Went Down On Her" (499,000 Facebook interactions). They did publish the occasional Trump hoax as well, including a story from last summer about him dying of a heart attack.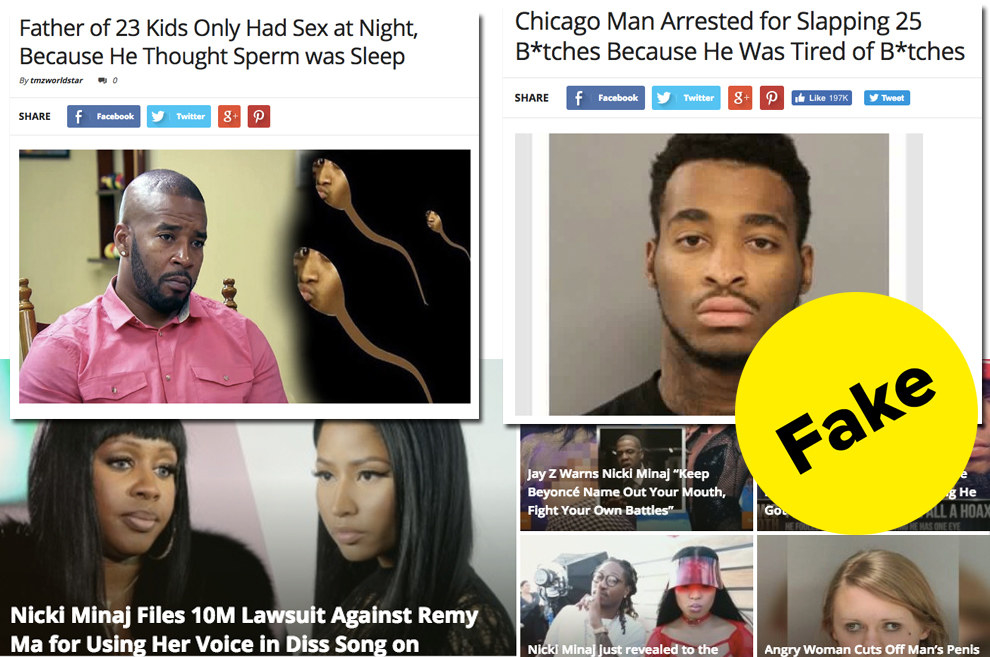 The sites do not publicly list an owner, but one internet entrepreneur who says he has been involved with the sites told BuzzFeed News the network is a coordinated effort by several people.
"It's a network and everybody plays a [different] role," said Pablo Reyes, who runs fake news sites Huzlers.com, DailyFinesser.com, and CartelPress.com.
Reyes said he has worked with the Celebtricity sites, especially in their early days. His contribution to the network, he said, involved search engine optimization and generating traffic.
"It's a network — it's just people who work together with different skill sets, and everybody does something different," he said.
Reyes previously told BuzzFeed News of his involvement with the sites, but initially declined to name anyone else involved. He spoke to BuzzFeed News in more detail after being informed that domain name registrations, corporate records, and other information connect a Maryland man named Jameel A. Mendoza to the Celebtricity Network.
"Some people are willing to talk on the phone and some people are not," Reyes said, adding that he agreed to talk because he rarely updates Huzlers and is not as involved in fake news anymore.
Mendoza is listed as the owner of STR8ROLL LLC and Prince Sam LLC, as well as the now-defunct Celebtricity LLC. His name, and in several cases STR8ROLL LLC, appears in the domain registration records of seven of the sites. Those sites are in turn connected to 26 more via the same Google Analytics and/or Google AdSense IDs, and IP addresses. (View the data connecting all 33 sites here.)
Reyes acknowledged that Mendoza is involved but said he's just one of many people. BuzzFeed News contacted Mendoza several times using the email address associated with his domain registrations, as well as using contact emails listed on Facebook pages linked to his domains. He did not reply. BuzzFeed News also called the phone number associated with several of his most recently registered domains. After asking to speak to Jameel, the man who answered asked who was calling. He hung up when informed it was BuzzFeed News. He did not reply to text messages sent to that number.
Reyes said Huzlers and the Celebtricity Network have found success with what he calls "fauxtire" content by targeting an "urban" online audience.
"That's why we don't really do politics," Reyes said. "We're more into hip-hop and stuff like that."
The Celebtricity Network also uses a unique promotion strategy. While other fake news sites tend to focus on seeding their content in Facebook groups, this network benefits from heavy promotion by two verified Facebook pages that often share the same fake news story multiple times, helping it rack up engagement.
The hoax about a woman cutting off a man's penis during sex is a prime example. In the two weeks after it was first published on Feb. 15, the fake story was repeatedly posted to large Facebook pages belonging to two urban music artists. On Feb. 16, the verified page for R&B singer Trina shared it with its more than 10 million fans, generating close to 25,000 shares. (The post was later deleted, but the CrowdTangle browser plugin shows that the link was shared by the page.) In fact, that page shared the story a total of eight times over the span of several days. The hoax also made its way to the verified Facebook page of rapper and producer Don P, who posted it 13 different times to more than 1.2 million fans.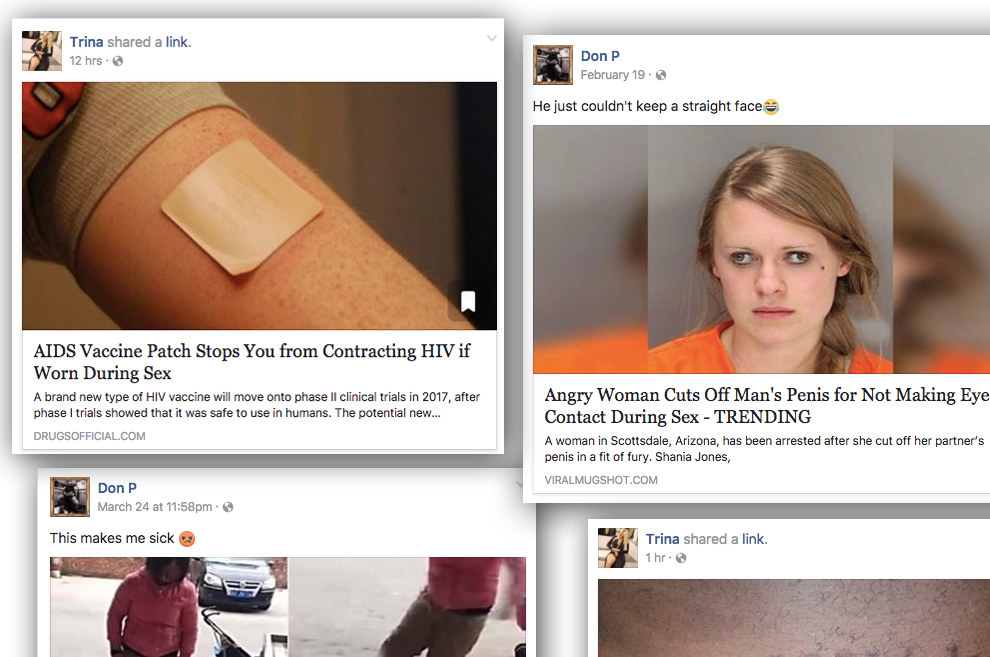 BuzzFeed News found those two pages consistently share fake news stories from the Celebtricity Network. Trina also shared (and later removed) the story of a "Chicago Man Arrested for Slapping 25 B*tches Because He Was Tired of B*tches," and Don P shared "Trump Offering Free One-Way Tickets to Africa & Mexico for Those Who Wanna Leave America." Both pages shared the story "Father of 23 Kids Only Had Sex at Night, Because He Thought Sperm Was Sleep."
These pages have been sharing content from the Celebtricity sites since at least April of last year. A hoax from that month about a new law that would require people with HIV to be "marked near their genitals" has been shared 14 times by Trina's page and an astounding 82 times by Don P's page. Both posted it again it as recently as January.
Jestin Coler, who previously ran a network of roughly a dozen fake news sites, including NationalReport.net, told BuzzFeed News the pattern of promotion could suggest a financial arrangement between the pages and the Celebtricity sites.
Coler said it's possible to pay for Twitter bots and Facebook accounts to promote your content but, unlike the Trina and Don P pages, these accounts are not verified.
"You can go on Fiverr or on eBay and buy large Twitter followings or Facebook followings that will spam your stuff," Coler said.
Another possibility, according to Coler, is that those involved with the Celebtricity Network also help manage the Trina and Don P pages.
BuzzFeed News contacted both pages to ask why they post fake news stories from these sites with such consistency, and whether they were paid to do so. They did not reply to multiple emails.
Another unique aspect to the Celebtricity Network is that at least nine of the sites had "TMZ" in their name. Until recently, they were among the network's best performing sites. TMZHipHop.com, TMZUrban.com, TMZUncut.com, and TMZWorldNews.com all scored major fake news hits. But just in the past few weeks, several of the TMZ domains began redirecting to more recently registered ones such as ViralCocaine.com and ViralMugshot.com.
Coler, the former fake news publisher, called the use of TMZ domains "questionable" and said "it's gonna get you a cease and desist [letter]." TMZ did not respond to multiple emails and phone messages requesting information about whether it or its lawyers have been in contact with the owner of the domains.
In addition to redirecting several of the TMZ domains, the network appears to be cutting down on its production of fake news. One of the most recent posts on ViralMugshot reports on a real altercation between singer Sean Kingston and members of the rap group Migos. The website DrugsOfficial.com also started publishing real news stories, such as a post highlighting concerns about the disappearance of black and latino LGBT teens in the DC area. Another sign that this hugely successful network of sites is undergoing a big change is that its biggest Facebook page, which had close to 5 million fans, went offline sometime in the past week.
One thing that hasn't changed is the rate at which the verified Trina and Don P Facebook pages promote Celebtricity Network content. As of this writing, the largely reality-based report about black and Latino teens has only generated roughly 268 Facebook engagements. But as has been the case for the past year, a false story from the Celebtricity Network performed much better. Three days after an attempt at real news, DrugsOfficial.com published a hoax about a rapist saying "rape is not a crime if she get wet." (The mugshot used is from an unrelated case, and the names and incident are made up.)
That story has earned more than 80,000 engagements to date, helped along by repeated promotion from Trina and Don P.