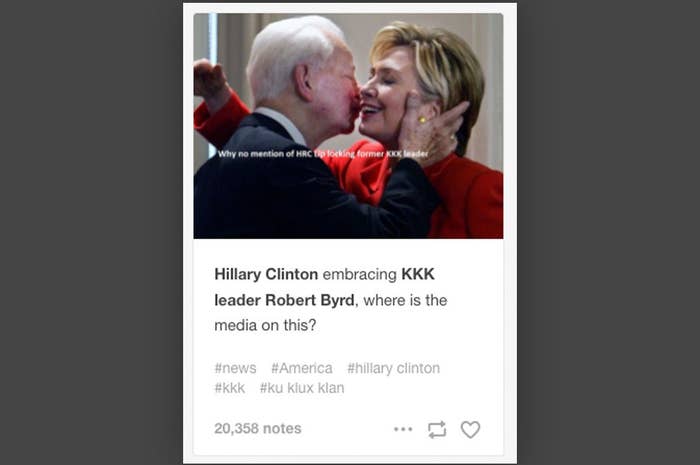 Russian trolls posed as black activists on Tumblr and generated hundreds of thousands of interactions for content that ranged from calling Hillary Clinton a "monster" to supporting Bernie Sanders and decrying racial injustice and police violence in the US, according to new findings from researcher Jonathan Albright and BuzzFeed News.
While Facebook and Twitter continue to face intense public and congressional pressure over the activity from trolls working for the Russian Internet Research Agency, Tumblr has somehow managed to escape scrutiny. But the blogging platform was in fact home to a powerful, largely unrevealed network of Russian trolls focused on black issues and activism.
"The evidence we've collected shows a highly engaged and far-reaching Tumblr propaganda-op targeting mostly teenage and twenty-something African Americans. This appears to have been part of an ongoing campaign since early 2015," said Albright, research director of the Tow Center for Digital Journalism at Columbia University.
Tumblr and its parent company, Oath, did not reply to multiple emails with questions from BuzzFeed News. Despite not responding, tracking software shows the emails were opened more than 290 times, and the included links were clicked more than 70 times.
BuzzFeed News also did not receive a response from the office of Sen. Mark Warner, the Democratic chair of the Senate Intelligence Committee, which is investigating Russian interference in the 2016 election.
The Russian-run Tumblr accounts used the same, or very similar, usernames as the account names contained on a list of confirmed IRA accounts Twitter submitted to congressional investigators. In some cases, the Tumblr and Twitter account has the same profile image or linked to each other in their bios. Some IRA Tumblrs and Twitter accounts also cross-promoted content between platforms, further linking them together.
For example, the 4mysquad Tumblr posted a screencap of a tweet from the @4mysquad Twitter account and invited people to "support me on #twitter." The Twitter account's bio also contained a link to the 4mysquad Tumblr, and they both used the same profile image.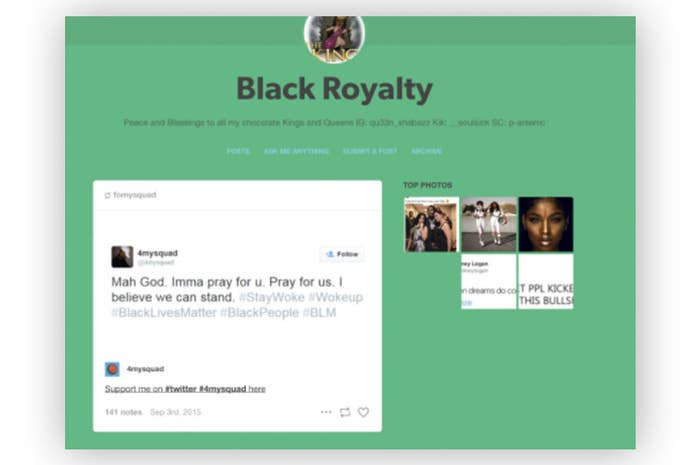 In another example, a post that originated on the blackmattersus Tumblr directed readers to the Blackmattersus.com website, a confirmed IRA property.
4mysquad appears to have been the most successful of the accounts, racking up multiple posts that each generated hundreds of thousands of notes on Tumblr. (The number of notes is the total of all reblogs, likes, replies, and answers that a post receives.) The account also sparked a wave of outrage after it took a video of a black girl being sexually assaulted by a police officer, turned it into a set of GIFs, and propagated the false claim that the video showed an NYPD officer.
Bleepthepolice is another other Tumblr identified by Albright and BuzzFeed News that shared the same username as an IRA account on Twitter and that shared similar content. Similarly, the 1-800-gloup Tumblr had the same profile image as the @gloed_up Twitter account run by the IRA. The Tumblr also posted content from the Twitter account.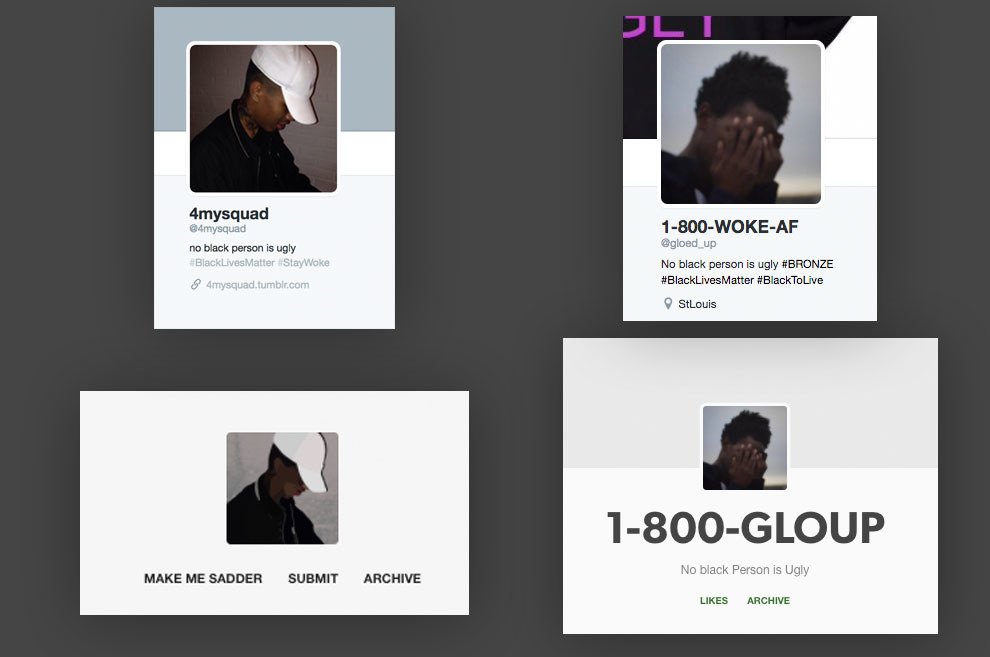 Another Tumblr account, dontshootus, was first identified by CNN late last year as being linked to the IRA. It too shared a related Twitter handle. Blacktolive is yet another Tumblr with a matching Twitter handle and was first identified as an IRA blog by ThinkProgress.
Along with those Tumblrs, Albright and BuzzFeed News identified others that consistently propagated posts from IRA Tumblrs and which were later removed, much like several of the troll blogs. One is fomysquad, which, along with having a similar name, consistently reblogged 4mysquad and seemed to exist to help spread its content. (As shown above, it also reblogged the post from 4mysquad promoting its Twitter account. )
Another account of note is lagonegirl, which was a key propagator of 4mysquad content and vice versa, and has a name similar to the @lagonehoe IRA Twitter account. Tumblr did not respond to questions about these accounts.
It's likely that more IRA Tumblers exist, according to Albright, who questioned why Tumblr has not disclosed anything publicly about trolls on its platform.
"I feel that there is a responsibility here for them to look into this more," he said. "Has not one person at this huge company taken a look at the [list of IRA Twitter accounts released to congress] and said, 'Maybe we should cross reference user names on Tumblr?'"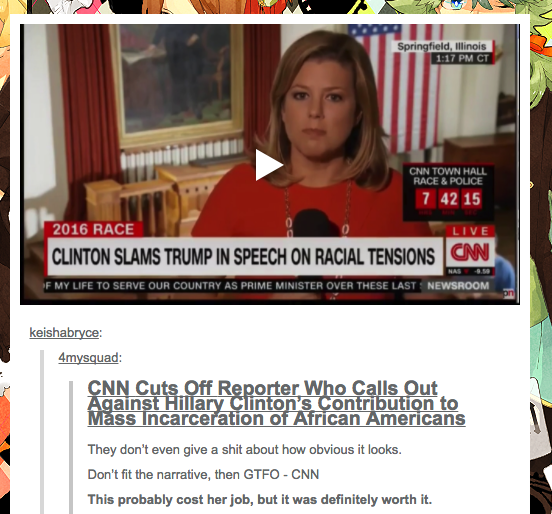 All of the accounts identified by Albright and BuzzFeed News thus far focused on black issues and established a following among that community on Tumblr. When some of these Tumblrs disappeared, people posted on the platform to note their sudden removal. One such person is the man who runs the alwaysbewoke Tumblr. In late December, he wrote that "a bunch of pro-black news and opinion blogs disappeared and i think something fisy [sic] is going on." Lagonegirl was on his list of recently disappeared Tumblrs.
In an interview with BuzzFeed News, the owner of alwaysbewoke said he followed 4mysquad and was shocked to learn that it, and possibly others, were run by Russian trolls. (He asked not to be named in order to keep his professional life as a technology consultant separate from this blog.)
"There was actually some nuance to the things they were posting. It wasn't your run of the mill 'white people are vile' kind of stuff. It was far more nuanced than that," said the man, who described himself as a 35-year-old living in Brooklyn.
He said he later unfollowed 4mysquad after the blog began "rooting" for Trump.
"I unfollowed him and the thing that was a red flag was that it was supposedly a black liberal blog that at some point started rooting for Trump to win," he said. "That kind of pissed a lot of people off, so I kind of backed off and unfollowed."
Among 4mysquad's most viral content were posts that promoted Bernie Sanders, criticized Hillary Clinton, or that highlighted examples of police violence against black people. It also regularly shared and reblogged content about the experience of racialized communities in the United States, as well as an occasional post critical of white people: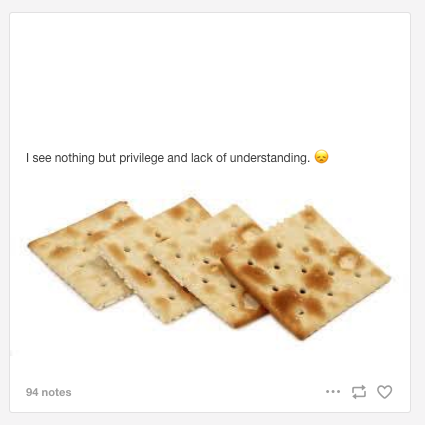 Anti-Clinton posts were a consistent theme on 4mysquad from 2016 on. Early that year, it posted the infamous video of Clinton calling young black gang members "superpredators."
"She is a monster," wrote 4mysquad. That post has over 50,000 notes on Tumblr.
4mysquad also published a photo of Clinton embracing former Sen. Robert Byrd, who had been a leader of the KKK, with the caption, "Hillary Clinton embracing KKK leader Robert Byrd, where is the media on this?" That post has over 23,000 notes to date.
Another post, which generated over 36,000 notes, is a video that shows Clinton speaking about Africa. "Sec. Clinton on colonialism in Africa: 'Get over it,'" wrote 4mysquad.
Another successful 4mysquad format was to contrast Clinton with Sanders. A bird landed on Sanders' podium in March of 2016 as he was speaking, creating a viral moment. 4mysquad then posted a photo of Clinton covered in slices of bread as a ploy to attract birds: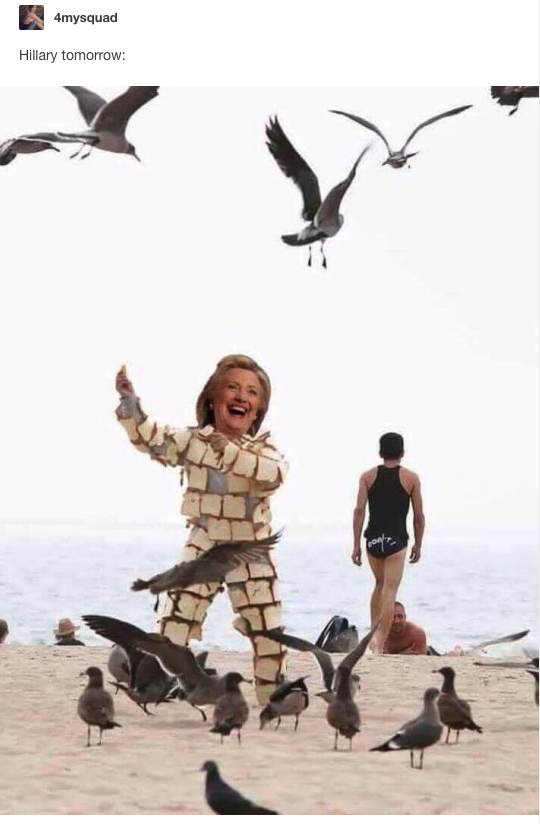 It earned close to 185,000 notes. Another hit, with, more than 240,000 notes, was a video post featuring Sanders reacting to a Saturday Night Live clip that lampooned Clinton for adopting some of his messaging.
The pro-Sanders content kept coming: In mid-2016 4mysquad called out the media for not giving fair coverage to a Sanders rally that drew more than 20,000 people. Another post showed an archival photo of a college-age Sanders being arrested by police in Chicago at a civil rights demonstration.
"This is why Bernie has my vote," wrote the troll(s) behind 4mysquad. "He's not some old White man who just decided that #BlackLivesMatter yesterday. He's BEEN fighting. STILL fighting, 40+ years later." The post generated over 112,00 notes.
The man who runs alwaysbewoke said that 4mysquad's anti-Clinton tone mixed with Sanders boosterism didn't strike him as strange, given that he felt the same way.
"It seemed to be par for the course," he said. But he said things began to change on 4mysquad after Clinton secured the nomination. Suddenly the Tumblr began promoting Trump. BuzzFeed News and Albright did not find pro-Trump 4mysquad posts in online archives or on existing Tumblrs. This suggests that perhaps these posts did not gain as much traction as earlier messages from the blog.
There was, however, a post from 2016 that noted that Donald Trump had pointed out how unfairly Sanders was being treated by the "establishment." It has over 200,000 notes to date.
Along with election posts, 4mysquad and others that Albright and BuzzFeed News linked to the IRA focused on blogging about police brutality and racial inequality. Blackmattersus got just under 40,000 notes for a post showing photos of black men killed by police in the US, and more than 30,000 notes for a post with tweets by a former NFL player that described his experience being stopped by police. Lagonegirl, which displays signs of being an IRA account, also generated over 370,000 notes for a post about sex trafficking.
"Black Community we have to be careful. Protect our Girls! Spread this!" the post said. The versions of the post that continue to be reblogged on Tumblr include the note from 4mysquad that soon followed lagonegirls's original post: "IMPORTANT."
4mysquad and fomysquad consistently reblogged content from lagonegirl and vice versa. Albright said they were part of a tight network of blogs that helped propagate each other's content. He also documented hundreds of still-available Facebook posts and thousands of tweets with their content, as well as a surprising number of posts on Google Plus and Pinterest. The 1-800-gloup Tumblr also scored a hit on Reddit with a post about slavery that generated 3,600 upvotes and over 800 comments.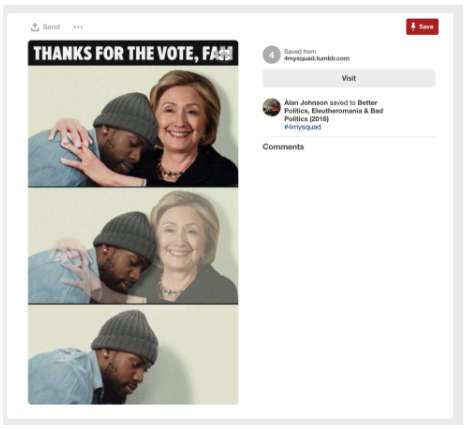 "This operation links Tumblr to thousands of still-remaining Twitter posts, black culture blogs, at least several hundred still-remaining Facebook posts, sign-ups for online petitions, and a number of Reddit threads related to pro-Bernie news, Hillary conspiracies, and in-classroom racial matters," Albright said.
Along with the content created natively on the platform by troll accounts, Tumblr is also home to content that originated on IRA-run Instagram accounts. A search of the #blackmattersus hashtag on the site reveals a handful of posts that originated on the blackmattersus Instagram, and that were automatically shared to Tumblr using reporting apps such as Regrann. The role of these apps in helping spread troll content across platforms was previously revealed by Albright and BuzzFeed News.
In the fall of 2016, 4mysquad generated outrage when it published a post about a black teenager being sexually assaulted by a white police officer. What appeared to be a surveillance video showing the rape was circulating online, and 4mysquad sliced the video into a series of GIFs showing the attack. It added the description, "Shocking video shows Black teenage girl being sexually assaulted by NYPD officer."
At the time, a South African police officer had been charged with raping a 15-year-old girl in a holding cell. Snopes and other sites debunked the claim that the video showed an NYPD officer, and noted that it was unclear where the video actually came from.
As people began to talk about the South African officer being charged, the Blackmattersus.com website, which is run by the IRA, published an article that attempted to refute claims that the video was connected to South Africa. The goal of sowing mistrust and confusion was therefore achieved on multiple platforms from different IRA accounts as they sought to link the video to the NYPD.
"The effort made by 4mysquad to divide and conquer is clear," Albright said.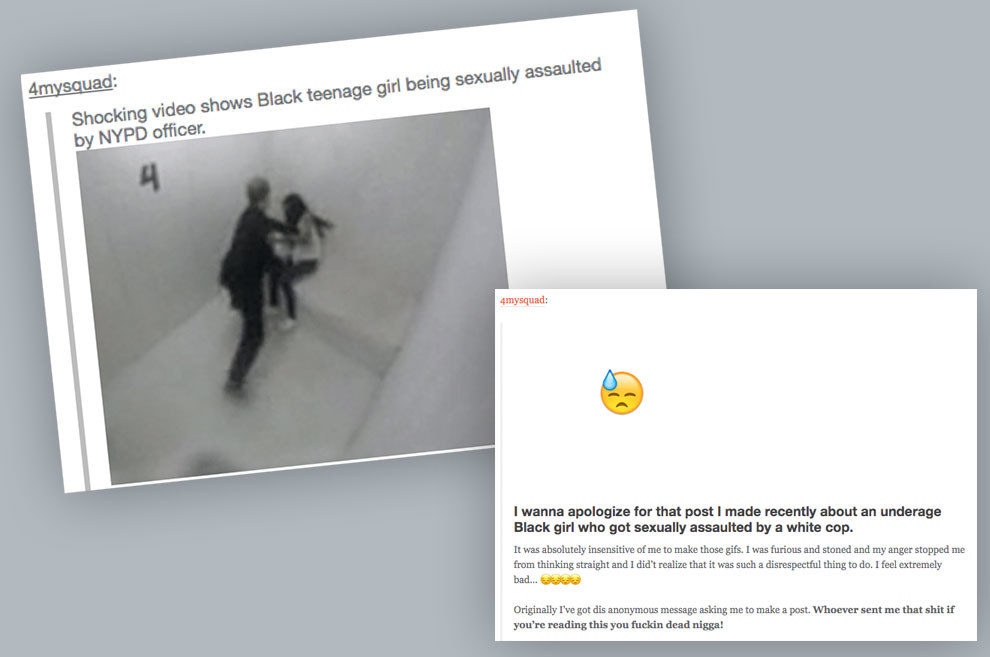 The Tumblr post from 4mysquad elicited outrage among others in the black community on the platform. Some called out 4mysquad for what they saw as an approach meant to generate attention at the expense of empathy.
"Your ENTIRE blog isn't even 'for the people' you're just another note-hungry nigga who doesn't give a rats ass about Black Women. Your social justice would dissipate if you weren't getting online validation and notes," read a post on the Reverseracism Tumblr in response to an apology later issued by 4mysquad. "Your social justice is a popularity contest, it doesn't mean anything. It's vapid and fueled by tumblr gratification."
Reverseracsim's post said it had notified Tumblr's staff about the 4mysquad post in the hopes of getting it, and possibly the entire account, removed. As Tumblr would not respond to questions, it's unclear whether 4mysquads' disappearance was related to this incident or if it was removed for being linked to the IRA.
In most cases, the Tumblrs that Albright and BuzzFeed News linked to the IRA are no longer active. Two that were once run by the trolls are still active, but now share completely unrelated content. It's possible, but unconfirmed, that these accounts were removed and then later claimed by a different user. For example, dontshootus.tumblr.com, which was first linked to the IRA by CNN, now features posts with pro-Palestine content. Before that, it published content about police violence in the US and other black activist topics.
"Tumblr would not confirm to CNN if the same people who operated the Tumblr page about Black Lives Matter now operate the pro-Palestinian page, citing the company's privacy policy," CNN reported at the time.
As of now, it's unclear what acton, if any, Tumblr has taken or will take regarding Russian troll Tumblrs. But the owner of alwaysbewoke, who followed 4mysquad, lagonegirl, and others, says he wants the platform to behave like Twitter and Facebook and notify people like him that they interacted with troll Tumblrs.
"The companies disclosing these accounts help bring it to the forefront, and it helps people realize that these are things that actually touch on your life," he said. "To a certain degree, when it comes to this Russian investigation, people kind of feel like it's something happening over there. They don't realize it's something they may have interacted with."