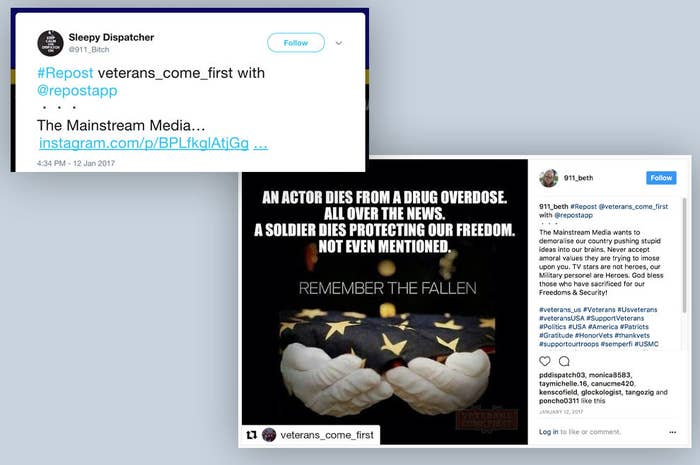 Twitter stated publicly on Friday that it had removed content posted by more than 50,000 Russian propaganda accounts from its platform, but Russian troll content continues to live on it and other social platforms. New data provided to BuzzFeed News shows there are more than 3,700 active tweets, generated by third-party apps, that quote or cite Russian troll accounts and link back to active content on Instagram originally posted by trolls.
The thousands of tweets and Instagram posts were shared by apparently genuine users who installed one of two popular social media apps, Regrann and Repost. These apps enable Instagram users to regram other people's content to their profile with credit, in effect creating a retweet button for Instagram. The apps also allow users to automatically tweet these new Instagram posts.
The result was that users reposted content from Russian trolls on their Instagram account, and then automatically posted a link to it on Twitter.
"Real people were reposting this content; it was not necessarily bots reposting," Jonathan Albright, research director of the Tow Center of Digital Journalism, and the researcher who gathered the data, told BuzzFeed News. "We found a police department that had reposted content from a veterans account [run by Russian trolls]."

The findings show that major social platforms still host or point users to significant amounts of propaganda created by Russian trolls, despite major efforts to remove troll accounts and content. The data also reveals how reposting apps unwittingly became powerful disseminators of Russian propaganda by enabling content to easily flow between different accounts and platforms.
"This is very problematic because Twitter does claim that since they already suspended the [troll] accounts the content is gone," Albright said.
A Twitter spokesperson told BuzzFeed News that the company's blog post was specific to the more than 50,000 troll accounts and the content they posted. They said Twitter does not remove troll content that was cited or reposted by other accounts.
"We suspended the accounts that we identified through our review, and the content within a suspended account is no longer available by viewing that account," the spokesperson said in an email. "It is not against our rules to have the content elsewhere on Twitter."
In an email sent after this story was first published, a spokesperson for Facebook, which owns Instagram, said the platform removed IRA accounts but will not remove troll content reposted by others unless it violates Instagram's terms of service.
"We take this issue very seriously and continue to fight efforts to stop foreign interference on any of our platforms," the spokesperson said. "As part of our investigation into this issue during the 2016 election, we found and removed around 170 IRA accounts on Instagram that were responsible for approximately 120,000 posts. Our review of this activity is ongoing and we continue to monitor for and remove fake Instagram accounts."
Albright said he's concerned that Twitter's plan to email over 670,000 users who interacted with Russian troll accounts on its platform is incomplete given that it does not include these users.

"Can you not find the thousands of posts that are still there before making a huge effort to contact these people? How could Twitter not know about this?" he said.
The Twitter spokesperson said the company's emails will go to users that directly interacted with troll accounts, and not users who reposted or cited troll content.
"The reason behind our email notice was to inform users/provide transparency into specific account-level interactions with the identified accounts. In other words: We provided notice based on engagement with the accounts," the spokesperson said.
An example of the reposting scenario identified by Albright involved the @dangerousnegro Instagram account, which has with no apparent links to Russia. It used the Repost app to share a meme that originally appeared on the @blackmattersus Instagram account, which was run by the Russian Internet Research Agency. The regram by @dangerousnegro generated over 1,000 likes on Instagram: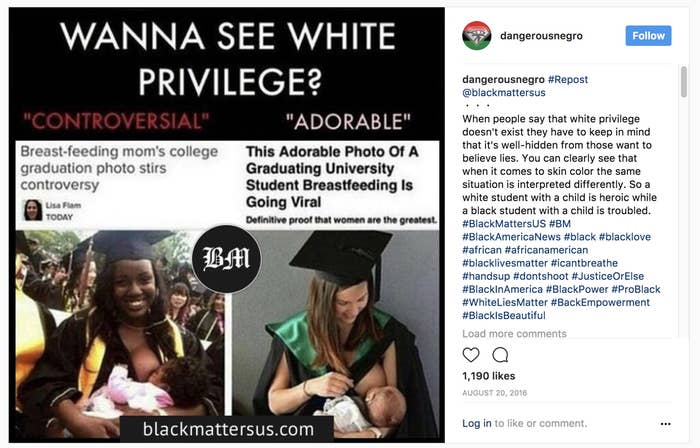 The @dangerousnegro Instagram account then used Repost to automatically share a link to its post on Twitter: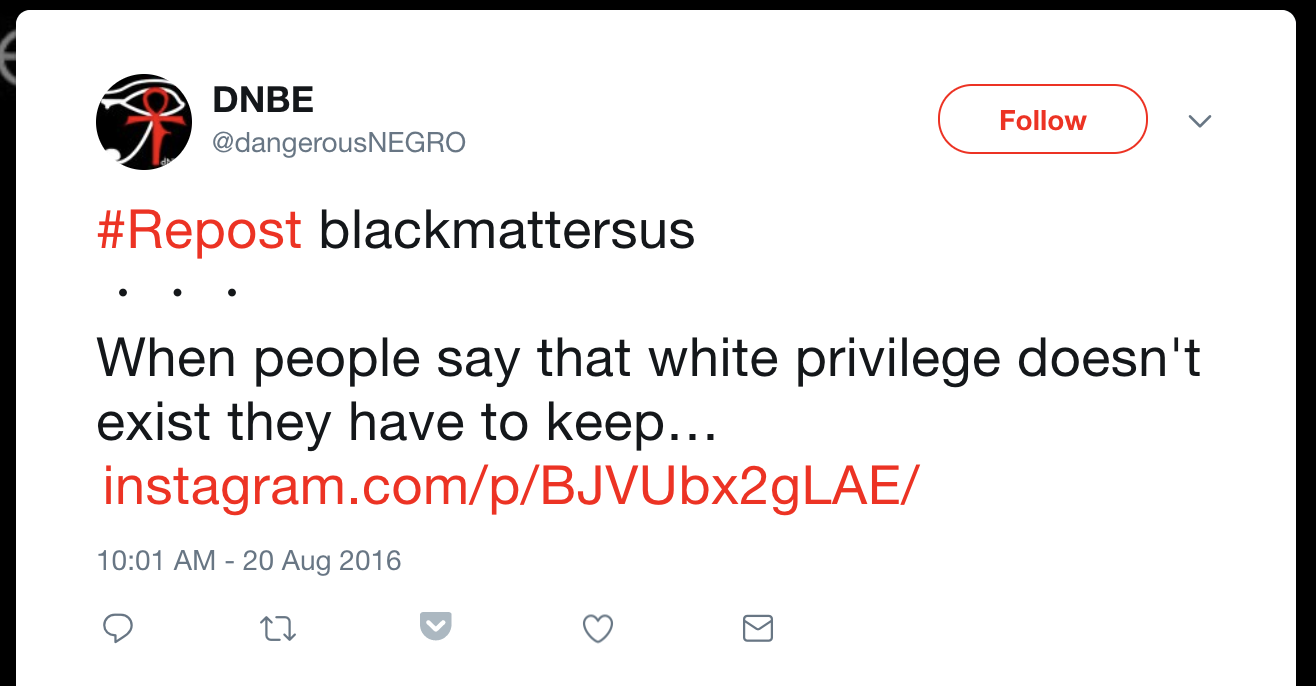 With just a few clicks, an image created by a Russian troll account flowed to accounts on Instagram and Twitter with more than 35,000 followers between them. (BuzzFeed News contacted emails connected to the @dangerousnergo accounts but did not hear back.)

The chain of resharing and posting to multiple platforms highlights just how interconnected seemingly separate social networks can be, according to Albright.
"They are all connected. All these third-party apps allow for linking together of accounts and that allows ways for the propaganda to circulate," Albright said.
This pattern repeats itself again and again in the data gathered by Albright in a project he led at the University of Amsterdam. The more than 3,746 tweets that fit this pattern are drawn from tweets that cite one of 20 high-profile troll accounts. Albright says there are more tweets and Instagram posts in the dataset that cite and repost content from IRA accounts.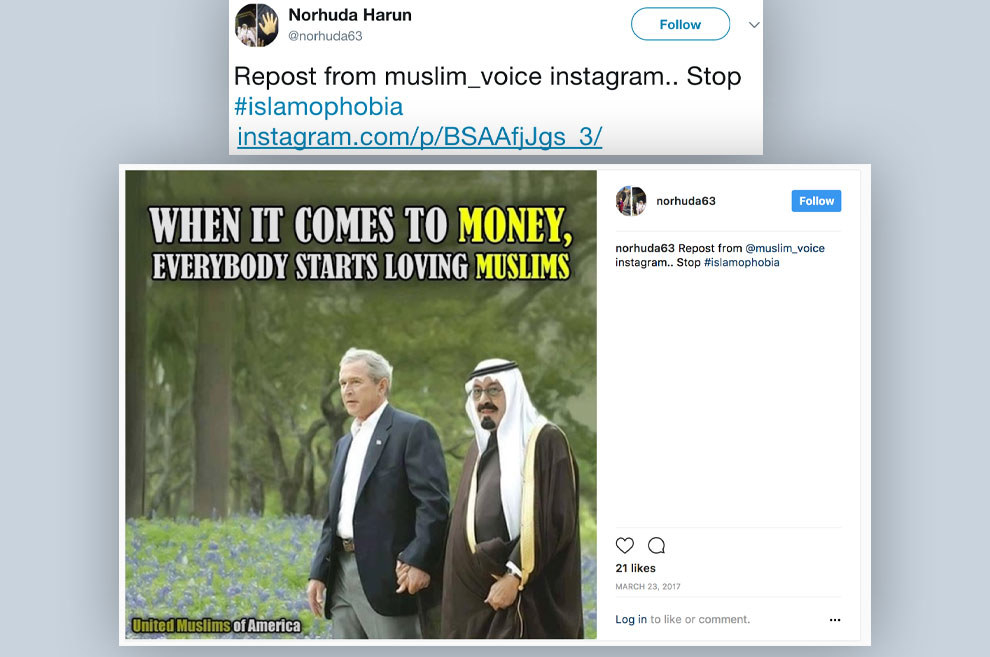 Albright believes this content was missed in the investigations conducted by Twitter and Instagram because reposting apps do not use the native retweet or regram features built by the platforms themselves.
"This is a huge problem for propaganda because [the reposting apps] are actually keeping all of this stuff in a zombie state, a state of suspended animation, and it's often getting reshared months after the fact," Albright said.
However, Albright also said it wasn't hard to find the content once they understood the role reposting apps had played. "Literally you can get on Twitter, type in the names of the [IRA] accounts like we did with 'Regrann' or "Repost' and find them."
Ultimately, he said, the continued presence of so much Russian propaganda on Twitter and Instagram says more about social platforms than it does about the trolls who created it.
"The entire point is that there is a lack of safeguards in how these platforms work, and they are easily exploitable," he said. "That is the fundamental problem, not Russia. It's a lack of consideration for these bigger problems. This is a perfect example of this kind of oversight."