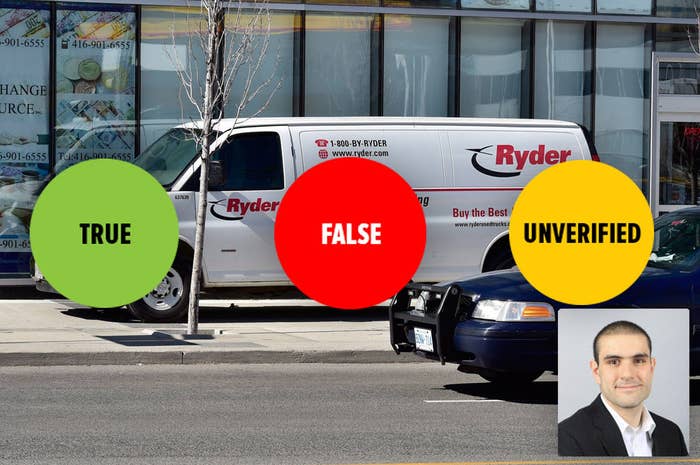 Rumors and speculation are spreading online after 10 people were killed and many injured when the driver of a van plowed through a busy section of Toronto. This post provides a look at the factual status of claims circulating about the suspect, Alek Minassian. It will be updated with new information as it emerges.
How to read this post:

UNVERIFIED: Claims that have not been confirmed by police or other official agencies or entities involved in the investigation. Treat this kind of information with extreme skepticism. In some cases, it's unclear where it originated, and could simply be a rumor with no evidence to back it up.
TRUE: Official sources such as police, law enforcement agencies, or an entity involved in the investigation confirmed this information.
FALSE: Official sources such as police or law enforcement have debunked this information.
BuzzFeed News will continue to monitor the claims below and will update their status as new information emerges.

UNVERIFIED: Claims about Minassian being "Middle Eastern," Muslim, Syrian, or Armenian.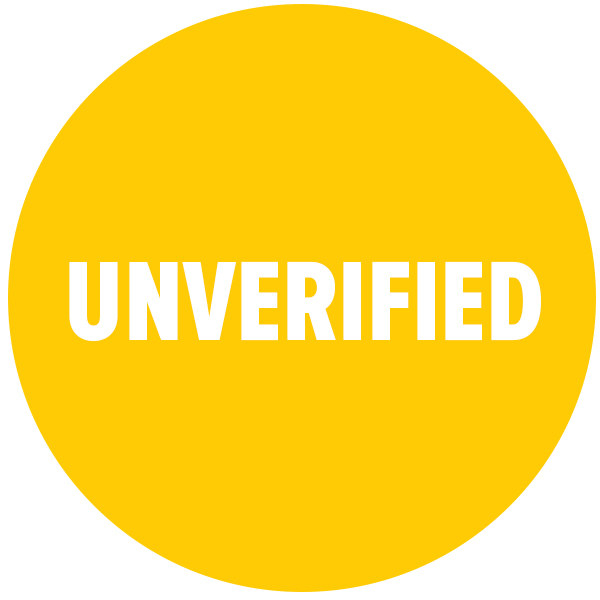 Neither police nor Minassian's family have made any comments as to his ethnicity or religion.
Rumors began to spread after one witness described the driver to Toronto news station CP24 as "Middle Eastern," although he said he was unsure and added that "I can't confirm or deny whether my impression is correct."
Despite the witness's uncertainty, the "Middle Eastern" description soon spread far and wide due in large part to this tweet from Natasha Fatah, a CBC journalist:
Fatah later sent a second tweet in which she quoted a different eyewitness as describing the driver as "white." It received a fraction of the attention of her earlier tweet.

Fatah's tweet was retweeted hundreds of times and was cited in several news pieces and blog posts, including a Breitbart article that described the driver in its original headline as "angry and Middle Eastern." (The headline was later changed.)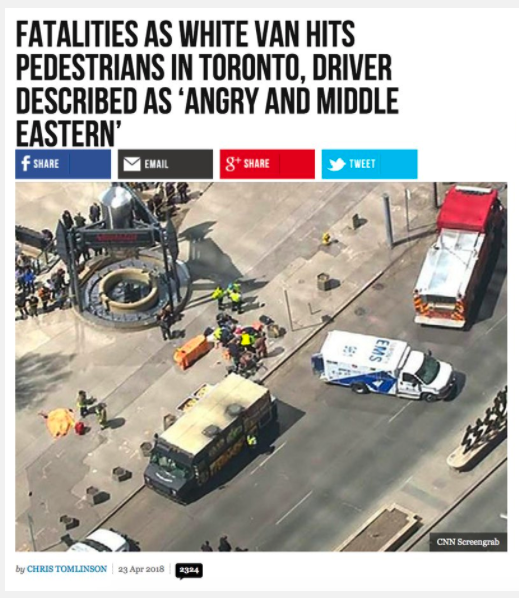 Anti-Muslim activist Pamela Geller also cited Fatah's tweet.

Other people posting on Twitter and Facebook have described him as Syrian, a Muslim, a recent refugee to Canada, and other things. Police confirmed that he attended high school in the Toronto area, so he is not a recent refugee. Aside from that, none of the other claims have been confirmed. Minassian has also been characterized on social media as Armenian, a claim that appears to be based on his last name, which is described on Wikipedia as being of Armenian origin. This too is unconfirmed.
Remember: Minassian's ethnicity and religion remain unknown. Some people are making these claims to further their own agendas. Also note that eyewitness accounts are often unreliable in chaotic situations like Monday's van attack, and people can easily misremember what they saw. Wait and see how this develops.

TRUE: A Facebook post from Minassian's account talks about 4chan and the "Incel Rebellion."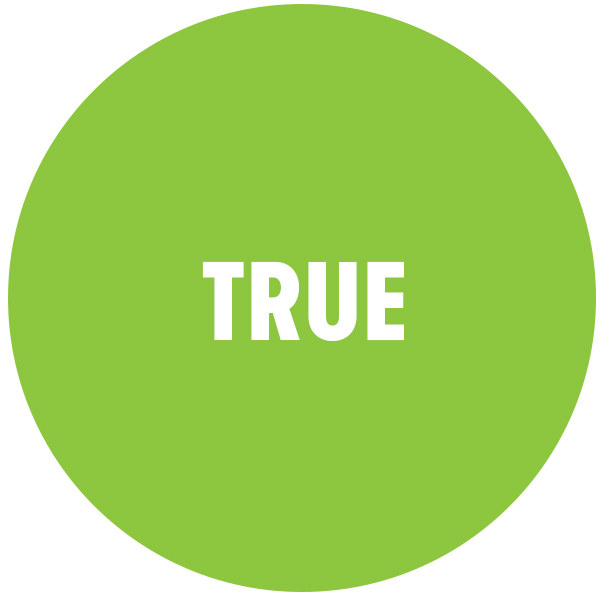 A Facebook post from Minassian where he refers to the anonymous online forum 4chan was posted to his real profile. Facebook confirmed its veracity to BuzzFeed News and other media.
The post also included a reference to "The Incel Rebellion." The word "Incel" stands for "involuntary celibate," which is an online community of men who are sexually frustrated and often channel that frustration into anti-woman hate. The post made a reference to Elliot Rodger, a man who killed six people and injured 14 others in a 2014 shooting near the University of California, Santa Barbara. Rodger cited his rejection by women at the school as one motive for his actions.
A Facebook employee told BuzzFeed News that Minassian's message was posted shortly before it removed the profile.


Reddit removed the Incel community from its website last year after updating its policy to ban glorification and incitement of violence. The chat board frequently advocated for sexual violence and hate against women.
Remember: We often see fake social media profiles created for suspects in the wake of a breaking news situation. This one turned out to be real, but it's good practice to wait for official confirmation before sharing posts from a profile or treating its content as real.
UNVERIFIED: The incident was a jihadi terrorist attack.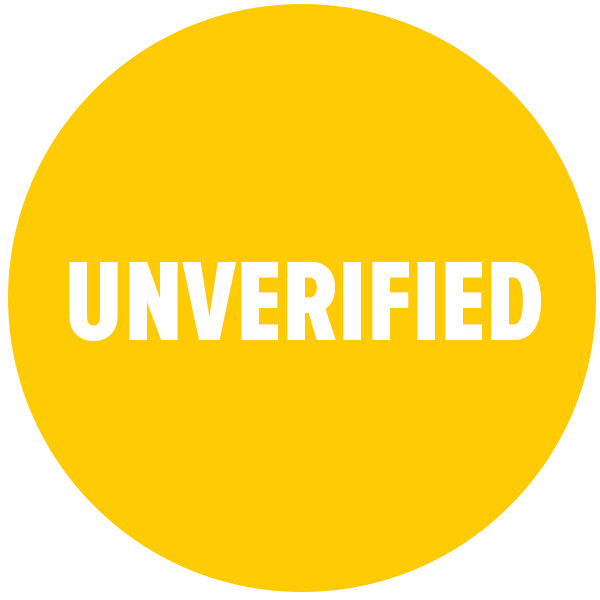 Canadian law enforcement officials say they continue to investigate, but as of now see no connection between Minassian and Islamic terrorist groups or ideology. Claims saying otherwise are unverified and go against the latest official information.
Canada's Public Safety Minister Ralph Goodale told reporters Monday evening that the van attack did not "appear to be connected at all to national security with the information we have at the present time." The national threat level has also not been changed, according to Goodale.
In spite of this, claims that the van attack was an act of jihadi terrorism quickly propagated on TV and on social media in the hours after the attack. On MSNBC, former New York police commissioner Bill Bratton said the attack had "all the hallmarks" of a terrorist incident. Others, such as Infowars editor and conspiracy theorist Paul Joseph Watson, have baselessly declared Minassian to be a jihadist: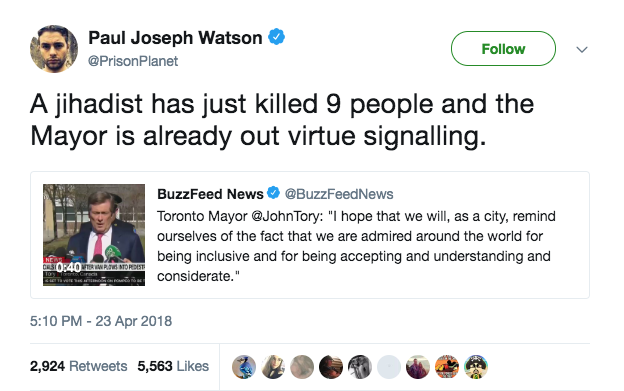 Remember: While vehicles have been used in jihadi attacks elsewhere, Canadian officials have spoken on the record to say that as of now they do not see a connection. The comments from Bratton were speculation based on the tactics of the attack and not on any specific information. Wait and see how this develops.

FALSE: Minassian was "known to police."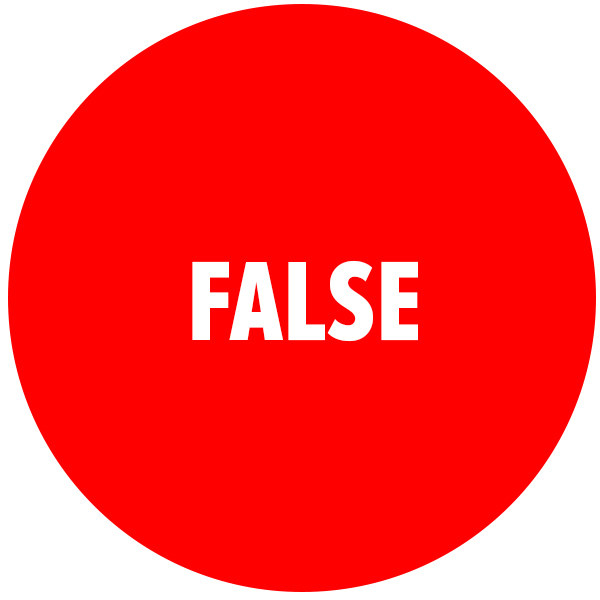 Toronto Police Chief Mark Saunders said Monday night that Minassian was not known to police. "There's nothing on our files. We've looked right across and there's nothing that we have on him right now," he said.
Goodale also said nothing about Minassian being known to police when he spoke publicly Monday.

It appears that the comments from Bratton on MSNBC are a source of the confusion. "Law enforcement sources are indicating that the individual in custody is known to the police services up there in Canada," he said. Bratton also slightly qualified that comment by noting that "all the information they are putting out publicly is preliminary but sources are indicating the individual in custody is known to them."
However, at this point, both local and federal law enforcement officials have spoken publicly and said nothing about Minassian being known to police. They also said the attack is not being treated as terrorism-related as of now. (The New York Police Department also issued a statement to say that "there is no known nexus to New York City.")
Remember: Public comments from the Toronto police chief and the public safety minister both say nothing of Minassian being known to police. Bratton's statement on MSNBC came before the Toronto police chief spoke publicly, and Bratton only cited anonymous sources. We will update this rating if new information comes to light, but as of now the claims of anonymous law enforcement sources do not outweigh public comments by the head of the Toronto police and the federal minister in charge of public safety.
TRUE: Minassian was (briefly) a member of the Canadian military.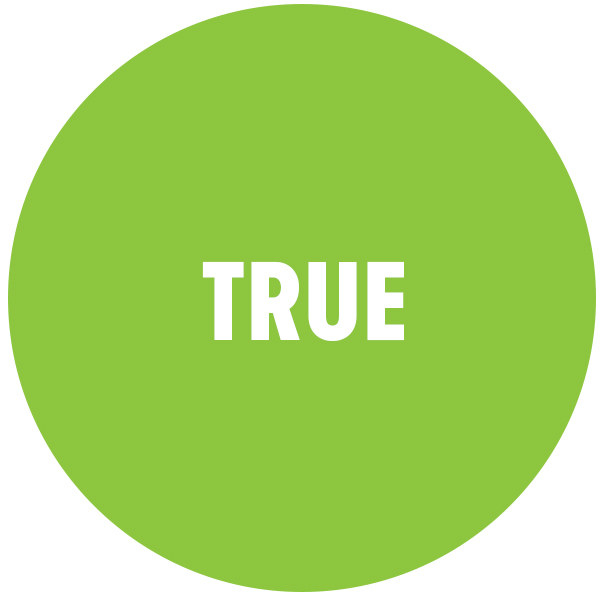 A statement from the Canadian Armed Forces issued Tuesday confirmed that Minassian "was a member of the Canadian Armed Forces for 2 months in late 2017 — from 23 August until 25 October. He did not complete his recruit training and requested to be voluntarily released from the CAF after 16 days of recruit training."