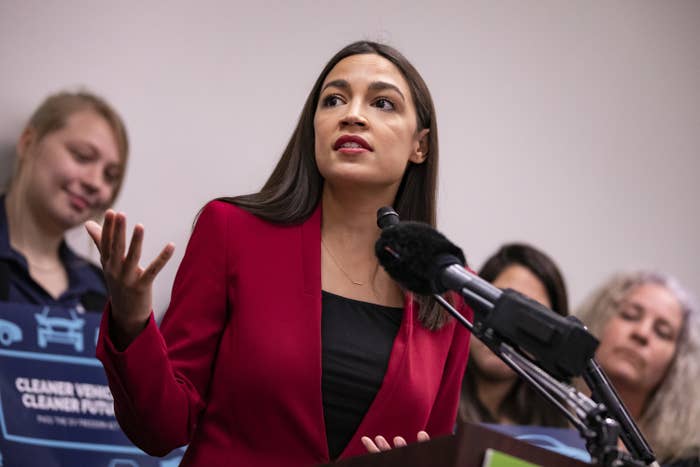 A Republican member of Congress reportedly called Rep. Alexandria Ocasio-Cortez a "fucking bitch" after he criticized the New York City Democrat's stance on crime and policing during a confrontation on Capitol Hill.
The Hill reported that Rep. Ted Yoho of Florida accosted Ocasio-Cortez on a flight of stairs Monday as she was on her way to vote.
"You are out of your freaking mind," Yoho reportedly said, referring to her recent comments attributing a rise in crime in New York City to unemployment, poverty, and "economic desperation" brought on by the coronavirus pandemic.
After Ocasio-Cortez told Yoho he was being "rude," the Florida lawmaker then called her a "fucking bitch" once they parted ways, according to the Hill.
In a statement to BuzzFeed News, Yoho's office acknowledged he and Ocasio-Cortez had "a brief member to member conversation," but denied he had said the slur.
"He did not call Rep. Ocasio-Cortez what has been reported in the Hill or any name for that matter," Brian Kaveney, Yoho's communications director, said in an email. "It sounds better for the Hill newspaper and gets more media attention to say he called her a name - which he did not do."

"We stand by our story 100 percent," Bob Cusack, editor in chief of the Hill, told BuzzFeed News.

After the Hill published its story on Tuesday morning, Ocasio-Cortez tweeted that she had never previously spoken to Yoho before "he decided to accost" her.
"But hey," she added, "'b*tches' get stuff done."
"That kind of confrontation hasn't ever happened to me — ever," she also told the Hill. "I've never had that kind of abrupt, disgusting kind of disrespect levied at me."
Ocasio-Cortez also criticized Republican Rep. Roger Williams of Texas, who was close enough to witness the exchange and told the Hill that he didn't pay attention to what happened because he was "was thinking about some issues I've got in my district that need to get done."
"Gotta love Republican courage from Rep @RogerWilliamsTX: when he undeniably sees another man engaged in virulent harassment of a young woman, just pretend you never saw it in the most cartoonish manner possible and keep pushing," she tweeted. She also said that Williams criticized her during the exchange.
Kaveney, the Yoho spokesperson, accused Ocasio-Cortez of exploiting the Hill report, which he insisted was false.

"It is unfortunate that Rep. Ocasio-Cortez is using this exchange to gain personal attention," he said. "Instead, he made a brief comment to himself as he walked away summarizing what he believes her polices to be: bullshit."
During a Tuesday press conference, House Minority Leader Kevin McCarthy said he will meet with Yoho to discuss the incident. "We think everybody should show respect to one another and not knowing what took place I'll have a discussion with him to see what happened," he said.

GOP Rep. Matt Gaetz of Florida also defended Ocasio-Cortez in a tweet, saying, "She is not a bitch."
A spokesperson for Ocasio-Cortez declined to comment beyond her tweets.

Yoho was elected to Congress in 2012 and previously announced he will not run for reelection in 2020. He represents Florida's 3rd Congressional District, which covers Gainesville and other areas.
UPDATE
Added comments from Minority Leader Kevin McCarthy and Rep. Matt Gaetz.
UPDATE
Added a comment from Bob Cusack of The Hill.