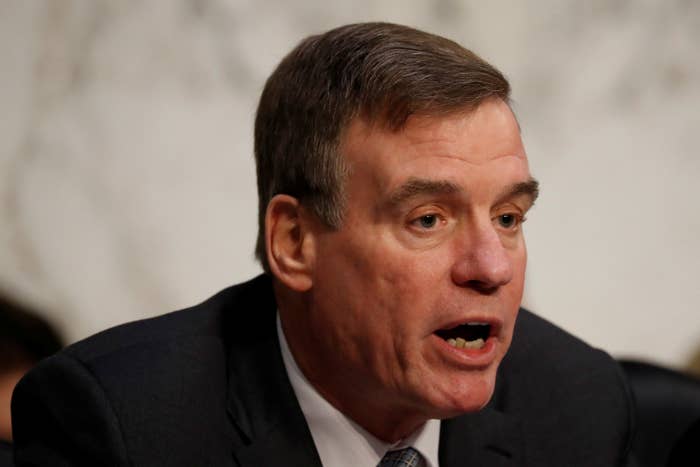 Chinese mobile app companies pose the same national security risk to the US as telecom giants like Huawei and ZTE, Sen. Mark Warner told BuzzFeed News.
Recent US legislation largely banned Huawei and ZTE from use by the government and its contractors, due to concerns about surveillance and other national security risks. Now Warner, the top Democrat on the Senate Intelligence Committee, is signaling that Chinese app developers may face similar scrutiny from lawmakers, corporate America, and the intelligence community.
Warner's comments follow a recent BuzzFeed News report that popular apps from China's Cheetah Mobile and Kika Tech were exploiting user permissions to engage in a form of ad fraud. Eight Android apps with more than 2 billion total downloads were said to be engaging in a form of app-install ad fraud. Google subsequently removed two of the apps from the Play store and said it continues to investigate. Cheetah and Kika deny engaging in app-install fraud.
"Under Chinese law, all Chinese companies are ultimately beholden to the Communist Party, not their board or shareholders, so any Chinese technology company — whether in telecom or mobile apps — should be seen as extensions of the state and a national security risk," Warner said in an interview this week with BuzzFeed News.
He said it's "enormously worrisome to me that Google allowed these highly over-permissioned apps to gain such prominence in the app store even as they hoovered up user data."
Warner was also critical of Google's dominance in digital advertising, and the fact that fraudsters continue to steal billions of dollars from the industry. He said self-regulation is not working, and on Thursday sent a letter to the Federal Trade Commission demanding it apply more scrutiny to Google's dominant position.
"I don't know how when they have such top-to-bottom control at every touchpoint along the advertising process, how self-regulating alone there will fix the issue," Warner said of Google.
Cheetah Mobile is a publicly traded Chinese app developer that's one of the biggest publishers in Google's Play store. It also uses Google products such as AdMob to monetize its apps. Google previously published a blog post and video that promoted Cheetah as a case study in how to monetize apps on its platform. That content was removed last week. A company spokesperson told BuzzFeed News the post and video were deleted by a marketing team and was not connected to its ongoing investigation of Cheetah apps.
Warner said he's particularly concerned about the huge amount of user data that's collected from Americans by companies such as Cheetah and Kika.
"All this information is ending back up in data repositories in China. Beyond the [ad] fraud, just all the personal information that is being collected on Americans" is a problem, he said.
Warner said their approach is concerning because it's "very consistent with what we're seeing in terms of a very, very aggressive government-sanctioned and government-supported efforts to penetrate our economy."
More than any other legislator, Warner has been outspoken about the ballooning, billion-dollar criminal problem of ad fraud. In 2016, he and Sen. Chuck Schumer sent a letter to the FTC to raise concerns about the issue, and sent another letter in October after BuzzFeed News revealed that 125 Android apps and websites tracked user behavior to execute a sophisticated digital ad fraud scheme.
He said the FTC's responses so far have been dismissive and insulting.
"The fact that the FTC has been so lame on their responses, is it really lack of interest, is it capture by industry, or is it lack of knowledge?" he said.
Warner is also critical of how industry giants Facebook and Google have dealt with requests and scrutiny from lawmakers related to digital ad fraud, and the exploitation of their platforms to spread disinformation and divisive content.
"I really think these platform companies, it's almost as if they believe that whether it's Congress or law enforcement that we're just gonna go away if they ignore us."
"That is not going to happen," he added.