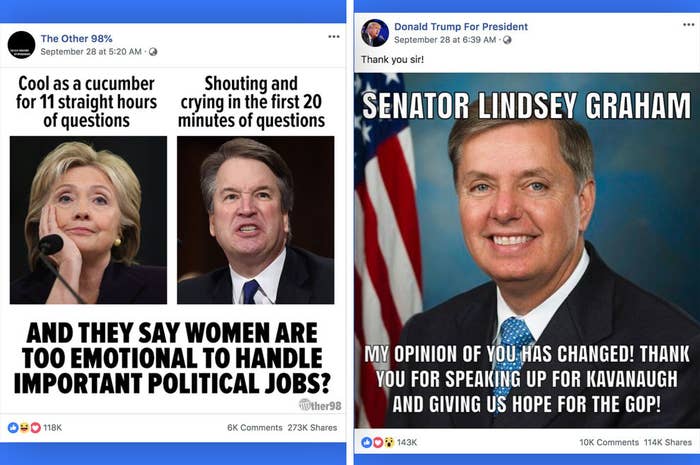 Not long after Christine Blasey Ford finished being questioned in front of the Senate Judiciary Committee last week, the conservative Facebook page Western Journal shared a link to an article about comments she had made about her fear of flying.
"Truth Comes Out: Ford Was 'Afraid' To Fly to DC but Not Hawaii, Tahiti, Costa Rica or French Polynesia," read the headline. The story focused on Ford's responses when asked by prosecutor Rachel Mitchell whether she'd taken airplanes to make previous trips.
The story was shared to Western Journal's more than 5.2 million Facebook fans, and a few minutes later it was posted to Conservative Tribune's page, which has 4.3 million fans. Both are owned by Liftable Media, a conservative media company that over the past two years has come to own more than 30 political Facebook pages with over 25 million likes.
Last week Liftable put the full force of its network behind its coverage of Ford and Supreme Court nominee Brett Kavanaugh, whom Ford said sexually assaulted her when the two were in high school in the 1980s. A few hours after the Ford flying story first was shared, Liftable blasted the link to more than 20 of its other pages in the span of less than six minutes. The result is that today the story has generated over 170,000 shares, comments, and reactions on Facebook, making it WesternJournal.com's biggest Facebook hit of the past three months. It's one of several Kavanaugh confirmation stories that have driven more Facebook traffic than usual, according to the company.
"I think it's probably one of the bigger new cycles we've seen this year," Patrick Brown, the CEO of Liftable, told BuzzFeed News. "People voraciously want to read about it."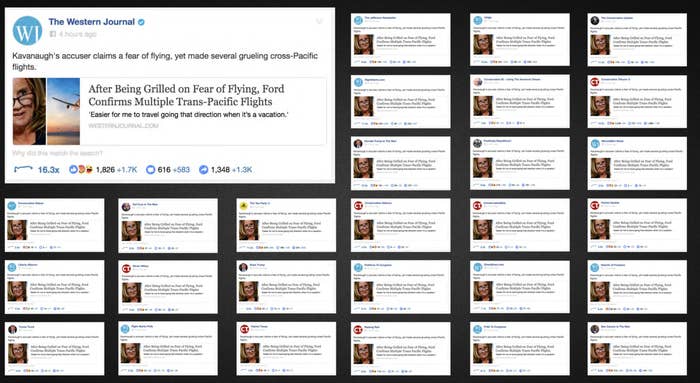 Thanks to the dramatic live testimony of Ford and Kavanaugh and the ongoing drama around a final senate vote, this Supreme Court confirmation process has become one of the biggest traffic generating news stories for hyperpartisan news pages on Facebook of the past two years, according to publishers who spoke to BuzzFeed News.
Earlier this year, Facebook CEO Mark Zuckerberg said the company would focus on reducing polarization and helping people find "common ground."
"It's not useful if someone's just kind of repeating the same thing and attempting to polarize or drive people to the extremes," he said.
A divisive issue like the Kavanaugh confirmation, however, has been a boon for hyperpartisan publishers who've otherwise struggled thanks to Facebook's algorithm tweaks announced earlier this year. Powerful networks of conservative pages have mounted broad campaigns to support Kavanaugh's confirmation, while on the left the pages controlled by Occupy Democrats are pumping out pro-Ford content.
But in spite of accusations of conservative bias leveled against Facebook, the right seems to be dominating. On Wednesday, a New York Times reporter noted that data in CrowdTangle, a Facebook analytics tool, showed that conservative publishers had the top-performing content about Kavanaugh and Ford on the platform:
It's all somewhat reminiscent of the political Facebook wars fought during 2016 election, when hyperpartisan news was at its zenith in audience and revenue.
"Our audience has never been more engaged in a story than the Kavanaugh confirmation. It is certainly the biggest story in politics since the 2016 election," said Jeremy Boreing, the COO of Daily Wire, the conservative news site founded by star pundit Ben Shapiro.
"It's a very fraught conflict right now and there's a lot of harsh language and hard feelings [on both sides]," Brown said. "It's definitely something people are interested in."
In addition to using its massive network of pages to drive traffic to its website, Liftable also ran Facebook ads to promote its content, and to gather new email addresses for its lucrative email list.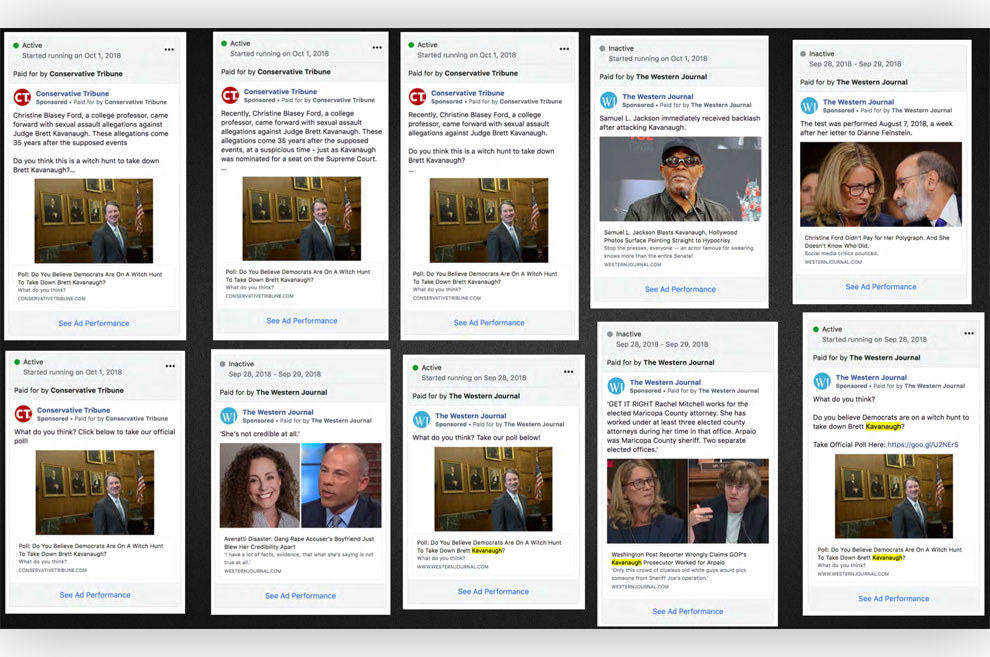 For its part, Daily Wire has been publishing Kavanaugh content to all the pages in its network, which reaches more than 11 million fans. Along with the main Daily Wire and Ben Shapiro pages (more than 5.2 million likes total), the stories have been published to the pages for two of its contributors, Matt Walsh and Michael Knowles (over 900,000 likes total). The stories have also appeared on US Chronicle and Being Conservative (over 5.8 million likes), which consistently share links to Daily Wire. Boreing said his company doesn't manage these pages, but that they "are part of a constellation of different pages and publications that we work with."
Daily Wire's top story about Kavanaugh confirmation was published Oct. 1 with the headline "Prosecutor Who Questioned Ford Shreds Her Case In Five-Page Memo." It's generated more than 205,000 engagements. The site also received just under 180,000 engagements for the story, "Bill Clinton Rape Accuser Juanita Broaddrick Crashes Kavanaugh Hearing, Slams Dems For 'Biggest Double Standard,'"
On the left, the biggest network of Facebook pages appears to belong to Occupy Democrats. Along with its main page, which has more than 7.5 million fans, it has been pushing out content to pages such as Impeach Trump, Fight Trump, and Anti-Trump Army that have more than 4 million likes between them. Occupy Democrats also runs a small activist page, OD Action, as well as Verified Politics, which has just 154,000 fans. Occupy Democrats did not respond to a request for comment.
Occupy Democrats' top story about Kavanaugh-Ford is headlined "Matt Damon just DESTROYED Kavanaugh and Senate Republicans in hilarious SNL cold open." It had just under 70,000 engagements. Another story about the Kavanaugh confirmation, "Bernie Sanders just demanded the FBI investigate five lies Kavanaugh told at his hearing," generated over 44,000 engagements.
Other big liberal Facebook pages such as The Other 98% and Being Liberal share links to a wide variety of news sources and, unlike Occupy and its big conservative counterparts, are not tied to one website or publisher.
Sky Palma manages the Being Liberal page and told BuzzFeed News that September has been a good month for him overall on Facebook.
"Whenever a huge story breaks, it's kind of like a bombshell, and there's a lot of red meat for people to write about," he said.
Palma wasn't surprised that conservative pages are seeing strong engagement from pro-Kavanaugh content. "It's more of a lightning rod for them," he said because "they feel like they're being targeted."
The difference in engagement for top links on liberal and conservative hyperpartisan publishers reinforces previous research from BuzzFeed News that found the the right-leaning Facebook universe reaches more people than its liberal counterpart. This is still the case, even though some conservatives continue to argue that Facebook discriminates against them.
Boreing of Daily Wire cautioned that he doesn't think engagement around the Kavanaugh story speaks to how Facebook treats conservative content overall.
"I'm not sure this one story is indicative of a broader trend. The entire country is engaged in this one," he said.
Though the stories about the Supreme Court nomination have done well for hyperpartisan publishers, they are by no means the most popular links on Facebook about the topic. A CNN story about the head of the American Bar Association asking the Senate to delay Kavanaugh's confirmation until after an FBI investigation has more than 720,000 engagements, and scoops from the New Yorker and Washington Post received more than 500,000 engagements each. This suggests Facebook's effort to reward "trusted" news may have helped more mainstream news brands, which is what many, including Brown, expected to happen.
He said his pages saw reach decline by 75% in January of this year. That downward pressure caused many hyperpartisan publishers to exit the business by selling or renting their pages out for a fraction of what they were worth just a year or two ago. Brown said a Facebook page is "definitely an asset that has depreciated in value." (Though thinning out of the competition also helps a larger operators like him.)
While he's happy for the Kavanaugh content windfall, Brown doesn't believe it will last.
"All of our plans revolve around assuming that Facebook will continue to get worse," he said. "We hope that doesn't happen but we're planning for the worst."
Additional reporting by Jane Lytvynenko.
CORRECTION
The Facebook page US Chronicle shares links to websites other than Daily Wire. An earlier version of this story incorrectly reported it almost exclusively shares Daily Wire content.