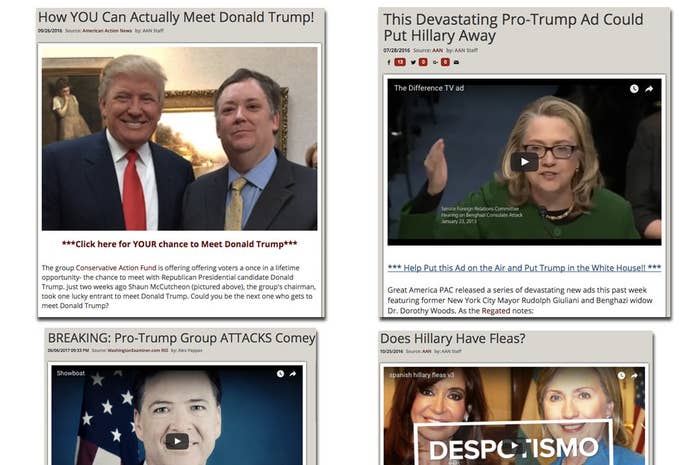 Two days before James Comey testified in front of the Senate intelligence committee, a pro-Trump group called Great America Alliance released an ad attacking the former FBI director. The ad was covered by several media outlets, including a conservative news website, American Action News. It published a story headlined, "BREAKING: Pro-Trump Group ATTACKS Comey."
The article largely consisted of three paragraphs copied word-for-word from the Washington Examiner, with one key exception: the top and bottom of the AAN article included prominent links to the donation page for the very same Great America Alliance. "***SUPPORT GREAT AMERICA ALLIANCE'S EFFORTS TO DEFEND THE PRESIDENT. CLICK HERE***" read the link text.
It's rare for a news report about a political organization's attack ad to contain a link to that same organization's donation site. But this wasn't the first time AAN had done this. A BuzzFeed News review of AAN's content found it has published at least 34 news articles containing prominent links to the donation page for Great America Alliance or its affiliated super PAC, Great America PAC.
AAN also published at least two articles that solicited donations for the Stop Hillary PAC, neither of which contained a sponsorship disclosure.
Those three groups — Great America PAC, Great America Alliance, and Stop Hillary PAC— have been in some way cited or promoted in more than 110 articles on AAN, dating back to 2015. Of those articles, just 11 contained a label informing readers that the content was sponsored. (Click here to view a spreadsheet listing AAN articles that cite these groups, and other related PACs or organizations.)
Although it isn't disclosed to readers, the PACs and AAN share a key person in common: a DC-area lawyer named Dan Backer who is an outspoken opponent of campaign finance rules that limit money in politics.
Backer is notorious in Washington for filing paperwork on behalf of a slew of PACs that popped up at the height of the tea party movement. Some of those grassroots conservative groups have come under fire for spending little of what they raise on political activity, causing some Republicans to label them "scam PACs."
Backer is widely acknowledged as a pioneer in creating and funding hybrid PACs, merging traditional PACs with super PACs that can raise and spend unlimited money.

And now it seems he's pioneered a model that utilizes the popularity of hyperpartisan news to drive donations, petition sign-ups, and general publicity for his PACs — largely without telling the reader that the website and PACs all trace back to the same person.
The toxins in the American political bloodstream are being produced by click-minded teenagers in Macedonia, propagandists in Moscow, and, most of all, devoted partisans all over the United States. But at a moment of hand-wringing in Washington about deep and dangerous partisan divisions, Backer's empire of aggressive PACs and digital media sheds light on another source: Beltway political operators using hyperpartisan vitriol to generate tens of millions of dollars in donations and website revenue.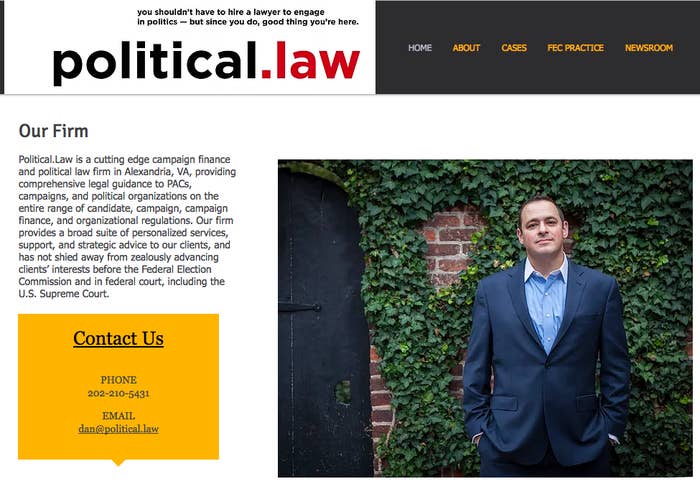 In email exchanges and a 30-minute phone conversation, Backer repeatedly evaded specific questions about the overlap BuzzFeed News found between the conservative news websites linked to him and his PACs, and said it was "generous" to refer to him as a pioneer.

"If you want to spin those random threads of information to make me out to be a younger, hopefully better looking, Steve Bannon, well thanks – it's good to be recognized for helping clients succeed," Backer said in one email exchange.
He did not answer questions about money disbursed to AAN by the PACs he's involved with.
"These are not my sites, they are clients," he said. Backer said he helped start AAN years ago, but sold it in 2014 to new owners he declined to name. When asked for more information about the owners and AAN, Backer cited attorney-client privilege and said he had signed a non-disclosure agreement. "I'm not going to disclose anything — who owns it, who funds it," he said.
Domain ownership records list American Action News LLC as the registrant and administrative contact of AmericanActionNews.com, and Virginia corporate records list Dan Backer as the registered agent for American Action News LLC. Federal Election Commission records list Backer as the treasurer of Great America PAC, which transfers a chunk of its donations to its affiliated nonprofit, Great America Alliance.
Backer insisted that he is simply the lawyer working with the new owner(s) of American Action News, and of five other conservative news sites BuzzFeed News connected to Backer, his company, and/or AAN via public domain registration records, IP addresses, and Google AdSense and Analytics IDs.
"I provide legal services to them because it's a unique, niche field," he said. "But I'm not the owner of [the sites]."
Backer also suggested that any inquiries regarding the news websites was a way for BuzzFeed News to attack "an emerging competitor" by picking on "these little guys and ... sqaush [sic] their hopes and dreams." Backer said any relationship or exchange of funds between AAN and any of his political groups is merely coincidental.
"I'm more than happy to introduce my clients to one another," he said, noting that he "would certainly disclose all potential conflicts."
Although he insists he no longer owns AAN, Backer and his PACs receive incredibly favorable coverage from the website. FEC records also show that AAN received just over $40,000 in revenue from four different PACs connected to Backer in 2015–16. Many of the disbursements were for email list rentals, "online advocacy," or "online advertising." Just over $24,000 of that money came from the Tea Party Leadership Fund, a PAC with which Backer has been involved since 2012, according to the group's statement of organization. As with the Great America PAC and Great America Alliance, the Tea Party Leadership Fund has had news articles published on AAN about its activities.
The pattern is clear: Each time Backer gets involved with a new PAC, it soon starts appearing in articles on AAN.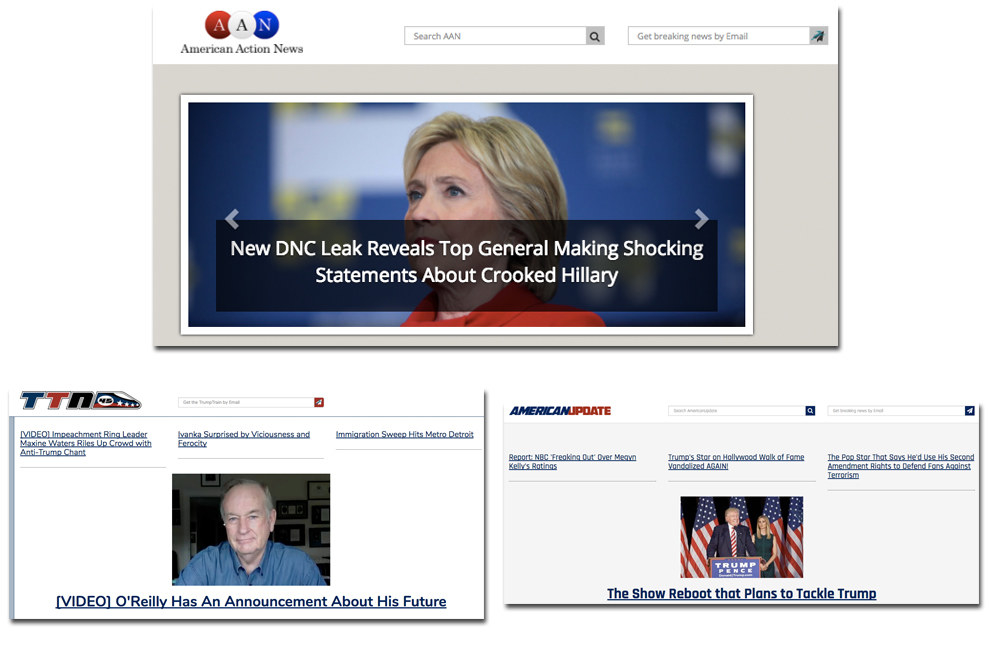 Many AAN articles mentioning Backer's PACs aggregate coverage received from other online media. But once on AAN, those stories can be augmented with positive comments, or with links to petitions or donation pages for those same PACs.
For example, an article from February of this year entitled "BREAKING: The Group That's Powering the Trump Train" concluded with this line: "We're glad organizations like Great America PAC are standing behind [Trump], and helping to hold DC accountable." An AAN story from early 2016 about a Tea Party Leadership Fund poll described that PAC as "one of the grassroots [sic] premiere advocacy organizations."
Many articles on AAN also feature quotes from Backer without any note to readers about his connection to the site. (AAN's "About" page is blank, and the site does not list its owners.)
One of Backer's earliest PACs, the Conservative Action Fund, was first mentioned on the site in September 2014, and ended up in another 49 articles over the two years that followed. Some of those stories did not cite CAF directly; instead, they featured the promotional text "***Want to Meet Donald Trump? Click Here!***" at the top and bottom of stories, which linked to a contest on the CAF website. The contest was also promoted in its own article on AAN.
The Stop Hillary PAC, for which Backer was treasurer, had been cited in at least 70 articles on AAN. Fifty-six of those stories actually list Stop Hillary PAC as the author — only one of which was labeled as sponsored content. One article without the sponsor disclosure consisted entirely of a series of quotes from people, such as Sheriff Joe Arpaio, praising the work of Stop Hillary PAC. It concluded with a link to the PAC and the text, "Click here to join these conservative heroes to Stop Hillary TODAY!"
In some cases, more than one Backer-linked PAC shows up in the same AAN article. A September 2016 story featured a new ad from the Great America PAC and ran with the headline, "Ben Carson Stars in Awesome new Pro Trump Ad." That story also featured a prominent link to a Stop Hillary PAC sign-up and donation page.
But by far the biggest beneficiary of donation-driving coverage is Great America PAC — the most high-profile group with which Backer has been involved. The group raised nearly $30 million on behalf of Trump in the 2016 election cycle.
BuzzFeed News found over 40 articles that mention the PAC on the site. Thirty-three of them include a prominent link to the PAC's donation page, sometimes interspersed within the article text.
Although it was helping it raise money, Great America PAC did not pay American Action News LLC for the work, according to federal records. If, as Backer claimed, this merely showed two of his clients choosing to work together, then money would presumably have changed hands.
Backer did not specifically answer why Great America PAC did not pay AAN, but said more broadly: "I take my duty to my clients with the utmost seriousness, and I work incredibly hard so I can be absolutely confident all my clients are in total compliance with applicable law and regulations, including my PAC clients in reporting expenditures to ad placement & fundraising vendors."
A source familiar with the operations of Great America PAC, who spoke to BuzzFeed News anonymously so that he could speak openly about private conversations, said Backer had talked about "managing" as many as 14 conservative websites.
Along with AAN, Backer or his company, DB Capitol Strategies, is listed as the owner of conservative news domains AmericanUpdate.com, TrumpTrainNews.com, and GOPPresidential.com. Two other news sites — Truedaily.news and ICYMInews.com — link out heavily to the Backer-connected web properties, and use the same Google AdSense and Analytics codes as AAN and the three other sites. Truedaily.news and ICYMInews.com are also hosted on the same server as GOPPresidential.com — yet another piece of evidence to suggest they too are part of the network of sites connected to Backer. (The server in question hosts only those three websites.)
Christopher Pernice is the co-founder and chief creative officer for Studio Psyclone, the website design and development firm that works on AAN, AmericanUpdate.com, and TrumpTrainNews.com. He told BuzzFeed News that AAN attracts an estimated 3 million unique visits per month.
Pernice also said he often deals directly with Backer regarding the websites. "Dan is someone I talk to once every three or four months," he said. Pernice said that in between those calls "I'm normally dealing with someone working with him who says 'Dan wants to do this, or Dan wants to do that.'"
Pernice said AAN differs from TrumpTrainNews.com and AmericanUpdate.com because it features original content along with aggregated links and text.
One of the writers providing that original content is Kevin Boyd, a Louisiana-based political writer. He also said he frequently talks to Backer.
"Yeah I talk to Dan," Boyd told BuzzFeed News. "He generally is the go-to person."
Another frequent author on AAN is "Remington Strelivo." BuzzFeed News was unable to locate any person by that name. Backer did not respond to a question about whether that person exists.
Now that Trump is in office, Backer has shifted his fundraising and advocacy efforts to the pro-Trump Great America Alliance, and his Stop Hillary PAC has been renamed as the Committee to Defend the President. The latter recently led an effort to draft broadcaster and publisher Laura Ingraham to run against Democratic Senator Tim Kaine. In April, AAN ran two stories about her that included prominent promotion of the Committee's petition. Trump Train News published one of those stories too.
And just in case readers missed the petition pitch at the top of the story, the bottom of the articles included yet another call, this time in bright red text: "***Want Laura Ingraham to Trump the Senate & Defeat Tim Kaine? Click here to sign the official 'Draft Laura Ingraham' Petition***"