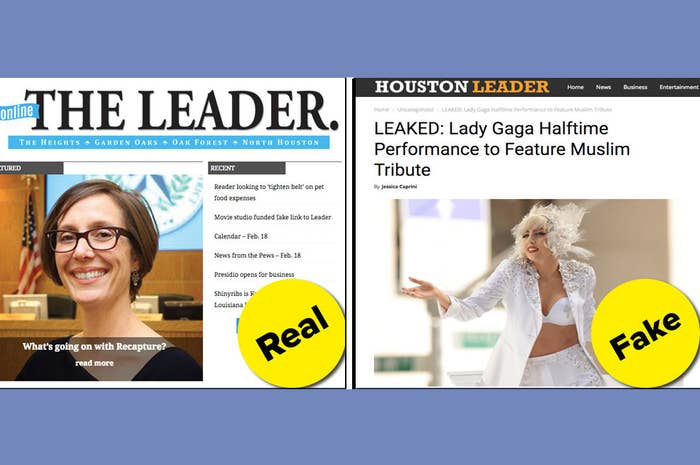 Jonathan McElvy didn't expect his small weekly paper in Houston to attract so much negative attention during Super Bowl Week. But in the days before the big game, he was inundated with angry phone calls and emails from around the country and even across the ocean.

A rabbi from London wrote to chastise McElvy for how his paper, The Leader, was "mis-reporting on a serious topic with serious health implications for many of your vegan readers."
Vegan readers? In Houston? McElvy was puzzled. A woman from New York rang him up to give him heck too.
A link shared on his paper's Facebook page provided a clue as to what was going on. The story was from a website called HoustonLeader.com and had the headline, "Thirty Year Study Of Vegans Finds Increased Rates Of Mental Health Issues." That same site published other totally fake stories, such as that Lady Gaga planned a tribute to Muslims during the Super Bowl halftime. People who came across the hoaxes and recognized them as fake went looking for the owner of the site — and ended up contacting the wrong Leader.
As revealed by BuzzFeed News, HoustonLeader.com was one of five fake local news websites that published fake news articles as part of a publicity campaign for A Cure for Wellness, a Hollywood thriller opening this weekend. The sites inserted the film's hashtag into some stories and overtly mentioned the film in others. But they also pumped out unrelated hoaxes about vaccines, Trump, and other topics that did not mention A Cure for Wellness. Over the course of a few weeks, the articles generated tens of thousands of shares, reactions, and comments on Facebook, fooling many people in the process.
"We're a free weekly paper that's been around for 64 years, and we got absolutely killed by the fake news sites that were created to promote the film," McElvy told BuzzFeed News.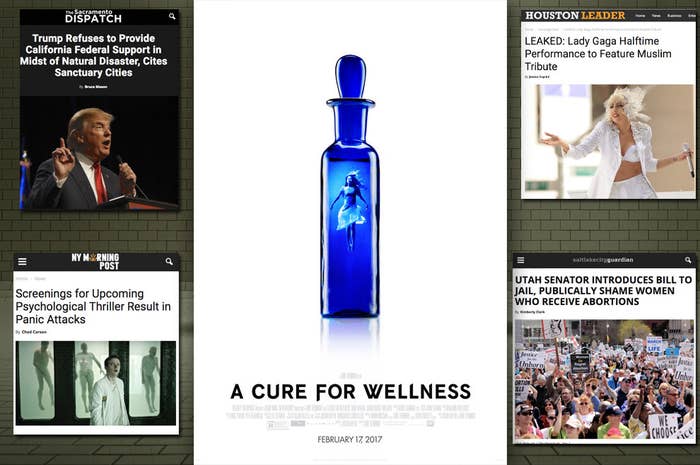 The filmmakers have not responded to inquiries from BuzzFeed News and other media about the ethics of using misinformation to promote a film, and paying a fake news publisher to create hoaxes about public heath issues such as vaccinations. For his part, McElvy can't believe the film chose to invest some of its multimillion-dollar marketing budget in fake news.

"Seriously, there's jobs for fake news creators now?" McElvy said. "Maybe I'm in the wrong business.
"They did take our name and it really bothered me that they took our audience. They could have paid me $5,000 and gotten a great ad for that movie on our website."
His company publishes six local papers in Texas and North Carolina. The Leader in Houston has a weekly circulation of 35,000. McElvy says he and a small team work hard to keep it viable. He said he spent time over three days answering angry phone calls, in addition to responding to roughly 30 emails about fake articles his papers had nothing to do with.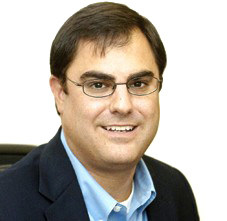 McElvy said the complaints came to him because people who googled "Houston Leader" looking for the hoax site saw his paper and contact information at the top of the search results.
"One call lasted 30 minutes because the lady couldn't understand how we could say we weren't the Houston Leader when we so clearly were, based on what Google said," he said.
The fake Houston website even made up names for its writers, which led people to call McElvy's office and ask for them.
"They listed 17 writers and even had a careers tab," he said. "People who called ... kept asking for a writer and we kept saying they don't work here."

McElvy says he's not sure what legal recourse he has for what the film did. But he wants people to know that its marketing campaign put money in the pocket of a fake news publisher at the expense of a real one.

"We work so hard," he said. "I own this company and I have a balance sheet and when I look at it all we have is goodwill. So if I have to fight that [perception we publish fake news] I'm losing goodwill.
"It's real for us."