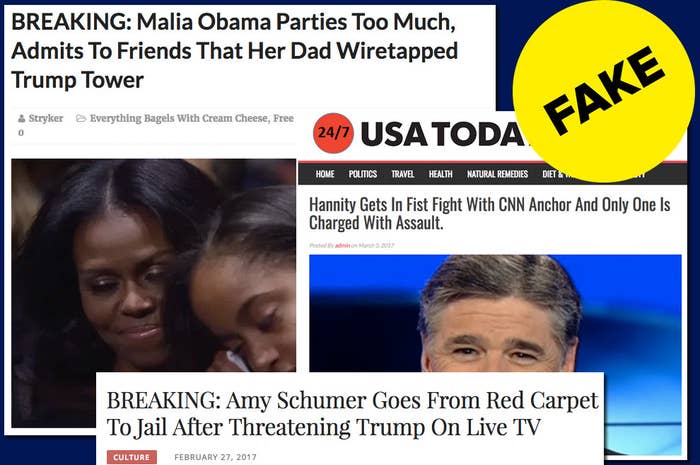 On Mar. 4, a website run by an American who identifies himself as "Busta Troll" published a completely false story claiming the FBI had a warrant for Barack Obama's arrest for illegally wiretapping Donald Trump. The story appeared on The Resistance, a website that for months has been pumping out over-the-top fake news intended to parody what its owner says are the often false stories published by hyperpartisan right-wing sites.
Aside from the baseless claim, one big hint the story was a hoax was the image at the end: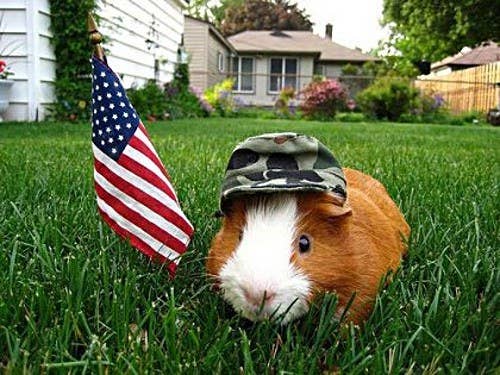 Despite its obvious issues, within just a few hours the false story — including the patriotic guinea pig — was copied by at least 19 websites largely run by people in countries including Macedonia, Kosovo, and the Republic of Georgia. It's a pattern that has repeated itself over and over again for weeks: A fake site meant to troll American conservatives publishes an outrageously false hoax and it's immediately plagiarized and published on a network of sites run by spammers thousands of miles away. Unwitting Americans are fooled, and the owners cash in.
There is perhaps no better expression of the current economics of internet content than an American liberal troll and spammers from the Balkans and Caucasus making money from completely fake online news aimed at American conservatives. The troll says he's exposing ignorance, while the spammers are stealing any content that drives traffic and ad impressions. Regardless of motivation, the clicks and dollars are the same — and they reinforce the reality that misinformation about American politics is now an international business opportunity.
BuzzFeed News analyzed 11 hoaxes published by The Resistance that received the highest engagement on Facebook in the past two weeks and found they were copied and reposted by 48 different websites. Of those sites, 16 were confirmed using domain registration records as being run from Macedonia, 4 originated in Georgia, 2 are from Kosovo, and 1 is Bulgarian. The remaining 20 sites whose provenance is unconfirmed use similar WordPress themes to those run from Macedonia, and often post their content in the same pro-Trump Facebook groups used by Macedonians to spread their content. BuzzFeed News emailed 19 owners of the sites but did not receive any response.

Hoaxes from The Resistance that have been reposted and given wider exposure by international spammers include the claim that Sean Hannity got in a fistfight with CNN anchor Jake Tapper, Amy Schumer was arrested after threatening Trump at the Oscars, and that a Democratic congressman was arrested for planning to assassinate Trump.
The person behind The Resistance uses the online handle Busta Troll but has been identified as Christopher Blair, a man who lives in Maine. He achieved internet fame for "goating" right-wing Facebook pages that talked about lynching Barack Obama and that called Sgt. Bowe Bergdahl a traitor. BuzzFeed News previously reported on Blair's site and how his hoaxes have been picked up by others who treat them as real news. But it's only recently that his work has become the cornerstone for an international network of pro-Trump websites seeking to cash in on hyperpartisan conservative news.
In an interview, he said he's aware that Macedonians and others are ripping off his content for profit. When Blair tried to send copyright takedown notices to get them to stop, he says one site owner threatened to launch an online attack to take his site offline.
"I've been in contact with a few," he told BuzzFeed News. "I've sent a few DMCA notices but they don't care. One of them threatened to DDoS my site into oblivion if I didn't stop." (A distributed denial of service attack, or DDoS, is when an online target such as a website is hit with an overwhelming amount of server requests, causing it to become partially or completely unavailable.)
Blair said he briefly collaborated with an owner of a Macedonian pro-Trump site as a way to stop them from stealing. They agreed to share each other's content on their respective Facebook pages, but Blair said their content was too offensive and often completely false.
"I tried to work with one of them, but the stuff they put on my page was all 'black thug gets what's coming to him' and 'Islamic terrorist rapes 8-year-old bride to death in Wisconsin,'" he said. "It was over the top."
So, instead, he went back to trolling and published an article reporting that Busta Troll was sentenced to life in prison for "crimes against the USA" that, among other things, included calling out conservative websites that are in fact "run by teenagers in Macedonia."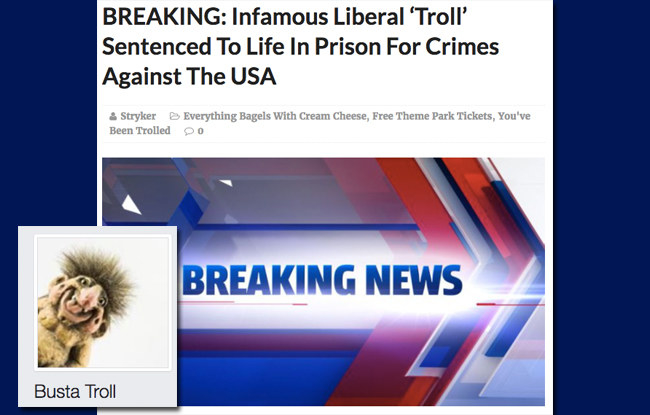 They didn't get the message. That story was soon copied word-for-word by AmericansMAGA.info, which BuzzFeed News found is part of a network of sites connected to an owner in the Republic of Georgia. (Rather than making money from ads, these sites attempt to install malware on a visitor's computer. This follows a pattern for Georgian fake news sites previously exposed by BuzzFeed News.)
"They're in it for the money only," Blair said. "They will copy, paste, and post as many times in a day as they can. They steal content from pages with a lot of shares."
Igor is a Macedonian who works in the technology industry and follows the work of the spammers based in Veles. He also tried publishing a pro-Trump conservative site of his own. He told BuzzFeed News his countrymen are taking advantage of the fact that people in pro-Trump groups on Facebook don't question what they see shared by other members because they believe it comes from people like them.
"A lot of people on Facebook in conservative groups, they sign up in the groups and they said 'OK, now we're among the fellow conservatives and fellow Trump lovers,' and they automatically believe in everything which is posted there," he said. BuzzFeed News agreed not to use his full name due to his concerns that his reputation within the technology industry could be tarnished.
Igor also said the strategy of posting content into groups to drive traffic back to a website is not working as well as before. People will share a post and like it without bothering to click on it, according to him.
"The worst thing is I was doing the experiment with a conservative site, my site, and what I realized is that 90% of the people who will like and share on the Facebook, they actually never visit the website," he said. "So I was doing some measuring and stats and had an article which had for example like 2,000 likes and 1,000 shares — and I only had 500 visitors."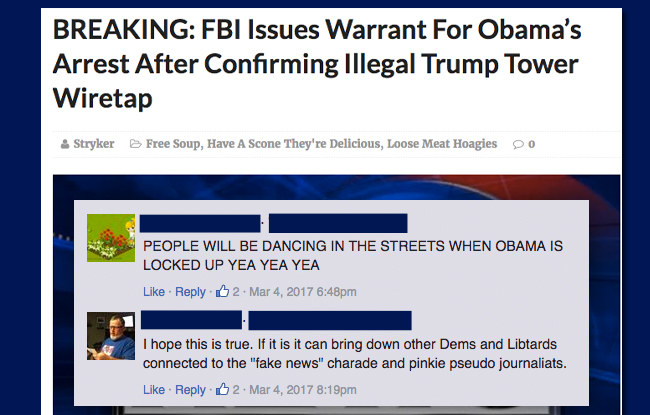 Though he has ads on his website, Blair said his ultimate goal isn't to make money, and he's not concerned that his hoaxes are fooling people.
"We're not dealing with rational people," he said. "They can either get their fake news from Facebook pages like mine or they can get it from Conservative Treehouse, Freedom Daily, or SarahPalin.com… . Feeding them lies with invented names they won't bother to Google and ridiculous scenarios that make them look foolish when they share them isn't just about trolling them or advertising money."
But whether you're a Macedonian teen or an American man, the money is there for the taking.
CORRECTION
A photo included in the hoax story about the FBI having a warrant for Barack Obama shows a guinea pig sitting to an American flag. This article incorrectly said it was a hamster.
Busta Troll's real name is Christopher Blair. This article misidentified him as Christopher Lyman, a pseudonym he has used.