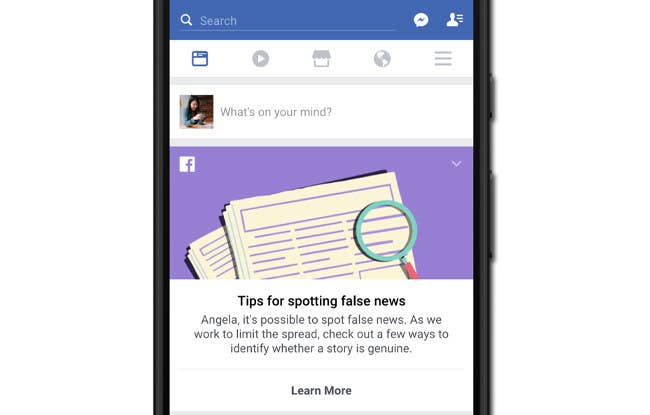 In its latest move to help blunt the flow of misinformation on its platform, Facebook today rolled out a new initiative to educate users on how to spot "false news."
Starting tomorrow, people in 14 countries will begin seeing a link to a "Tips for spotting false news" guide at the top of their News Feed. Clicking it brings users to a section offering 10 tips as well access to related resources in the Facebook Help Center. Facebook is also collaborating with news and media literacy organizations in several countries to produce additional resources.
"Improving news literacy is a global priority, and we need to do our part to help people understand how to make decisions about which sources to trust," Adam Mosseri, Facebook's VP of News Feed, wrote in a blog post about the initiative. "False news runs counter to our mission to connect people with the stories they find meaningful. We will continue working on this, and we know we have more work to do."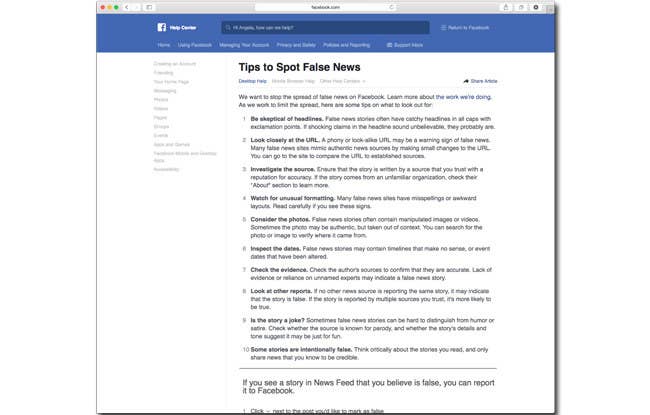 Facebook has now announced several initiatives to try and stop the spread of misinformation and to support trustworthy information. It's working with third-party fact-checking organizations to flag false content in the News Feed; the company recently announced the Facebook Journalism Project to work with news organizations on products and business models; and it's one of the funders of the new News Integrity Initiative, a $14 million project "focused on helping people make informed judgments about the news they read and share online."

These moves come in response to outcry about the platform's role in spreading fake news stories during the recent US election, and to public pressure it faced after CEO Mark Zuckerberg was initially dismissive of the issue. Now he, COO Sheryl Sandberg, and other top executives talk frequently about the responsibility Facebook has to help provide accurate information to its more than 1.8 billion users.
"We know that seeing accurate news on Facebook is really important to people on all sides," Sandberg recently said on PBS NewsHour. "No matter who you are, seeing the accurate story and seeing a diversity of opinions is really important. We know we have a responsibility, along with newsrooms and classrooms and academic and other companies, to make sure people see accurate news."