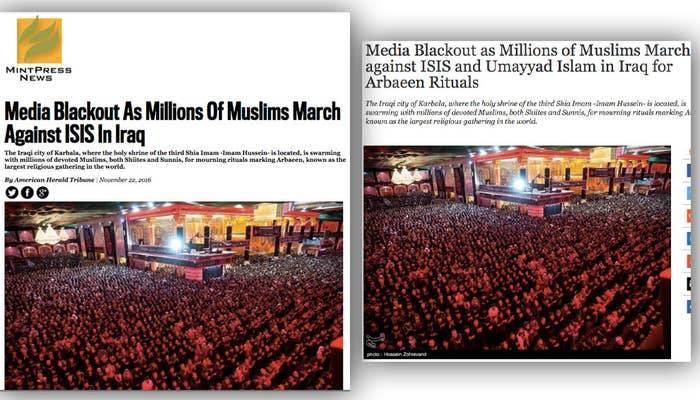 As Facebook faces intense pressure about the spread of misinformation in its popular News Feed, the company's Trending box continues to promote dubious stories to potentially millions of people.
On Thursday the Trending box, which appears in the upper-right corner for English-language users on desktop, listed "Karbala, Iraq" as a trending topic for many people. The promoted article associated with that trend was a story from Mint Press News with the misleading headline, "Media Blackout As Millions Of Muslims March Against ISIS In Iraq."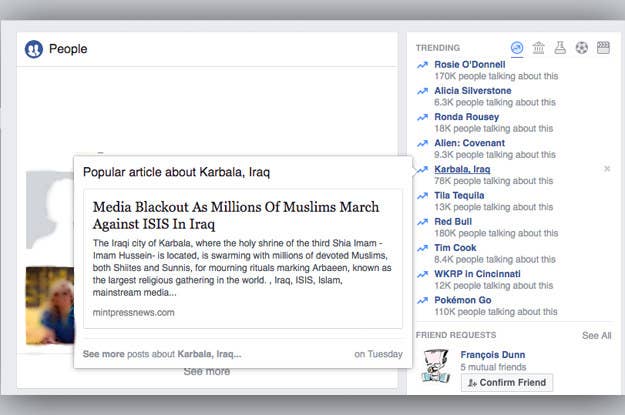 This week has seen millions of Shiite Muslims participate in Arbaeen, one of the world's largest pilgrimages, in Iraq. But they are not specifically marching against ISIS, nor has there been a "media blackout." For example, the Washington Post and International Business Times both published articles about the pilgrimage that show up on the automatically generated topic page on Facebook. Reuters also wrote about it. Major media are also now covering a bombing in Iraq today that targeted Arbaeen pilgrims.
If millions of Muslims had decided to march against ISIS in Iraq, it certainly would have been major news. But Arbaeen is an annual religious pilgrimage and has nothing specifically to do with ISIS.

In spite of the presence of stories from bigger outlets, it was the article from Mint Press News, a small news site based in Minnesota, that was listed the top story both in the Trending box and on the related topic page. That's likely because its misleading headline inspired people to engage with the story on Facebook.
A woman in the UK posted the story and has seen it generate more than 1,000 shares and another 1,000 reactions.
As detailed in a 2013 BuzzFeed News profile of Mint Press News, the site's sources of funding are unclear, and it pursues a reporting line that strongly backs the governments of Iran and Syria, and that is anti-Saudi and anti-Israel. The site has at times been the source of dubious claims, such as a 2013 story falsely claiming it had proof that Syrian rebels were responsible for a chemical attack. That story was published with the byline of an AP stringer, who subsequently said she did not report the story and demanded that her name be removed.
Mint Press News also recently began reprinting articles from Sputnik and RT, two of Russia's state-funded news outlets. The misleading story about the pilgrimage in Iraq was in fact a reprint — but not from a Russian outlet. It was sourced from the American Herald Tribune, a website edited by a Canadian professor and conspiracy theorist named Anthony Hall. He, for example, believes 9/11 was an inside job, and that the Sandy Hook shootings were staged. Hall was recently suspended from his job at an Alberta university over accusations of anti-Semitism.

After he was suspended, Hall granted an "exclusive" interview to an Iranian state news outlet where he talked about the need for an "open debate" on the Holocaust and 9/11, among other things. (Many of the millions of Arbaeen pilgrims come to Iraq from Iran.)

His site's story does not quote any pilgrims as saying they are marching against ISIS, or offer any other evidence other than to say that "in light of ISIS terror attacks globally, several people took the controversial step of turning their march political in order to denounce terror in all forms." ("Several" anonymous people is a far cry from the "millions" cited in the headline.)
Aside from the Tribune story, only one other news outlet appears to have portrayed the Arbaeen pilgrimage as a protest against terrorism: RT. The day before the Herald published its misleading article, Russia's RT offered an opinion column headlined, "Walking Freedom: Iraq home of largest rally against terror in the world."
BuzzFeed News has contacted Mint Press News and Hall for comment and will update if we receive a response.